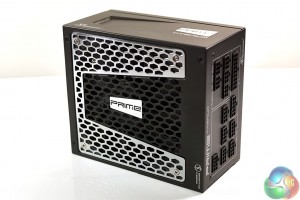 The Seasonic PRIME 750W is beautifully finished and one of the highest grade units we have seen this year.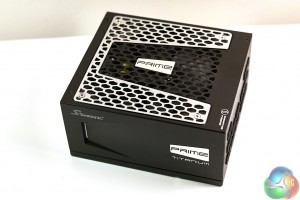 All the paintwork is evenly applied and we like their new design for the vents on the top. Its certainly eye catching, but we appreciate they haven't went overboard with a plethora of colours – its a rather simple gloss silver and black scheme. The paintwork passed our scratch test with flying colours. This test involves running the head of a Philips head screwdriver down the side panel with light to moderate force – many lower quality painted panels will leave a noticeable mark or strip completely.
Some of you will have noted it is difficult to even see the fan behind the vents and we would imagine this is intentional to keep the clutter to a minimum. We will take a look at the specific model of fan later in the review when we open the chassis.
The attention to detail is high – the side panels are sculpted to regress inwards, towards the Seasonic name on one edge of the side panels. The PRIME Titanium logo takes pride of place on the other edge. Build quality is at the highest level.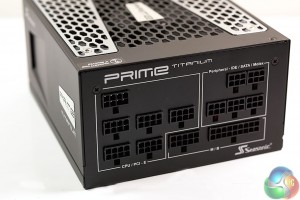 One side of the Prime Titanium is home to all the modular cabling connectors. The main M/B connectors are indicated along the bottom of the panel – clearly labelled. The Peripheral/SATA/Molex connectors are visible in a bank of two and three along the top right side. On the other side are all the CPU and PCI-e connectors in a row of 1, 3 and 2 from top to bottom (6 in total).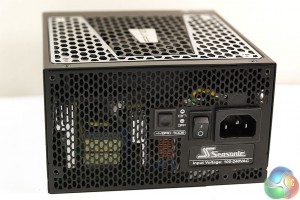 The other side of the PRIME is fully vented to aid with airflow. There is a power switch and connector at the side. There is also a switch for Hybrid mode – allowing the fan to be disabled completely when the unit drops to a specific temperature threshold. Seasonic claim the Hybrid Fanless mode works up to:
Approximately 50 % (±5 %) of system load at 25 °C.
Approximately 30 % (±5 %) of system load at 40 °C.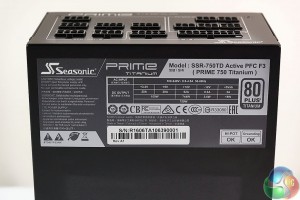 Above we can see the specifications of the power supply.
Seasonic Prime 750W Titanium Power Supply


DC Output

+3.3V

+5V

+12V

-12V

+5Vsb

Max Output

20A

20A

62A

0.3A

3A

Total Power
100W
744W
3.6W
15W
750W
This power supply can deliver 62A on the +12V rail which is the same as the Seasonic Snow Silent 750W which we reviewed way back in May 2015 (review HERE). Plenty of power on hand for a powerful SLI and Crossfire configuration.