There is no doubt in my mind that the Seasonic Prime 750W Titanium has entered the market right at the top of the food chain. It has been a long time in development, but the release of Prime Titanium galvanises Seasonic's position as a leader in this sector.
We don't often comment on the appearance of a power supply, but the Prime certainly ticks the right boxes. We think it is an elegant unit from all angles and the paintwork is both deep and resilient to scratches. The little 'air intake' style indentations on the side panels certainly enhance the appearance.
Additionally, the lack of coloured stickers and the adoption of an subdued two tone colour scheme will ensure the unit will look great behind a windowed panel, regardless of any LED lighting used.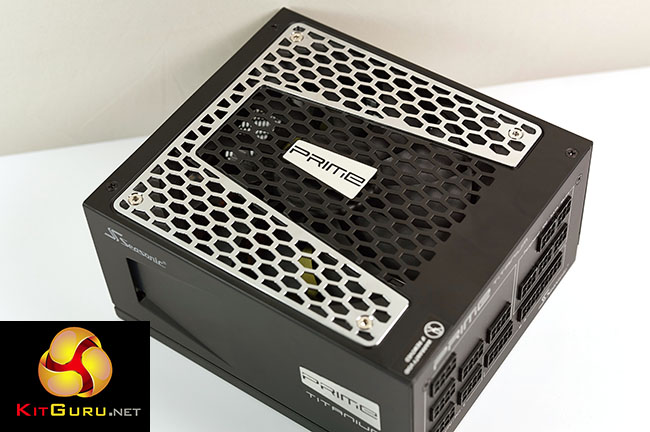 We have to give Seasonic kudos for their internal design implementation. They have created a cable free connection design with a copper plate connecting the main PCB to the back panel for increased reliability and enhanced performance. They have adopted high grade Nippon Chemi Con 105c rated capacitors in the primary stage, with 105c rated capacitors also incorporated into the secondary stage.
Technically we can find nothing to fault. The Titanium rated unit excels in key areas, including ripple suppression, load regulation and it passed our cross load test without a hitch. We were able to hold load at 900 watts without the unit switching off which is a good indication of how over specified the core design is. I am glad to see Seasonic haven't suddenly changed their long term strategy this year.
The pure modular design and low noise levels will suit the demanding enthusiast audience building inside a space restricted chassis. The Hybrid Fanless mode ensures the Prime would even make an ideal backbone for a powerful media/gaming center, positioned close to a HDTV set in the living room.
Seasonic are standing by these units and are offering a full 10 year warranty, which is reassuring but not surprising considering the quality of the internal build.
The only downside? A quality 750 watt Titanium rated power supply like this doesn't come cheap, so be prepared to hit the bank balance, hard.
You can buy the Seasonic Prime Titanium 750 watt power supply from Overclockers UK for £189.95 inc vat HERE.
Discuss on our Facebook page, over HERE.
Pros:
very high build quality.
large fan is quiet.
technically class leading.
10 year warranty.
high levels of efficiency.
Cons:
Kitguru says: The Seasonic Prime 750W is a class leading power supply backed up with a 10 year warranty. It is a quiet and technically stellar unit which reinforces Seasonic's reputation as the market leader. The PRIME Titanium 750W is already setting itself up as a key contender for power supply of the year 2016.