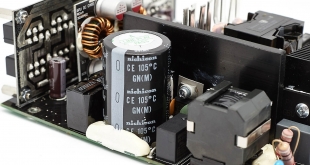 Last year we took a first look at the new Gamer Storm DQ-M range of power supplies from DeepCool – in a 850 watt capacity. Today we analyse another model in their range – the lower power output 650W model. These power supplies have a healthy 10 year warranty and adopt all Japanese capacitors to aid with long term reliability.
Deepcool are well known in 2019 for their eye catching chassis designs. They have also focused recently on cpu coolers and some power supplies. This particular range of units has three models in the range – a 650W, 750W and 850W model.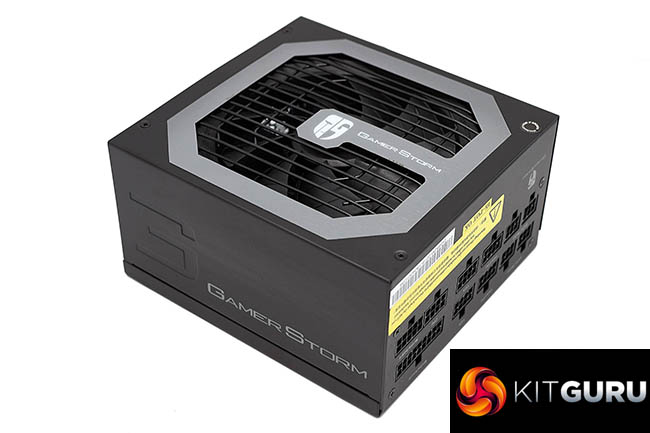 Deepcool have partnered up with Channel Well Technology (CWT) for these supplies and the 850W model scored well in our labs in September 2018.
This power supply measures 152 x 88 x 162mm in size and weighs 1.60kg.
Specifications
Manufacturer (OEM)
 Channel Well Technology
Max. DC Output

650W

Efficiency
80 PLUS Gold, ETA-A (88-91%)
Noise
LAMBDA-A- (25-30 dB[A])
Modular
✓ (Fully)
Intel C6/C7 Power State Support
✓
Operating Temperature (Full Load)
0 – 50°C
Over Voltage Protection
✓
Under Voltage Protection
✓
Over Power Protection
✓
Over Current (+12V) Protection
✓
Over Temperature Protection
✓
Short Circuit Protection
✓
Surge Protection
✓
Inrush Current Protection
✓
Fan Failure Protection
✗
No Load Operation
✓
Cooling
120mm Fluid Dynamic Bearing Fan
Semi-Passive Operation
✗
Dimensions (

W x H x D

)
152 x 88 x 162mm
Weight
1.60kg (3.53

lb

)
Form Factor
ATX12V v2.4, EPS 2.92
Warranty
10 years
This unit is based on a CWT platform and more specific the GPU850V-G. In the Cybenetics scale it scores ETA-A and LAMBDA-A- efficiency and noise certifications and it is also 80 PLUS Gold certified. I was quite surprised to see that DeepCool didn't adopt a 140mm fan in these units, to keep down noise while producing high airflow if needed.
Features:
Compliant Intel ATX12V v2.31 & EPS 2.92
80 PLUS® GOLD certified – Up to 87~90% efficiency (20~100% loading)
High quality Japanese capacitors can obtain excellent reliability and long service life
Patented 120mm FDB Bearing fan with double-layer fan-blade, temperature control function, enjoys  excellent performance & super low noise
Full modular design, with longer flat cable, exellent for cable management and increases the cooling capability of system
Double-Layer EMI Filter protects from electromagnetic interference & restrains noise
Intelligentized eco-friendly chipset,  consume < 0.3W in its off-mode, compliant ERP standard
CircuitShield™ — OVP,  UVP,  SCP,  OPP
Compliant Multi-Way SLI / CrossFire + Multi-Core CPUs
High reliability with an MTBF of at least 120,000 hours of use
Newly designed gaming style appearance under DEEPCOOL high-end gaming brand: GAMER STORM
DC to DC design, make it more stable, stronger and higher efficiency
Ready for AMD Ryzen Threadripper & Intel Skylake LGA2066 CPU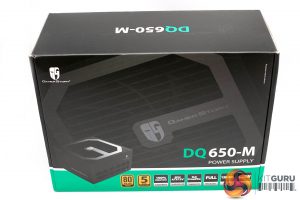 The Deepcool box artwork is effective, if a little bland. A list of key selling points are listed along the bottom of the box underneath a big photograph of the unit.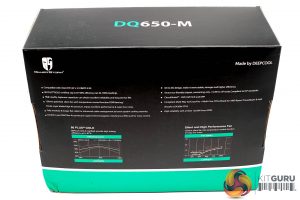 The rear of the box focuses on the 80 Plus GOLD certification and the fan implementation.
Inside the box we have a specific power cable (ours did not have a 3 prong UK cable in it sadly), a pouch of modular cables, mounting screws and the power supply encased between slabs of foam, encased in a soft bag.
The cable quality is pretty good all around. The peripheral cables use 20AWG gauges instead of the 18AWG that the ATX spec lists. The EPS cables are long and the distance between them is 15 cm.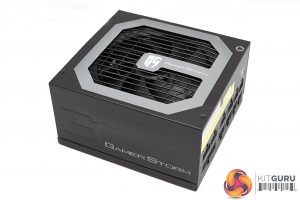 This power supply is basically a 'two tone' design – Deepcool have cleverly picked black and grey as a neutral foundation for any system build. The painwork is quite good and build standards don't cause any major concerns across the panels.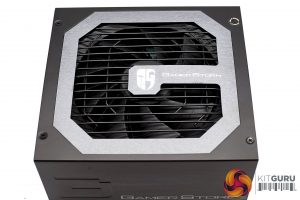 At the top of the unit we see a fan, hidden behind a grill, with the GamerStorm logo and print seen in the centre. We will get a closer look at the fan shortly when we open the supply for a look inside.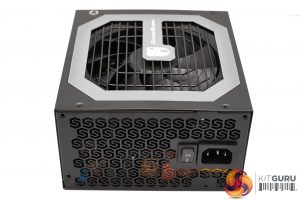 Deepcool have opted for what looks like an 'S' logo for their vented panel design on one side. There is a power switch and connector here as well to the side.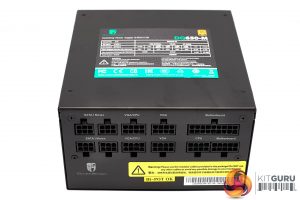 The modular bay is clearly laid out and should prove easy for even newbie system builders. A big yellow sticker indicates that you should not be using other modular cables with this unit, only those that DeepCool supply.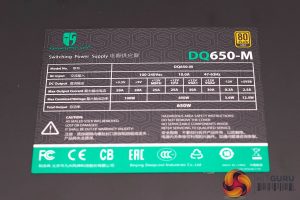 Power Specifications
Rail
3.3V
5V
12V MBPH
12V CPU
12V VGA1
12V VGA2
5VSB
-12V
Max. Power
Amps
20
20
25
25
30
30
2.5
0.3
Watts
100
650
12.5
3.6
Total Max. Power (W)
650
There are four +12V rails which combined can deliver the unit's full power. The minor rails are quite strong with 100W max combined power, while the 5VSB rail officially can deliver up to 2.5A current output.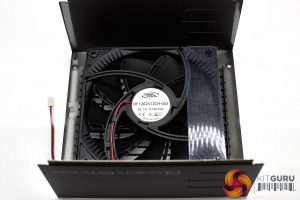 The fan is not a larger 140mm model, but only 120mm. The model number is DF1202512CH-003 rated 12V 0.15A (GP). This is actually a single fluid dynamic bearing model with a long rated lifespan. The company claim 120,000 hours MTBF.
Below - a High Resolution Gallery of the internal layout of the power supply.
If you dont see the gallery below, turn off your ad blocker.

This is a CWT designed power supply. The soldering quality throughout is good. CWT have a good reputation for this, and they live up to their name with this unit. All the capacitors are Japanese branded, both polymer and electrolytic. Filtering capacitors – both polymer and electrolytic are proved by Japanese companies such as Rubycon and Chemi-Con.
The primary side is a half bridge topology along with an LLC resonant converter to improve efficiency. In the secondary side six FETs regulate the +12V rail and a pair of DC-DC converters deal with the generation of the minor rails.
The primary capacitor is a high grade Japanese Nichicon – rated 105C, 470F and 400V.
The first part of the EMI filter is formed around a single X cap and two Y caps. The second stage of this has two Y caps after the bridge rectifier and a single cap with an MOV. The EMI filter is solid and performs well. A couple of VRM's generate the secondary rails. There are plenty of polymer caps on the front side of the modular PCB to help suppress ripple. The modular panel is connected to the main board through several bus bars, in order to restrict energy losses.
Correctly testing power supplies is a complex procedure and KitGuru have configured a test bench which can deliver up to a 2,000 watt DC load. We run at 35c in our environment to greater reflect warmer internal chassis conditions.
We use combinations of the following hardware:
• SunMoon SM-268
• CSI3710A Programmable DC load (+3.3V and +5V outputs)
• CSI3711A Programmable DC load (+12V1, +12V2, +12V3, and +12V4)
• Extech Power Analyzer
• Extech MultiMaster MM570 digital multimeter
• Extech digital sound level meter
• Digital oscilloscope (20M S/s with 12 Bit ADC)
• Variable Autotransformer, 1.4 KVA

We test in a single +12V configuration.
DC Output Load Regulation

+3.3V

+5V

+12V

+5VSB

-12V

A

V

A

V

A

V

A

V

A
V
65W

0.92

3.38

0.87

5.09

4.40

12.02

0.50

0.20

-12.03

130W

1.63

3.37

1.65

5.07

9.15

12.00

1.00

0.20

-12.04

325W

2.90

3.33

3.00

5.05

24.25

11.97

1.50

0.20

-12.04

490W

4.00

3.35

4.10

5.03

36.92

11.95

2.00

5.01

0.30

-12.03

650W

5.00

3.34

5.30

5.02

49.71

11.92

2.50

0.30

-12.03
Load regulation is very strong indeed and stable.
Deepcool Gamer Storm DQ650-M PSU
Maximum Load
702W
We managed to get the PSU to deliver 702 watts before it would shut down, delivering around 50 watts more than the rated specifications.
Next we want to try Cross Loading. This basically means loads which are not balanced. If a PC for instance needs 500W on the +12V outputs but something like 30W via the combined 3.3V and +5V outputs then the voltage regulation can fluctuate badly.
Cross Load Testing
+3.3V
+5V
+12V
-12V
+5VSB
A
V
A
V
A
V
A
V
A
V
590W
1.0
3.38
1.0
5.02
48.0
11.93
0.2
-12.04
0.50
5.01
145W
12.0
3.32
15.0
4.99
2.0
12.02
0.2
-12.03
0.50
5.02
The unit passed our cross load test without any problems. It was hit with 48A on the +12V rail and it held at 11.93.
We then used an oscilloscope to measure AC ripple and noise present on the DC outputs. We set the oscilloscope time base to check for AC ripple at both high and low ends of the spectrum. ATX12V V2.2 specification for DC output ripple and noise is defined in the ATX 12V power supply design guide.
ATX12V Ver 2.2 Noise/Ripple Tolerance

Output

Ripple (mV p-p)

+3.3V

50

+5V

50

+12V1

120

+12V2

120

-12V

120

+5VSB

50
Obviously when measuring AC noise and ripple on the DC outputs the cleaner (less recorded) means we have a better end result. We measured this AC signal amplitude to see how closely the unit complied with the ATX standard.
AC Ripple (mV p-p)
DC Load
+3.3V
+5V
+12V
5VSB
152W
10
10
10
5
270W
15
15
10
10
400W
15
15
15
15
523W
20
20
15
20
650W
20
20
20
25
Ripple suppression proved to be good across the board – passing at all load situations. It held at 20mV at full load across both +3.3 and +5V rails. The +12V rail held well, peaking at 20mV at full load as well. Great results from the CWT partnered supply.
Efficiency (%)

152W

90.3

270W

92.2

400W

91.8

523W

90.4

650W

89.6
Efficiency results are good, peaking at just over 92% around 45% load. At full load efficiency drops to 89.6%. These are solid results for an 80 Plus Gold rated unit.
We take the issue of noise very seriously at KitGuru and this is why we have built a special home brew system as a reference point when we test noise levels of various components. Why do this? Well this means we can eliminate secondary noise pollution in the test room and concentrate on components we are testing. It also brings us slightly closer to industry standards, such as DIN 45635.
Today to test the Power Supply we have taken it into our acoustics room environment and have set our SkyTronic DSL 2 Digital Sound Level Meter (6-130dBa) one meter away from the unit. We have no other fans running so we can effectively measure just the noise from the unit itself.
As this can be a little confusing for people, here are various dBa ratings in with real world situations to help describe the various levels.
KitGuru noise guide
10dBA – Normal Breathing/Rustling Leaves
20-25dBA – Whisper
30dBA – High Quality Computer fan
40dBA – A Bubbling Brook, or a Refrigerator
50dBA – Normal Conversation
60dBA – Laughter
70dBA – Vacuum Cleaner or Hairdryer
80dBA – City Traffic or a Garbage Disposal
90dBA – Motorcycle or Lawnmower
100dBA – MP3 Player at maximum output
110dBA – Orchestra
120dBA – Front row rock concert/Jet Engine
130dBA – Threshold of Pain
140dBA – Military Jet takeoff/Gunshot (close range)
160dBA – Instant Perforation of eardrum
Noise (dBA)

152W

<28.0

270W

<28.0

400W

29.7

523W

31.8

650W
33.8
The noise levels emitted from this supply are great. It is truly a very quiet unit under most load situations and only really becomes audible at over 500W load. Even then the fan pitch is not intrusive. Great results.
Temperature (c)

Intake

Exhaust

152W

36

38

270W

39

42

400W

42

46

523W

44

51

650W

47

57
The fan is not very active under lower load situations, spinning very slowly. As the load increases the fan spins a little more actively to compensate for rising temperatures internally.
| | |
| --- | --- |
| Maximum load | Efficiency |
| 702 watts | 88.7 |
At 716 watts, the efficiency level measures 88.7%. Not a practical situation to be running 24/7, but worth noting.
The DeepCool Gamer Storm DQ650-M is another solid, high performing power supply by the company, in partnership with OEM Channel Well Technology. The build quality is high all round and it is good to see the adoption of high grade Japanese parts from leading companies such as Nichicon, Rubycon and Chemi-Con.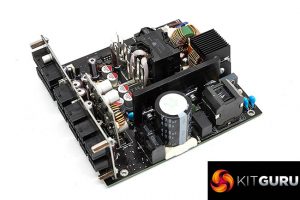 The external design of the DQ650-M is appealing. The adoption of a simple colour scheme means it will suit any colour schemed build and it also manages to maintain low noise levels through the power demand, ensuring those with sensitive ears will not find daily operation intrusive.
Technically the unit delivers the goods. Ripple suppression throughout the load range is excellent and load regulation falls well within expected parameters for safe operation.
The modular cable quality is excellent and the cables are long enough to suit a variety of system builds.
The big concern for me right now is the availability. I am still waiting to hear back from Deepcool to get a working UK store link. The unit was available on Amazon UK, but right now it seems out of stock. The higher wattage DQ850-M 850W is available from Amazon right now for £109.99 HERE, and the DQ650-M should be available at less than £90 shortly.
Pros:
Efficient design.
Good ripple suppression.
High build quality
FDB fan gives silent operation.
Fully Modular.
10 year warranty
Cons:
Availability.
A lot of competition in the UK at similar price points from brands such as Seasonic and Corsair.
Kitguru says: This is a good looking, solid performing unit from Deepcool. Technically it is a sound design in partnership with CWT, but the biggest issue is actually finding it on sale anywhere.