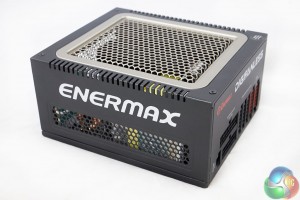 The Enermax DigiFanless 550W is an attractive power supply with plenty of venting on the panels to support good airflow. This is obviously critically important as there is no fan in the unit. The unit measures 150 mm (W) x 86mm (H) x 175 mm (D).
The Enermax power supply passed our 'screwdriver' test without a hitch. This involves running the head of a Philips head driver down the side of the chassis with light to medium force. After all, how many times have you accidentally connected with a power supply during a system build?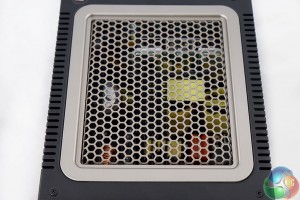 A direct photograph from the top of the power supply. No fan, just vents.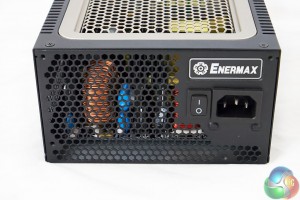 One side of the DigiFanLess power supply has a Enermax sticker, and underneath, a power connector and switch. More venting on this side to ensure there is plenty of airflow.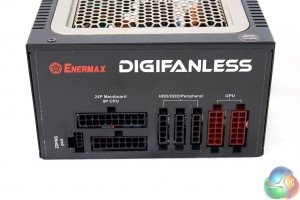 One side of the power supply is home to the modular panel, which is clearly labeled and colour coded to help ease installation. There is also a digital interface point for connection to the main system – this allows the software to read information and to control certain areas of the power supply.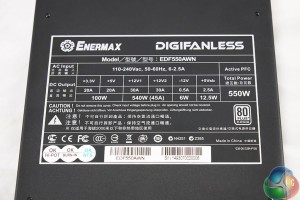 Enermax DigiFanless 550W PSU

DC Output

+3.3V

+5V

+12V1
+12V2

-12V

+5Vsb

Max Output

20A

20A

30A
30A

0.5A

2.5A

Total Power
100W
540W
6W
12.5W
550W (peak 605W)
The +3.3V and +5V rails each deliver up to 20A of power. The +12V rail can deliver up to 540W of the total power.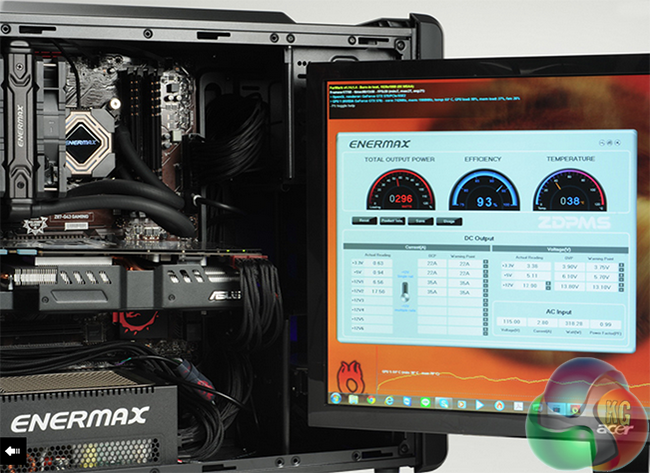 Enermax bundle software (called ZDPMS) with the power supply however you must use the digital interface control cable, supplied with the unit. You can download the latest version of this software from the 'downloads' page here: http://www.enermax.co.uk/digifanless.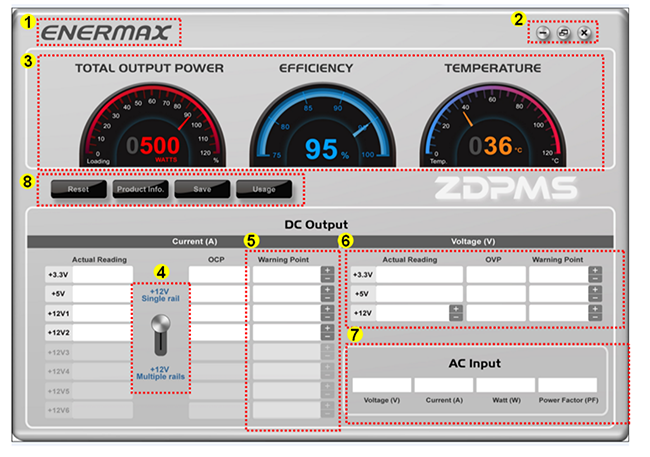 Quick link to Enermax
Window Control Tab
General PSU Status Information
12V rail(s) controller
DC output Current status & control
DC output Voltage status & control
AC input status
Additional Information Tab
Section 2 in the list offers settings for minimising the window, and a change to 'Simple Mode'. Simple mode depicts Total Output, Efficiency level and running temperature.
Section 3 shows the power supplies current DC output wattage, efficiency and internal temperature.
Section 4 gives a pull down for multiple rails output, and a pull up for a single 12V rail output setting.
Section 5 monitors the power supply DC rails output amperes and lets the end user set the Over Current Protection warning point by clicking the + and – buttons within the range highlighted below.
| | | |
| --- | --- | --- |
| | Min Trigger Point | Adjustable warning point range |
| +3.3V | 22A | 18-22A |
| +5V | 22A | 19-22A |
| +12V1 | 35A | 31-35A |
| +12V2 | 35A | 31-35A |
| +12V (Single Rail Mode) | 50A | 46-50A |
Section 6 monitors DC output voltage, and allows the user to tune +12V output voltage and the OVP warning point by clicking + or – buttons. The voltage/warning adjustable range is shown in the table below.
| | | |
| --- | --- | --- |
| | Adjustable output range | Adjustable warning point range |
| +3.3V | – | 3.45-3.7V |
| +5V | – | 5.2-5.7V |
| +12V | 11.64-12.36V (±3%) | 12.4-13.1V |
Section 7 monitors AC input voltage range, input current, wattage and power factor values.



Section 8 is the additional Information tab. Reset will return all settings back to default. Clicking the Product Information tab will show the power supply model number and ZDPMS software version. The Save tab allows your own configurations to be stored to a drive for easy recall.
The Usage tab may come in handy if you want to analyse your power drain all year. You can track operation time, and (KwH) to estimate electricity costs.