The last time we reviewed a passively cooled power supply was almost 3 years ago. It was the Seasonic Platinum Fanless 520W model, a stellar power supply which walked away with our highest award. The enthusiast audience demanding lower noise levels is increasing all the time. The only downside with a passive, fanless design is the high cost – the Seasonic 520W fanless power supply retails for £124.99 inc vat, three years later. By anyone's standards this is a fair chunk of change.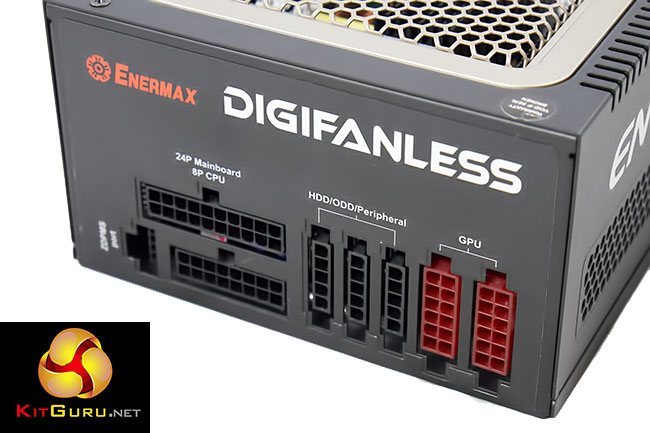 The Enermax DigiFanLess 550W is even more expensive than the Seasonic Platinum Fanless 520W. While no stock is yet available in the United Kingdom, we have been told that the price is 210 euros. If we do a direct euro conversion to pounds sterling at xe.com, the final price is likely to be close to £160, possibly more if there are extra charges for UK VAT.
Technically we find there is a lot to recommend. The Enermax DigiFanless 550W can deliver a sustained 600W+ load and it exhibits no major weaknesses. Load regulation is stellar, ripple suppression is fantastic, and there is no noise whatever, regardless of the load. Special care needs to be taken for the installation phase, as the main vent should be at the top, so the hot air can rise upwards, and out. Incorrect mounting could be potentially fatal for the power supply, over time.
We appreciate the lengths Enermax have taken to ensure it not only performs well, but it looks well. From the deep, rich paint work, to the attractive individually sleeved cables, this is a power supply that will look great on display inside a premium windowed chassis. The option to control aspects of the power supply via software is likely to be a key selling point to the audience who love to 'tweak' settings.

Inside, the company has used all, high grade Japanese capacitors, rated at 105c. Having these capacitors in a passive design is critical to long term stability, especially if you are likely to be drawing in excess of 400 watts under sustained load.
You should consider the Enermax DigiFanless 550W if you are trying to reduce your rigs noise as far as possible and have a little extra money in your pocket. Otherwise, I feel regardless of how good this power supply is, that the £160+ price is going to be a tough ask for 90% of the potential audience.
Right now, we can't link to any store, as there is no availability. According to Enermax, Overclockers UK, Scan and Amazon should have stock in the coming weeks.
Discuss on our Facebook page, over HERE.
Pros:
Fantastic looking power supply.
fanless, therefore silent (didn't exhibit coil whine either).
handled a sustained 600Watt load for a long time.
software implementation is interesting.
individually sleeved cables.
fully modular.
Cons:
It is expensive, UK price is likely to be similar to many leading 1000W units.
KitGuru says: The Enermax DigiFanless 550W is built to cater to a specialist audience, and it is an exceptionally well built unit that performs just as well. The asking price may prove too much for many however.