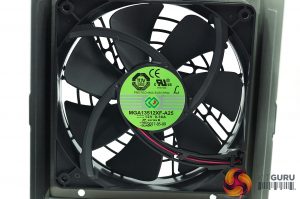 FSP are using a 135mm fan by Protechnic Electric, Model number MGA13512XF-A25. Its quite difficult to find detailed information on this fan, but we know it is 12V 0.38A and has a Fluid Dynamic Bearing which is rated at a maximum speed of 2,300 rpm.

Below - a High Resolution Gallery of the internal layout of the Power supply.
Please be aware if the gallery doesn't load you will need to disable your ad blocker as it interferes with the code.
This is a DC-DC design and it features high grade Japanese capacitors on both primary and secondary stages. The soldering is very good throughout and due to the high levels of efficiency there is no need to populate the supply with a plethora of heat sinks.

FSP pointed out their special heat sink design for the 12V switching circuit which is meant to transmit heat via a thermal pad on the bottom of the power supply – this effectively turns the chassis into a giant heat sink for cooling.
FSP are using a custom Variable Resistor design to control the balanced point of the +12V rail to make sure the output voltage regulation is inside a 1% variable under any load change.
The primary side capacitors are by Japanese company Rubycon and are rated at 105c. Each capacitor is rated at 420V 330uf for a total of 660uF. Rubycon and Nippon Chemi Con are excellent Japanese caps for these kind of units, offering long term reliability.