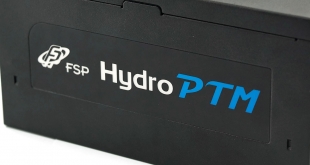 Today we take a look at one of the newest power supplies from FSP – the Hydro PTM. After a somewhat disappointing experience with FSP's Dagger 600W SFX supply back in May, we hope this unit performs at a much higher level. The PSU-Hydro PTM is 80 Plus Platinum Certified, fully modular and according to the company equipped with high grade Japanese capacitors.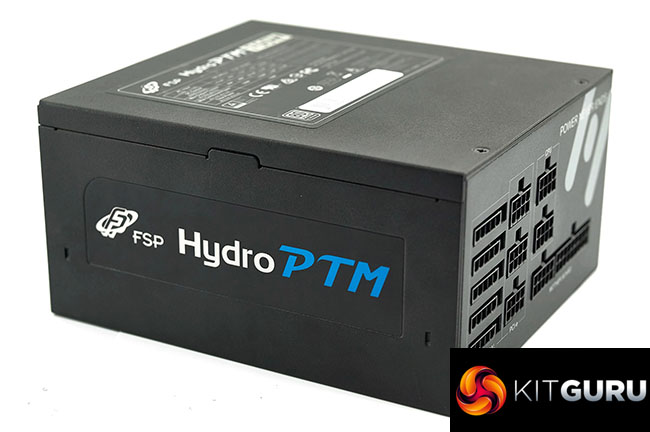 I have to admit the 'Hydro' name that FSP have adopted makes little sense to me. After all, we would expect these power supplies to offer watercooling support, right? Well they don't. However to confuse matters FSP have highlighted their PTM+ (the 'Plus' is the key part to note) power supplies (HERE) and they are keen to point out that this is the 'world's only liquid cooled power supply'.
I do love water cooling, but I have a few reservations about potential leaks so close to the primary power source. I am sure FSP have thought it all through carefully and I have requested a sample for review at a future date.
The short version is that just because the name of these units is Hydro PTM – its only the PTM+ (PLUS) model that actually offers watercooling support.
The plain PTM series we are looking at today has three power capacities available and while we are analysing the 750 Watt model today, there are 550 watt and 650 watt options available. This range of power supplies is covered by a 10 year warranty.
FSP Hydro PTM Features:
Unique product ID with changeable side stickers for DIY enthusiasts and gamers.
Intelligent fan speed control circuit design.
Advanced thermal layout design.
Complies with newest ATX12 v2.4 & EPS12 v2.92 standards.
High efficiency ≧ 92%.
Active PFC ≧ 99%.
High Wattages with 80PLUS® Platinum Certification.
Powerful +12V single rail design.
Advanced full modular design with ribbon cables.
Full Japan-made electrolytic capacitors.
Support 6+2 pin PCI-Express Connectors.
Quiet and Long-Lasting 135mm FDB Fan.
Complete Protections: OCP, OVP, SCP, OPP, UVP, OTP.
Global Safety Approved.
Be sure to check out our sponsors store EKWB here