After analysing the subpar FSP Dagger 600W back in May (HERE), the FSP HYDRO PTM 750W highlights FSP strengths when they get a design right. The HYDRO PTM 750W delivers stable power, great load regulation and achieves a very high level of efficiency.
Appearances are positive, if a little bland. The Hydro PTM is a perfectly fine looking power supply but with none of the fancy case bevelling and embossing that Seasonic have been adopting into their chassis designs in recent years. If you want a well built, yet understated power supply, you could do much worse than an FSP Hydro PTM.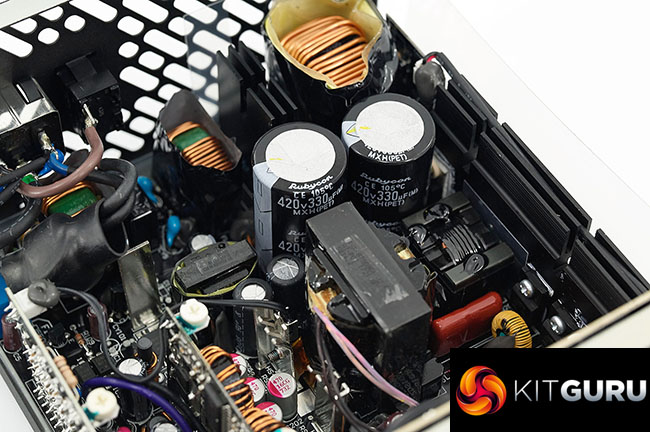 Technically the unit is very good. Ripple suppression is strong and the unit passed our cross load test without a hiccup. It is also relatively quiet under load and the modular ribbon cabling will be welcomed by system builders trying to achieve a clean and tidy build.
Inside I was happy to see 105c Japanese capacitors used throughout – its hard to go wrong with either Nippon Chemi Con or Rubycon, as featured in the PTM supply. The overall internal build is clean and neat throughout and the big fan copes with the cooling well.
One thing that bothers me is FSP's confusing product strategy and naming. The 'Hydro' range of power supplies do not offer any watercooling support at all, but the Hydro PTM+ (Plus) does (HERE). Its a completely different range however and the Hydro moniker in the standard PTM range is redundant as the only time you will get water near it is if you accidentally spill some over it – which will likely lead to a rather horrible bang.
Another issue I have with FSP is their availability. KitGuru is based in the United Kingdom and we like to try and ensure that anything we review is available for our readers. FSP continue to struggle with UK stock and when we asked about availability of the PTM series they said that UK and European sales are currently 'unclear'.
We did manage to get the following American prices direct from FSP:
550W USD119
650W USD129
750W USD139
So, in closing, FSP have created a very good power supply and if they got the price right in the United Kingdom it could be a very good seller. Without stock, or any indication of any becoming available it leaves a bit of a sour taste in my mouth.
I get asked all the time by KitGuru readers about FSP availability and often there just isn't any that I can offer. It really is not a good situation for FSP as they should be targeting European/UK markets to raise awareness and sales which can be further invested into research and development.
As for the Hydro PTM 750W reviewed today, I am unable to link to any stores and I don't have confirmed prices either so it becomes quite tricky to measure inside our award system. I can certainly say that if the UK price was right (based on the dollar amount), the FSP Hydro PTM 750W is worth buying.
Until FSP get their act together and unless the situation changes, it looks unlikely you will be able to pick one up. Unless you live in America that is.
Pros:
Fine build quality.
Technically solid.
105c Japanese Capacitors.
Fully modular.
Quiet under load.
Cons:
The 'Hydro' name makes no sense whatsoever.
Poor availability (none at time of publication) in the European and UK market.
KItGuru says: The FSP Hydro PTM 750W is a fine power supply and a well rounded package. Highly recommended.
Be sure to check out our sponsors store EKWB here