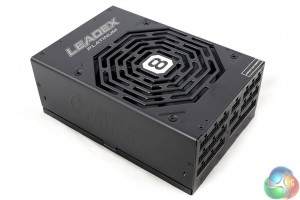 Like all high capacity Super Flower power supplies, the 8 Pack 2000W edition is physically imposing.  You will need to make sure your chassis can accommodate the 150 x 86 x 220 mm (WxHxD) dimensions.
This 2000 watt unit passed our 'screwdriver' test without a problem. This involves running the head of a Philips head driver down the side of the chassis with light to medium force. After all, how many times have you accidentally connected with a power supply during a system build?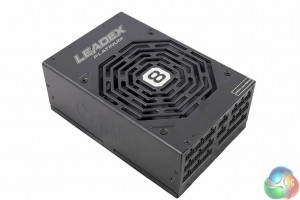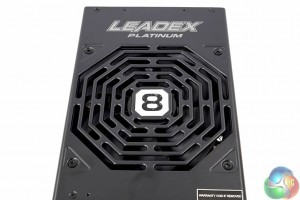 The large fan is hidden behind a thick grill system – this is cut into the chassis itself. The Super Flower logo in the center has been replaced with an '8 Pack' logo.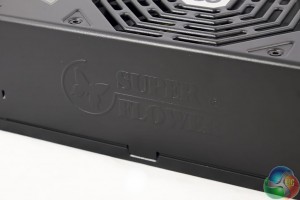 No nasty looking stickers – the Super Flower logo and name is embossed into the chassis on the side panels. Subtle yet quite effective.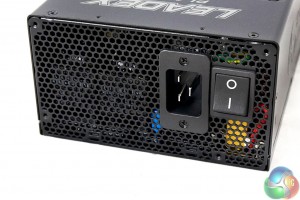 At one end of the power supply is the power connector and switch. A large honeycomb style vent is cut into the chassis to help with air flow.
This connector requires a special, heavy duty cable to handle the massive power delivery. This is included in the box as shown earlier – but it is worth pointing out that you can't just use a standard power cable with this unit.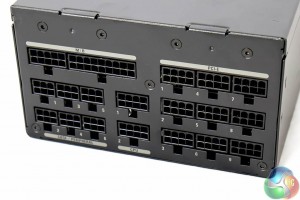 The modular bay is literally crammed with connectors. All of these are clearly sized and labelled to help during the installation phase. On the 1600 watt version of this power supply there is an 'AUTO/ECO' button bottom left. This is replaced on the 2000 watt model with another SATA/Peripheral connector.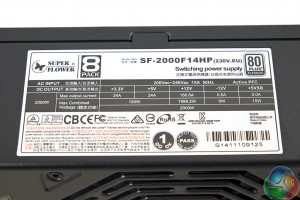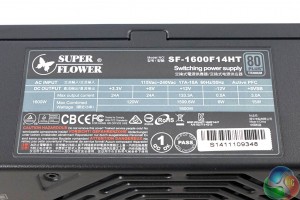 SuperFlower Leadex Titanium PSU 2000W '8Pack Edition'


DC Output

+3.3V

+5V

+12V

-12V

+5Vsb

Max Output

24A

24A

166.6A

0.5A

3.0A

Total Power
120W
1999.2W
6W
15W
2000W
The single +12V rail can deliver 166.6A which seems a little scary to me. With this kind of juice on tap there would be no problems powering even two overclocked AMD R9 295X2 with full watercooling kit. Our previous review of the OverclockersUK Infinity Vesuvius system highlighted that two R9 295X2 cards could demand close to 1,200 watts under load.