If you are in the market for a 1500-2000 watt power supply it is (highly) likely you are running a 'balls out' overclocked system comprising three or four AMD or Nvidia graphics cards partnered up with an expensive watercooling kit.
The promotional activity around this 2000w supply has been quite frenzied. It makes sense, Overclockers UK (Caseking) have an exclusive distribution deal with SuperFlower, and their star man Ian '8 Pack' Parry has been involved in the promotional activities. To be fair we can't imagine too many people are playing with LN2 even if '8Pack has created a rather cool looking video showing him in action – powering a system while using the very same 2000W power supply.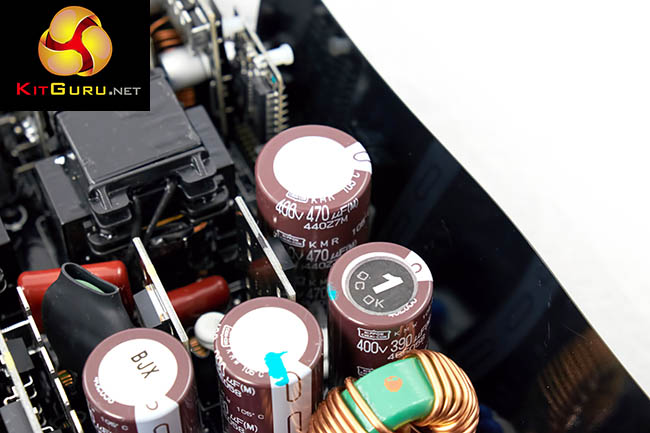 Internally, there is little to fault. Super Flower are adopting the highest grade Japanese 105c rated capacitors from Nippon Chemi Con – one of my own personal favourites. We have never seen a Nippon Chemi Con capacitor fail horribly, unlike some from cheaper Chinese makes such as TEAPO. No corners have been cut, which is always good to see when you are forking out a considerable wad of cash for a flagship product.
Load regulation is excellent, ripple suppression is stellar and the unit passed our cross load test with flying colours. Technically there are no issues to report and we are confident that at any load demand, the power supply is delivering stable, clean power.


The Super Flower Leadex Platinum '8 Pack Edition' 2000W is available in the UK exclusively from Overclockers UK, for £349.99 inc vat. It is a lot of money to spend on a power supply, but for the select audience demanding insane levels of power we haven't tested anything quite in the same league.
On our Facebook page we often see reader builds with people using massively over specified power supplies. A KitGuru tip – If you have recently bought two GTX980's then you really don't need this 2000 watt 8Pack supply. We would advise you save money and pick up a high quality 850/1000 watt power supply  – achieving close to peak 50% efficiency, under full load. The full Super Flower range is available from this page. For most high end dual card systems we would recommend the Super Flower Leadex Platinum 1000W Fully modular unit, available in black and white.
That said, a special case would be the AMD R9 295X2. This is a power sapping beast, and two of them in Crossfire will demand around 1,200 watts. If you own a system like this, the Super Flower Leadex Platinum 8 Pack Edition 2000W is a good buy because under full load you aren't stressing the power supply too much and it will be delivering close to maximum efficiency.
We do have to give kudos to Ian '8Pack' Parry, this is a heck of a power supply to be associated with.
Discuss on our Facebook page, over HERE.
Pros:
delivered the full 2000 watts.
stable power.
highest grade 105c Nippon Chemi Con capacitors.
lovely finish.
high efficiency.
Cons:
physically large.
a lot of cash.
Kitguru says: This 8Pack special edition power supply accepts no compromises both inside and out. Can power the highest end multi card enthusiast systems without a problem.