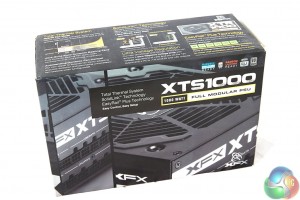 The XFX XTS 1000 box artwork is rather cluttered, but there is a nice quality image of the unit itself visible on the front of the box. The PR agency handling the shipment of this item decided to wrap the power supply in a thin plastic bag with no protection – the outer box was (unsurprisingly) completely destroyed by the time it reached us, but we managed to get another box for the purposes of the pictures in this review today. Luckily the unit itself inside was undamaged.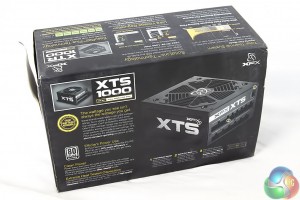 The rear of the box features a lot of specifications and the main features of the unit.
The box is substantially heavy. When opened there is a smaller box on top which is home to the modular cabling. The power supply is protected inside a foam bag alongside a user manual.
Sadly there is no storage pouch for the modular cabling, instead XFX supply a simple thin box, as shown in the images above. They also include a regional specific power cable.
This power supply is a fully (pure) modular design, so no cables are hardwired into the chassis.
| | |
| --- | --- |
| Cable | Connectors |
| MB 20+4 pin | x1 (600mm) |
| CPU 4+4 pin | x1 (650mm) |
| CPU 8 pin | x1 (650mm) |
| PCI E 8 pin (6 pin +2) | x8 (550mm + 110mm) |
| SATA | x8 (520mm+120mm+120mm) |
| SATA | x4 (520mm+120mm) |
| MOLEX | x5 (410mm+105mm+105mm) |
| MOLEX/FLOPPY | x1/x1 (350mm+150mm) |
All of the cables with exception of the main ATX cable are flat and easy to route.  They are AWG18 gauge. There are no shortage of PCIE cables (8+2 pin) for demanding Crossfire and SLI systems. There are a total of 11 SATA connectors, meaning this power supply is also ideal for a massive storage server system. It is interesting to see the official XFX site says this unit has only 6x PCIe connectors, but it is wrong, there are actually x8.