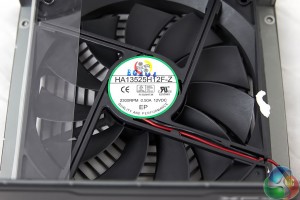 The 135mm cooling fan is supplied by Ong Hua, model number HA13525H12F-Z. This fan is rated 0.5A, 12V, 2,300 rpm max). As we already know it can be toggled into operating in a semi passive mode.

This unit is built on the older Seasonic Platinum platform – dubbed KM3. Seasonic revamped this platform some time ago and changed the name of the platform to XP3. We imagine XFX are using the older platform to keep the cost down.
The primary side is full bridge topology and incorporates a LLC converter to improve efficiency – critical for a Platinum rated unit. The secondary side utilises a synchronous design to generate +12V, with two DC-DC converters supplying the minor rails. If we think back to our last review of the XP3 platform we remember the MOSFETS were on the solder side of the primary PCB rather than on a vertically mounted daughter card.
We are happy to report that soldering quality is excellent throughout, as we would expect from Seasonic.
On the AC receptacle are components for the transient filtering stage. A CM choke, single X cap and four Y caps make this up. This continues onto the main PCB with two X caps, two Y caps, two CM chokes, a DM choke and an MOV.
The DC-DC converters are installed onto the modular PCB and there are a handful of Chemi-Con polymer caps on the front to filter the DC outputs.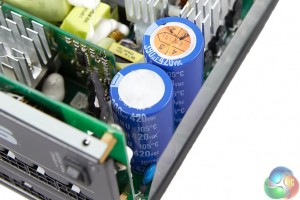 We are pleased to see that the XFX XTS 1000W unit adopts two high grade 105c Japanese capacitors by Hitachi. They are rated 420V, 380 uf each (780uF combined). The Seasonic version of this power supply used Nippon Chemi Con capacitors, but these Hitachi caps are closely matched in quality.