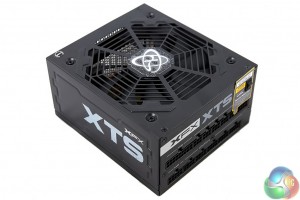 The appearance of the XFX XTS will appeal to 'colour coordinated' system builders as there are no colours on the chassis, just black paint and white stickers. The paint finish is very good and very resistant to scratching.

The XFX logo is clearly visible in the center of the metal grill, in front of the fan. We will see the make of the fan when we crack open the power supply shortly.
The modular side of the power supply has a sticker highlighting the two modes of operation. This needs to be removed before you install the power supply. This review was handled in 'normal' mode as we want the fan active during our intensive stress testing. Hybrid is classed as S3FC fanless silent mode and Normal is classed as S2FC silent cooling mode. S3FC is designed to turn off the fan at lower power levels and the S2FC mode keeps the fan running all the time. Normal is the best choice for the majority of environments.
The modular bay itself is easy to read, and nicely laid out. As this is a 1000w unit there are plenty of connectors.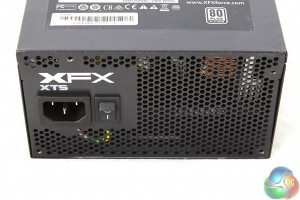 The other side of the power supply is home to the power switch and connector, alongside a vented panel to help with air flow.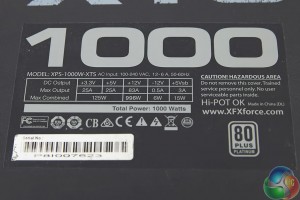 XFX XTS 1000W Platinum PSU

DC Output

+3.3V

+5V

+12V

-12V

+5Vsb

Max Output

25A

25A

83A

0.5A

3A

Total Power
125W
996W
6W
15W
1000W
The power supply can deliver 996W to the single +12V rail, or 83A. Extremely impressive figures.