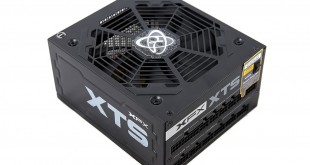 If you are shopping for a new high grade power supply then there are many options available on the market this year. We were recently sent the XFX XTS 1000W to review – currently one of the least expensive Platinum grade power supplies available on the market today, available at only £150 inc vat.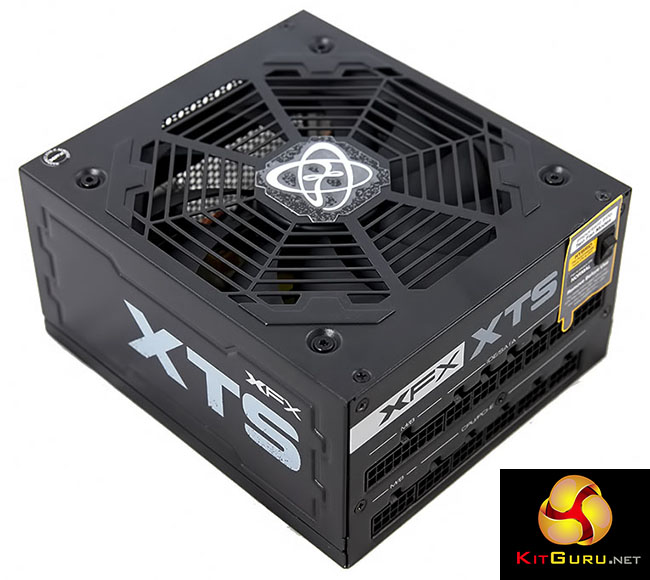 Currently there are five ranges of power supplies available from XFX (HERE).

XFX power supply range:
XT – Bronze.
XXX – Modular Bronze.
XTR – Modular Gold.
XTS – Modular Platinum.
TS is EOL in the UK.
XFX XTS Features:
80Plus Platinum Certified
Crossfire and SLI Ready
Haswell Ready
EasyRail Plus Technology
Hybrid Fan Control Modes
XFX Exclusive 5 Year Warranty
Compatible with Intel Core i3, i5, i7 and AMD Phenom, FX
DC to DC Converter Design
Conductive Polymer Aluminum Solid Electrolytic Capacitors
Active Power Factor Correction [99% PF Typical]
High +12V Output
Ultra Ventilation [Grid Structure]
Multi-GPU Technologies Supported
All-in-One DC Cabling Design
Universal AC Input [Full Range]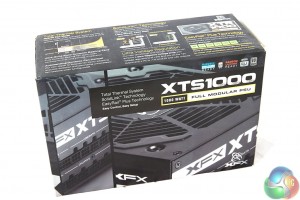 The XFX XTS 1000 box artwork is rather cluttered, but there is a nice quality image of the unit itself visible on the front of the box. The PR agency handling the shipment of this item decided to wrap the power supply in a thin plastic bag with no protection – the outer box was (unsurprisingly) completely destroyed by the time it reached us, but we managed to get another box for the purposes of the pictures in this review today. Luckily the unit itself inside was undamaged.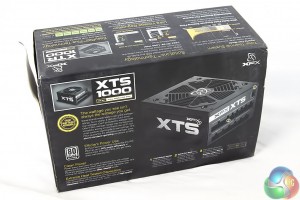 The rear of the box features a lot of specifications and the main features of the unit.
The box is substantially heavy. When opened there is a smaller box on top which is home to the modular cabling. The power supply is protected inside a foam bag alongside a user manual.
Sadly there is no storage pouch for the modular cabling, instead XFX supply a simple thin box, as shown in the images above. They also include a regional specific power cable.
This power supply is a fully (pure) modular design, so no cables are hardwired into the chassis.
| | |
| --- | --- |
| Cable | Connectors |
| MB 20+4 pin | x1 (600mm) |
| CPU 4+4 pin | x1 (650mm) |
| CPU 8 pin | x1 (650mm) |
| PCI E 8 pin (6 pin +2) | x8 (550mm + 110mm) |
| SATA | x8 (520mm+120mm+120mm) |
| SATA | x4 (520mm+120mm) |
| MOLEX | x5 (410mm+105mm+105mm) |
| MOLEX/FLOPPY | x1/x1 (350mm+150mm) |
All of the cables with exception of the main ATX cable are flat and easy to route.  They are AWG18 gauge. There are no shortage of PCIE cables (8+2 pin) for demanding Crossfire and SLI systems. There are a total of 11 SATA connectors, meaning this power supply is also ideal for a massive storage server system. It is interesting to see the official XFX site says this unit has only 6x PCIe connectors, but it is wrong, there are actually x8.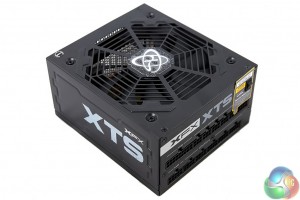 The appearance of the XFX XTS will appeal to 'colour coordinated' system builders as there are no colours on the chassis, just black paint and white stickers. The paint finish is very good and very resistant to scratching.
The XFX logo is clearly visible in the center of the metal grill, in front of the fan. We will see the make of the fan when we crack open the power supply shortly.
The modular side of the power supply has a sticker highlighting the two modes of operation. This needs to be removed before you install the power supply. This review was handled in 'normal' mode as we want the fan active during our intensive stress testing. Hybrid is classed as S3FC fanless silent mode and Normal is classed as S2FC silent cooling mode. S3FC is designed to turn off the fan at lower power levels and the S2FC mode keeps the fan running all the time. Normal is the best choice for the majority of environments.
The modular bay itself is easy to read, and nicely laid out. As this is a 1000w unit there are plenty of connectors.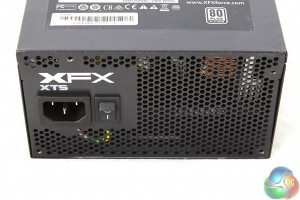 The other side of the power supply is home to the power switch and connector, alongside a vented panel to help with air flow.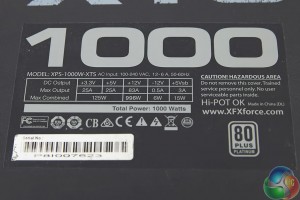 XFX XTS 1000W Platinum PSU

DC Output

+3.3V

+5V

+12V

-12V

+5Vsb

Max Output

25A

25A

83A

0.5A

3A

Total Power
125W
996W
6W
15W
1000W
The power supply can deliver 996W to the single +12V rail, or 83A. Extremely impressive figures.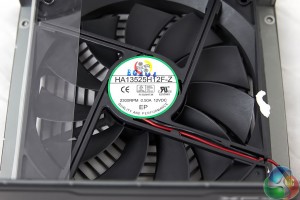 The 135mm cooling fan is supplied by Ong Hua, model number HA13525H12F-Z. This fan is rated 0.5A, 12V, 2,300 rpm max). As we already know it can be toggled into operating in a semi passive mode.
This unit is built on the older Seasonic Platinum platform – dubbed KM3. Seasonic revamped this platform some time ago and changed the name of the platform to XP3. We imagine XFX are using the older platform to keep the cost down.
The primary side is full bridge topology and incorporates a LLC converter to improve efficiency – critical for a Platinum rated unit. The secondary side utilises a synchronous design to generate +12V, with two DC-DC converters supplying the minor rails. If we think back to our last review of the XP3 platform we remember the MOSFETS were on the solder side of the primary PCB rather than on a vertically mounted daughter card.
We are happy to report that soldering quality is excellent throughout, as we would expect from Seasonic.
On the AC receptacle are components for the transient filtering stage. A CM choke, single X cap and four Y caps make this up. This continues onto the main PCB with two X caps, two Y caps, two CM chokes, a DM choke and an MOV.
The DC-DC converters are installed onto the modular PCB and there are a handful of Chemi-Con polymer caps on the front to filter the DC outputs.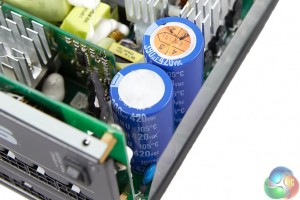 We are pleased to see that the XFX XTS 1000W unit adopts two high grade 105c Japanese capacitors by Hitachi. They are rated 420V, 380 uf each (780uF combined). The Seasonic version of this power supply used Nippon Chemi Con capacitors, but these Hitachi caps are closely matched in quality.
Additional technical assistance: Peter McFarland and Jeremy Price.
Correctly testing power supplies is a complex procedure and KitGuru have configured a test bench which can deliver up to a 2,000 watt DC load. Due to public requests we have changed our temperature settings – previously we rated with ambient temperatures at 25C, we have increased ambient temperatures by 10c (to 35c) in our environment to greater reflect warmer internal chassis conditions.
We use combinations of the following hardware:
• SunMoon SM-268
• CSI3710A Programmable DC load (+3.3V and +5V outputs)
• CSI3711A Programmable DC load (+12V1, +12V2, +12V3, and +12V4)
• Extech Power Analyzer
• Extech MultiMaster MM570 digital multimeter
• SkyTronic DSL 2 Digital Sound Level Meter (6-130dBa)
• Digital oscilloscope (20M S/s with 12 Bit ADC)
• Variable Autotransformer, 1.4 KVA
DC Output Load Regulation

+3.3V

+5V

+12V

+5VSB

-12V

A

V

A

V

A

V

A

V

A
V

100W

1.55

3.35

1.78

5.03

6.69

12.03

0.50

0.20

-12.04

250W

3.42

3.34

4.45

5.02

17.16

12.03

1.00

0.30

-12.04

500W

7.07

3.34

9.15

5.02

34.67

12.02

2.00

0.50

-12.05

750W

11.06

3.33

13.74

5.02

52.75

12.01

2.50

5.02

0.60

-12.06

1000W

16.86

3.32

18.96

5.00

71.94

12.00

3.00

0.80

-12.08
The load regulation of this power supply is probably the best we have seen. Period. The +3.3V output hardly moved at all, even under full load. Fantastic, class leading results.
XFX XTS 1000W Platinum
Maximum Load
1155W
We managed to get another 155W from the power supply before the protection circuitry kicked in. The supply was undamaged and it was ready to fire up again when we were a little more sensible with the load.
Next we want to try Cross Loading. This basically means loads which are not balanced. If a PC for instance needs 500W on the +12V outputs but something like 30W via the combined 3.3V and +5V outputs then the voltage regulation can fluctuate badly.
Cross Load Testing
+3.3V
+5V
+12V
-12V
+5VSB
A
V
A
V
A
V
A
V
A
V
885W
2.0
3.32
2.0
5.03
72.0
11.98
0.2
-12.01
0.50
5.01
240W
20.0
3.31
24.0
5.01
2.0
12.03
0.2
-12.01
0.50
5.02
The XFX power supply handled the cross loading tests very well, hardly fluctuating at all under intensive stress conditions.
We then used an oscilloscope to measure AC ripple and noise present on the DC outputs. We set the oscilloscope time base to check for AC ripple at both high and low ends of the spectrum. ATX12V V2.2 specification for DC output ripple and noise is defined in the ATX 12V power supply design guide.
ATX12V Ver 2.2 Noise/Ripple Tolerance

Output

Ripple (mV p-p)

+3.3V

50

+5V

50

+12V1

120

+12V2

120

-12V

120

+5VSB

50
Obviously when measuring AC noise and ripple on the DC outputs the cleaner (less recorded) means we have a better end result. We measured this AC signal amplitude to see how closely the unit complied with the ATX standard.
AC Ripple (mV p-p)
DC Load
+3.3V
+5V
+12V
5VSB
100W
10
10
20
5
250W
15
10
20
5
500W
15
15
25
5
750W
15
15
30
10
1000W
15
15
35
10
Ripple suppression rates as excellent, with both +3.3V and +5V rails holding at 15mV when under a full load situation. The +12V rail peaks at 35mV when delivering a full 1000 watts – another very strong result.
Efficiency (%)

100W

86.9

250W

93.0

500W

93.9

750W

92.5

1000W

91.9
The efficiency results are excellent, peaking at just under 94% at 500W. This drops to 91.9% efficiency at full load, still a very impressive result.
We take the issue of noise very seriously at KitGuru and this is why we have built a special home brew system as a reference point when we test noise levels of various components. Why do this? Well this means we can eliminate secondary noise pollution in the test room and concentrate on components we are testing. It also brings us slightly closer to industry standards, such as DIN 45635.
Today to test the Power Supply we have taken it into our acoustics room environment and have set our SkyTronic DSL 2 Digital Sound Level Meter (6-130dBa) one meter away from the unit. We have no other fans running so we can effectively measure just the noise from the unit itself.
As this can be a little confusing for people, here are various dBa ratings in with real world situations to help describe the various levels.
KitGuru noise guide
10dBA – Normal Breathing/Rustling Leaves
20-25dBA – Whisper
30dBA – High Quality Computer fan
40dBA – A Bubbling Brook, or a Refridgerator
50dBA – Normal Conversation
60dBA – Laughter
70dBA – Vacuum Cleaner or Hairdryer
80dBA – City Traffic or a Garbage Disposal
90dBA – Motorcycle or Lawnmower
100dBA – MP3 Player at maximum output
110dBA – Orchestra
120dBA – Front row rock concert/Jet Engine
130dBA – Threshold of Pain
140dBA – Military Jet takeoff/Gunshot (close range)
160dBA – Instant Perforation of eardrum
Noise (dBA)

100W

28.0

250W

28.0

500W

33.3

750W

35.9

1000W
37.9
The XFX XTS 1000W Platinum is a fairly quiet unit when 500 watts or less is demanded from it. The fan is however quick to spin up and it generates a fair amount of noise in the last 300-350watts of ultimate power delivery. At full load we measured around 38dBa. The fan profile does seem fairly aggressive overall, but perhaps this is to ensure long term reliability.
Temperature (c)

Intake

Exhaust

100W

35

38

250W

35

41

500W

38

48

750W

43

54

1000W

46

58
The efficiency of the power supply really helps the unit to maintain an aggressive thermal profile.
| | |
| --- | --- |
| Maximum load | Efficiency |
| 1155W | 90.8 |
Pushing the PSU above its rated limits generates an efficiency level of around 90.8%. This is not a viable 'real world' situation, but its interesting nonetheless.
The XFX XTS 1000W Platinum has been available now for some time however the price is extremely competitive after some recent reductions, hitting a sub £150 retail point in the UK.
XFX seem to work almost exclusively with Seasonic as their OEM partner and it is a wise decision – we have found Seasonic power supplies to be some of the most reliable long term in our tests over the last 5 years.
XFX have adopted the older KM3 series Seasonic design rather than the newer XP3 platform which we would imagine is a conscious decision to keep the price point as low as possible. In all honestly it is difficult to find any technical faults with the Seasonic design, it excels in all key areas.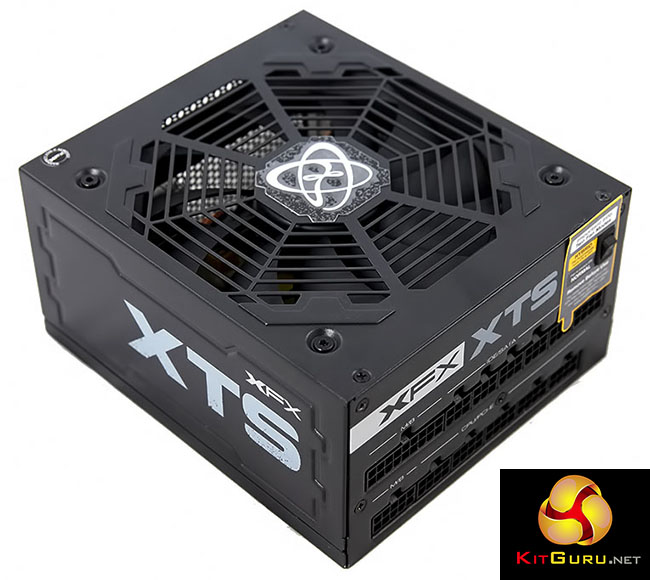 The XFX XTS 1000W Platinum unit produces very impressive ripple suppression figures well within industry tolerance ratings, and it coped with our cross loading test without a problem. Unit efficiency is excellent, and it is worth pointing out that we managed to get 1,155watts from it before the safety features kicked in, switching it off.
The cooling fan is decent, if not class leading and while it maintains a reasonably quiet noise profile until around 600 watts load, it is clearly audible in the last 25% of ultimate power delivery. We wouldn't say it was a loud power supply by any stretch, but using a slightly less aggressive fan profile might have helped reduce noise a little overall.
XFX are offering a 5 year warranty with this particular supply which should bring peace of mind to potential customers. With the extremely competitive price point we feel XFX deserve a lot of sales for this particular unit. A few years ago it would have been almost inconceivable to imagine that a 1000 Watt flagship Platinum grade power supply by Seasonic would be available for less than £150.

You can buy the XFX XTS 1000W Platinum power supply from Overclockers UK for £149.99 inc vat HERE.
Discuss on our Facebook page, over HERE.
Pros:
delivered 1,155 watts before shutdown.
105c Japanese capacitors used throughout.
Semi passive mode available.
Excellent load regulation.
5 year warranty support
cabling is excellent.
fully modular design.
Cons:
can get noisy when pushed hard.
a proper cable storage pouch would have been nice.
Kitguru says: With recent price drops to around £150, this is one of the most competitively priced flagship Platinum grade 1000W power supplies available on the market. Technically, the Seasonic design is bullet proof and is backed up with a full 5 year warranty.