Pitched as a gaming motherboard the ASUS ROG STRIX X99 Gaming does a reasonable job of making X99 an attractive platform for a gaming system. Unlike other Republic of Gamers motherboards from ASUS on the Intel X99 platform, a price of £268.99 ($339.99) is a feasible alternative to Z170 when paired with one of the bottom-rung Broadwell-E processors, such as the i7 6800K or i7 6850K.
The introduction of a number of new features brings the STRIX X99 Gaming up to standard in the face of stiff competition from Z170 over the past year for the PC gaming audience. These include a better assortment of storage options (M.2, U.2 and USB 3.1) and a cosmetic overhaul in the way of RGB lighting and customisable heatsinks. That said, it still feels somewhat exuberant to recommend X99 to gamers unless there is a specific need for more than 4 cores, lots of RAM or the intention to run a multi-GPU setup.
ASUS has fully exploited the opportunities made available by Intel's Broadwell-E CPUs to let tweakers and enthusiasts get maximum performance out of their CPU, through the UEFI and its Turbo App software. Overclocking, as always, is one of the strengths of ASUS ROG motherboards thanks to a comprehensive UEFI and quality power delivery components.

Other mainstays of gaming motherboards such as improved networking and audio are present too. Though it is short-sighted to compartmentalise the ROG STRIX X99 Gaming as a gaming motherboard when it is feature-rich in other areas – for example, a debug code reader, power and reset buttons and the memOK! buttons will greatly appeal to DIY builders.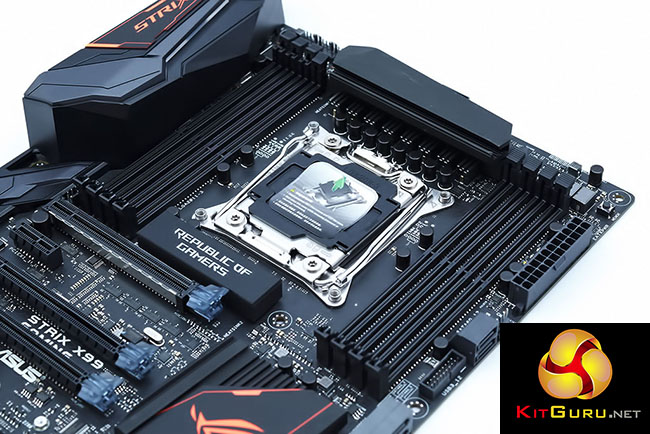 The only real areas that let the ASUS ROG STRIX X99 Gaming are fixable via future updates, meaning these are far from deal-breaking issues. Disappointingly, the Aura RGB software is not ready for Windows scaling – a dubious oversight from ASUS given that it targets high-resolution gamers. Aura as a concept also has some other problems including no ability to save profiles, a lack of application specific behaviour and no RGB controls within the UEFI for users who want to "opt out" of the extra software burden.
The Turbo App could also do with improvement too, we found that the fastest Turbo core isn't assigned to the priority application straight away. It's also not possible to have multiple high-frequency Turbo cores and use the software to assign different applications to different cores, something that would be well-worth having when you have as many as 10 cores on the flagship i7 6950X.
In the UEFI we found the ASUS default behaviour with an XMP profile to be just too aggressive – applying a 4GHz overclock when the user has chosen to enable an XMP profile is not something we think is warranted. There are inherent cooling and power consumption consequences of such a significant overclock, it almost doubles the chip's TDP, ASUS doesn't even warn the user about this when XMP is enabled.
Additionally, ASUS works with Intel to designate the "golden core" within the UEFI – e.g. the core that will overclock the highest. However, when we loaded the OC profile in the ASUS UEFI for the i7 6950X, it applied the lowest core frequency to the most capable core and downclocked our memory. The OC profile should be dynamic enough to select the golden core for the highest frequency and preserve XMP speeds if they exceed the RAM speed in the OC profile.
Discuss on our Facebook page, over HERE.

Buy from Overclockers UK for £268.99 inc vat HERE.
Pros:
Excellent feature-set
Up-to-date connectivity options
Competitively priced for an ASUS X99 ROG motherboard
Cons:
Software needs refinement
Some UEFI options could be improved
KitGuru says: An up-to-date and feature-packed Republic of Gamers X99 motherboard that drops the extravagant Rampage price-tag.