It should be fairly apparent by now that there isn't a substantial amount to distinguish between gaming Z170 motherboards at the entry-level market segment. That being said MSI has still chosen to take a different approach to the likes of ASUS and Gigabyte which has paid off in some ways but not so much in others.
The MSI Z170A Tomahawk is definitely a sturdily built and well-styled gaming motherboard for its £105/$150 price-tag with some surprising features like debug LEDs and Clear CMOS buttons that should greatly enrich the building and overclocking experiences.
Nonetheless it seems like MSI has made some sacrifices in terms of the hardware specification, compared to similarly priced motherboards from ASRock and Gigabyte. Gaming motherboards are often categorised by improved audio and networking compared to a "standard series" motherboard, yet MSI has opted for a fairly old Realtek ALC897 audio codec and Realtek RT8111 Gigabit controller.
ASRock and Gigabyte both implement a better audio codec, Realtek ALC1150, as well as more audio capacitors and operational amplifiers to improve the headset gaming experience. Furthermore, the Killer E2400 used by ASRock and Killer E2201 by Gigabyte are arguably both better solutions than the Realtek package. MSI claims its WTFast promotion that the Z170A Tomahawk qualifies for will go some way towards making up for the lower-spec networking chip, but this promotional premium license only lasts for 2 months.
MSI's Z170A Tomahawk is edged out slightly with regards to USB Type-C, something ASRock's direct competitor has, though we should reiterate this isn't common or expected for the price point – Gigabyte's Z170 Gaming K3 doesn't have this either and MSI does include USB Type-C on slightly higher priced models.
Another rather trivial omission is SATA Express. Undoubtedly, SATA Express has limited uses and is all but abandoned aside from a few case accessories that convert SATA Express to USB 3.1 ports. Though, when all the competition choose to include it, MSI's decision to omit it won't win them any kudos unless it passes on a recognisable price reduction.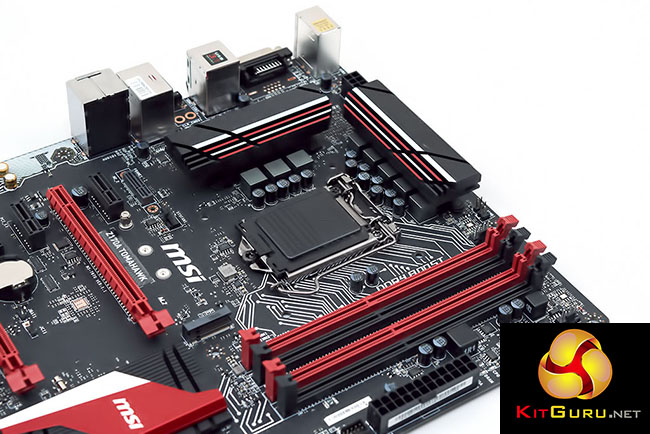 In addition to being a better built and, arguably, better looking motherboard than the competition the MSI Z170A Tomahawk also includes some connectivity not offered by rivals. The inclusion of legacy PCI ports and a dedicated M.2 slot for WiFi and Bluetooth combo cards are the notable mentions here, in addition to the previously noted Clear CMOS button and Debug LEDs. Whether or not MSI can win prospective buyers over with its charming good looks and unique connectivity remains to be seen.
After extensive reflection, we think MSI's Z170A Krait Gaming 3X or Z170A Gaming Pro Carbon are probably worth the extra £10 and £20, respectively – unless MSI considers lowering the price or offering cashback on the Z170A Tomahawk. It's still a reasonable Z170 Gaming motherboard but it has been trimmed down a little bit too much, missing that sweet spot of hardware specification and pricing that other Z170 motherboards manage to hit.
Discuss on our Facebook page over HERE.
Pros:
Well thought-out styling
Good build quality
Debug LEDs and Clear CMOS button
Easy to use UEFI
Excellent performance and compatibility
Cons:
Basic Realtek LAN and Audio compared to rival offerings
Doesn't have USB Type-C or SLI support
KitGuru says: If you're looking for a stylish and affordable Z170 gaming motherboard MSI's Z170A Tomahawk is an interesting consideration. It may not have the best hardware specification for its price-point but it's still a solid motherboard.