CrystalDiskMark is a useful benchmark to measure theoretical performance levels of hard drives and SSD's. We are using v6.0 but are in the process of switching to v7. We will record results from both versions here.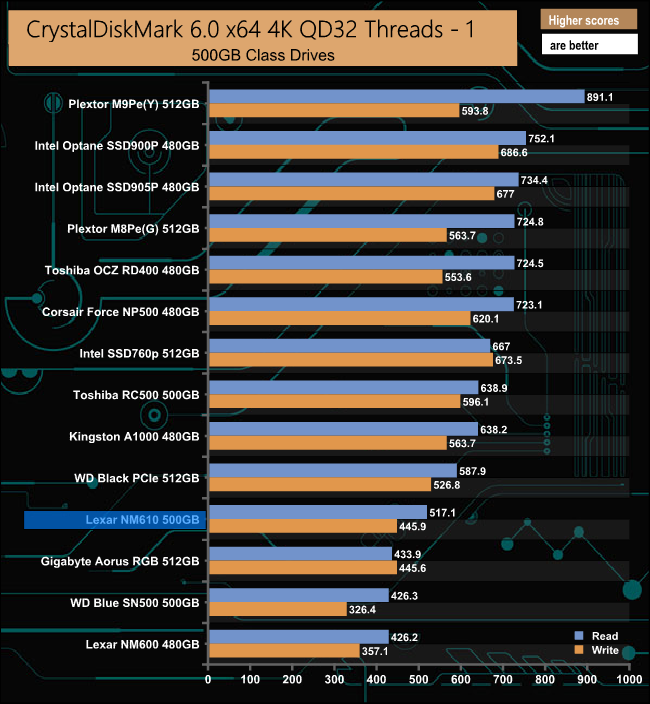 The Lexar NM610 doesn't perform too well in the CrystalDiskMark 6.0 benchmark at a deep queue depth of 32, although is performance is stronger than the previous NM600 drive. Looking at the two benchmark result screens, the Silicon Motion controller doesn't seem to have a preference as to the type of data is asked to handle.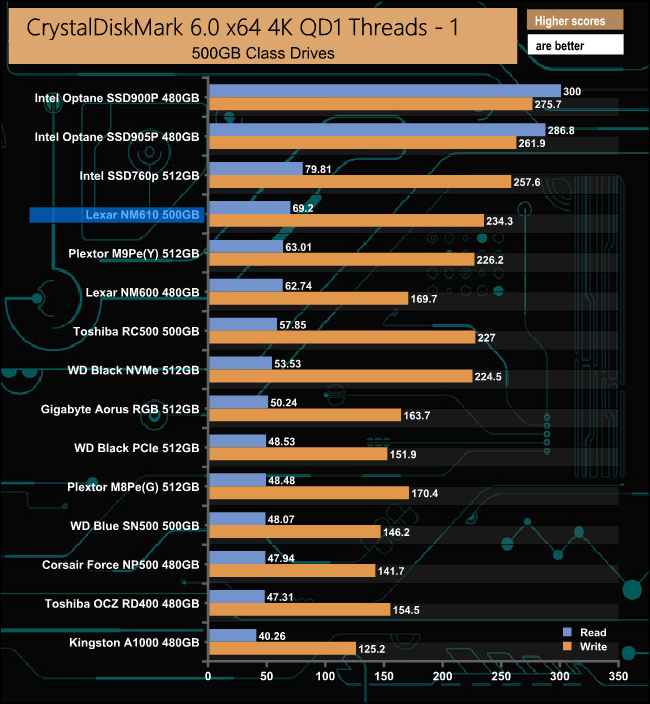 At a QD of 1, where most of today's desktop workloads take place, the NM610's 234.3MB/s write performance is stronger than the 169.7MB/s of the NM600. There isn't a lot to choose between the drives when it comes to read performance, however.
The latest version of CrystalDiskMark, version 7, includes a couple of profiles that can be used for testing – Peak Performance and Real World. The result screens for these two profiles not only display MB/s results but also IOPS and latency.
Looking at the Peak Performance results for Sequential read/write performance we see that the review drive couldn't quite get to the official maximum Sequential read figure of 2,100MB/s, producing a score of 2,085.36MB/s. However, at 1,678MB/s its write score is a little better than the official maximum of 1,600MB/s.
In the Peak Performance 4K random tests, the best we saw from the drive was 160,023 IOPS, well short of the official figure of 188,000 IOPS. On the other hand, the write figure of 243,983 IOPS sailed past the official maximum of 156,000 IOPS.