It has been three years since we looked at the OCZ RevoDrive 3 x2 480GB – at the time it was the fastest SSD that the desktop audience could buy. As it connected via the PCI Express interface it wasn't a victim of the SATA bottleneck, which is still a problem in 2014. Today we look at the latest RevoDrive 350, developed and released by Toshiba owned OCZ to deliver performance levels well in excess of anything possible from the SATA 3 interface.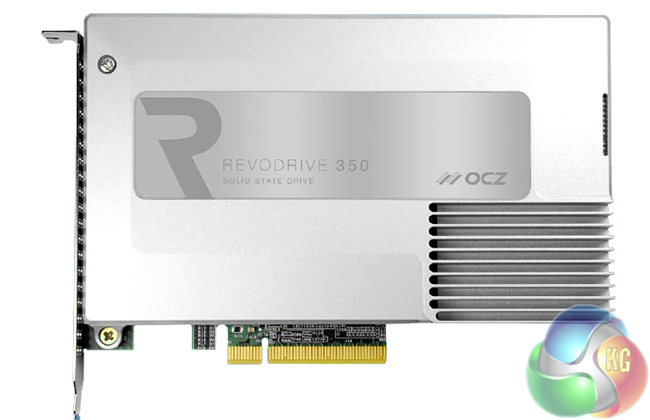 OCZ have based the RevoDrive 350 on their enterprise level Z-Drive 4500 – a performance leader popular in the professional sector. The new drive also incorporates Toshiba NAND memory, an obvious move since OCZ were acquired by Toshiba a short while ago.
OCZ are releasing the RevoDrive 350 in three different storage capacities: a 240GB unit, a 480GB unit and a 960GB unit. UK pricing has yet to be confirmed however American prices are set at $530, $830 and $1,300 respectively. Using a currency converter today, the $830 RRP for the 240GB version comes in at £495. Adding 20% UK VAT to this price, brings it up to around £594. We can expect the drive to cost around £599.99 inc vat when it hits the United Kingdom. Paying a premium for technology is one of the great 'benefits' of living in the United Kingdom.



OCZ list the specifications of the 480GB and 960GB units as very closely matched, hitting peaks of 1,800MB/s read and 1,700 MB/s write. IOPS performance is also closely matched with random write IOPS performance rated at 140,000. That said, the 960GB unit has a higher rated 4K QD32 rated random read rating of 135,000 (versus 90,000). The smaller 240GB unit is significantly slower than either the 480GB or 960GB drive, hitting a maximum read speed of 1000MB/s and maximum write speed of 950 MB/s. Still, hardly slow.
The reason for the speed differences are due to the fact that the 240GB version only has two LSI Sandforce 2282 controllers, not four.