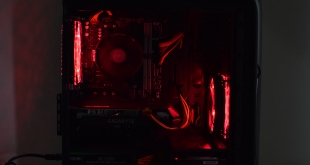 Following on from our launch day review of GTX 1660, Overclockers UK was quick to spec up a system based around this new graphics card. Despite the fact it uses the 6-core Ryzen 5 2600 CPU alongside the GTX 1660, the Overclockers UK Gaming XVI Essential costs just £699 – making it one of the most affordable pre-built systems we have reviewed. At that price there are always going to be compromises when it comes to component selection, but has OCUK done a good enough job to make this system worth buying?
Watch the video via our Vimeo channel (below) or over on YouTube at 2160p HERE
Specification
Case: Kolink Aviator M RGB Micro ATX Tower – Black
Power Supply: Kolink Core Series 500W 80 Plus Certified PSU
CPU: AMD Ryzen 5 2600 Six Core/Twelve Thread
Motherboard: Gigabyte GA-A320M-S2H Micro ATX
Cooler: AMD Wraith Stealth CPU Cooler
Memory: 8GB TeamGroup Vulcan T-Force 8GB (2 x 4GB) 2400MHz
SSD: Kingston A400 240GB SATA SSD
HDD: Seagate 1TB Barracuda 7200RPM Hard Drive
Graphics: Nvidia Gigabyte 1660 Gaming OC
Operating System: Microsoft Windows 10 Home Advanced 64 Bit
There's a few things to note about the overall build and components used within this system, so we will detail that here.
First of all, the Kolink Aviator M RGB case is not very well built. In fact, when I was first setting up the system for testing, I removed the front panel to see what was going on underneath it. While doing so, a piece of the acrylic on the front panel actually snapped off. I didn't do anything out of the ordinary to make this happen – I just tugged off the front panel, which says to me the case just isn't very well built.
I got in touch with Overclockers about this, just to let them know what happened, and to their credit, OCUK actually told me if something like that happened to a customer during the initial setup of the PC, this would be covered under the three year warranty of the system. It's also a collect-and-return deal, so you wouldn't even have to pay to get it shipped back.
Of course, this doesn't change the fact that the Kolink case is a cheap unit, and not especially well built at all. However, it does just give that extra assurance that OCUK is confident in the system to offer a three year warranty, so should any issues arise, you're not left on your own.
The Kolink Core 500W PSU also caught my eye, simply because it is only rated at 80+ White efficiency – not even 80+ Bronze which we would consider the bare minimum for a PSU in 2019. We've reviewed a couple of high-end Kolink PSUs in the past that scored well, but this unit is an entirely different kettle of fish, priced at just £34.99.
We've not reviewed this one so we really can't say just how good (or not) it is, but it still vitally important to have a dependable PSU – even in a budget system. If the PSU blows, it could take other more expensive components with it. So we again got in touch with OCUK just to raise our concerns. To their credit, OCUK were happy to disclose the RMA rates for this specific unit – they told us they had sold 'several thousand' and only 1.48% of those had been returned.
To be clear, we still can't say just what the quality of this Kolink unit will be over time as we have not reviewed it. However, the numbers do give us peace of mind as it seems you would be very unlikely to run into any issues with it. Even if you did, there is still that three year warranty which would cover a fault of the PSU within that time frame.
On the topic of the PSU, however, I do think more care could have been given to cable management. Things are always going to be tricky as the cables are not sleeved and come in the ugly ketchup and mustard colours, but I still noticed a bulge of cabling underneath the graphics card. Things are also quite messy round the back of the system, with a lot of the excess cabling stashed away behind the drive cage.
I fully appreciate at £699 that system aesthetics is the absolute lowest priority here, but even so, I don't think it would hurt if OCUK had just given the cable management a bit more care – both to improve visuals, and also make any potential hard drive swaps or upgrades easier down the line.
Despite those points about the build, the main selling point of this system is its core hardware – namely, the GTX 1660 graphics card and AMD's Ryzen 5 2600 processor.
That CPU has a base clock of 3.4GHz, and while it can be overclocked, the GA-A320M-S2H motherboard used here has the A320 chipset, which does not allow for any overclocking. That being said, OCUK did tell us they have updated the final retail specification for this particular system, and the motherboard has been tweaked to the GA-A320M-S2H V2 motherboard – and despite the name, this is actually a B350 chipset which will let users manually overclock. I've not tested that so I couldn't tell you what sort of speeds to expect – and you would have to do the overclocking yourself – but it is an additional feature otherwise lacking from the system as we reviewed it.
As for the graphics card, this is the Gigabyte GTX 1660 OC 6G model. I've not reviewed it, but it is an MSRP card with a dual-fan cooler and a rated boost clock of 1830MHz, though we can also expect it to exceed this frequency when gaming. Alongside the GPU core there is 6GB of GDDR5 memory, operating at 8Gbps.
Be sure to check out our sponsors store EKWB here