Last updated on April 9th, 2019 at 09:43 am
Cooling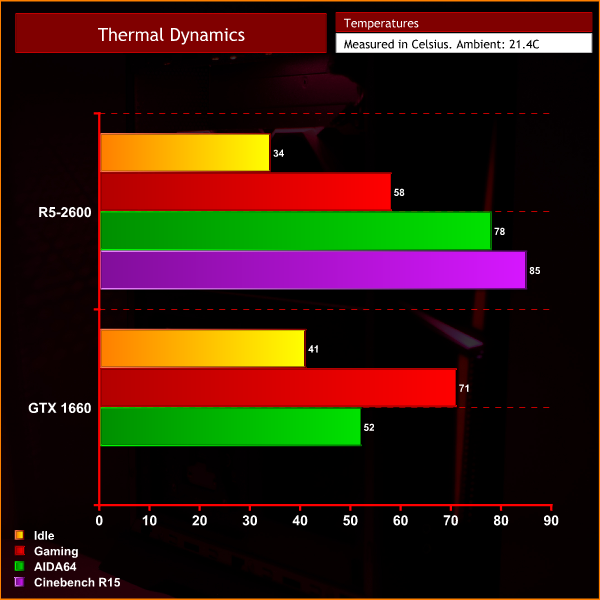 We ran a few different tests to stress the CPU and GPU in this system, and thermal performance is pretty decent considering the cooling hardware used here. The CPU ran no hotter than 85C when stressed with repeated runs of Cinebench, but it didn't top 60C when gaming – so if you have no plans to do any video editing or rendering with the PC, the CPU will stay pretty cool.

The GPU is also a good performer. Gigabyte's dual-fan card isn't the most sophisticated GTX 1660 out there, but that particular GPU doesn't run very hot anyway, so we saw a peak temperature of 71C when playing Shadow of the Tomb Raider.
For some reason, when stressed in AIDA64, the GPU stayed at its 1530MHz boost clock – instead of boosting further, as it would in a game. That explains why the AIDA64 GPU stress test resulted in a much lower temperature than we'd otherwise expect.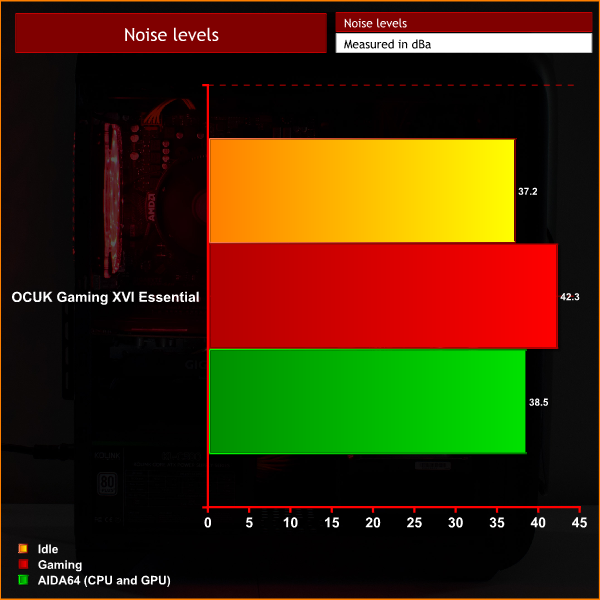 The Gaming XVI Essential stays pretty quiet during normal operation. The fact that the GPU didn't boost during AIDA64 stress testing meant noise levels were also quieter than usual when running that test, but playing Shadow of the Tomb Raider for an hour saw noise levels equalise at just over 42db – so still very respectable. It is audible, but I have heard significantly louder systems in the past, so this is another good result.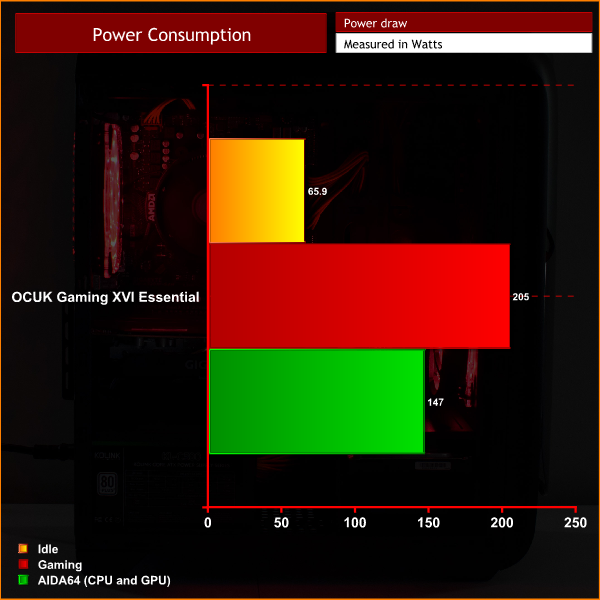 Lastly, power consumption is very low for this system. GTX 1660 is a very efficient chip, and our Ryzen 5 processor is running at stock clocks – so it is not too much of a surprise that total system power draw is barely more than 200W. This means the PSU is operating at about 40% load, which is good for both efficiency and fan noise. It also means the PSU is less likely to run into long-term issues as it is not coming close to be stressed.