It is not often we review gaming systems under £1000. In fact, after reviewing plenty of high-end graphics cards – including RTX 2080 Tis that cost £1400+ – it has been somewhat refreshing to look at the £699 Overclockers UK Gaming XVI Essential pre-built system.
It is clear this PC is very much aimed at users on tight budgets – perhaps parents who want to buy their kids a first gaming PC, or for the student looking to play competitive esports titles while at university. That means the hardware is all pretty basic – there's no all-in-one liquid coolers here, or triple-slot graphics cards.
Instead, Overclockers UK employed the Ryzen 5 2600 to work alongside a GTX 1660, and that combination results in excellent 1080p gameplay. Every game we tested averaged at least 60FPS at 1080p, and in many cases we saw much higher frame rates – Apex Legends, for instance, was running at a silky-smooth 110FPS on average.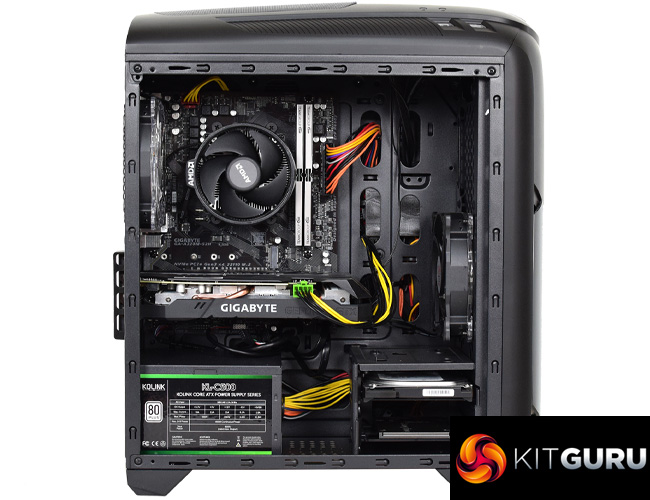 Compromises have been made to meet the price point, though. Our Kolink Aviator mATX chassis is not the most premium out there, and a little piece of acrylic on the front panel actually snapped off as I was setting up the system. That Kolink KL-C500 PSU is only rated at 80+ White – not even 80+ Bronze, which we consider the bare minimum in 2019. Lastly, I do think more care could have been given to cable management as well.
Still, to their credit, Overclockers UK is offering a three year collect-and-return warranty with this system, so should you encounter any issues they will have you covered. While we've not reviewed that PSU, OCUK even disclosed their RMA rate for that exact model – at just 1.48%. We still can't say whether it is actually a good unit or not, but chances are you won't run into any issue with it.
So, all in all, the Overclockers UK Gaming XVI Essential is a great system for users on a budget. If you're just looking for something to play games at 1080p – be it the latest AAA titles or free to play competitive shooters like Fortnite/Apex Legends – this will do the job very nicely. We could look at it and suggest a number of potential improvements to be made, but all would raise the price tag. For £699, you don't quite get perfection, but you do get a lot of PC for your money.

You can buy the Gaming XVI Essential directly from OCUK for £699.95 HERE.
Pros
Excellent 1080p gaming performance.
Low noise.
Compact system.
Power consumption is barely 200W.
Three year collect-and-return warranty.
Cons
Kolink case feels quite cheap.
PSU is only 80+ White.
Cable management could be better.
KitGuru says: Overclockers UK has done a great job of building a highly capable 1080p gaming machine for just £699.