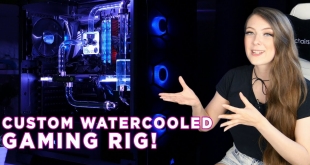 The Cyberpower Hyper Liquid GTX is a top of the range PC with plenty of power for gaming, video editing and beyond. With some of 2018's most coveted components alongside a custom watercooled loop and plenty of RGB lighting, it sounds like every PC enthusiasts' wet dream. But is this PC as good as it sounds? In this review we put it through its paces to find out if this £2649 monster pre-built is worth the investment. 
Watch the video via Vimeo (below) or over on YouTube at 2160p HERE
If you can't see the gallery above, then you may need to disable AdBlock. This has been known to interfere with our gallery tool. 
Specifications:
Case: Corsair Crystal Series 570X
Processor: i7 8700K overclocked to 4.8Ghz
Graphics card: MSI GTX 1080Ti
Motherboard: MSI Z370 Gaming Pro Carbon
Memory: 16GB 3600Mhz Adata XPG Spectrix D80 Liquid Cool
Storage: Samsung 970 Evo NVMe M.2 SSD
Hard drive: Seagate 2TB SATAIII 64MB
Power supply: Corsair PSU 750W RM750X
Software: Windows 10 Home
Watercooling: Cyberpower Hyper Liquid II Large rigid tube liquid cooling loop
Pricing: £2,649 for the specification in this review
Screenshots: 
Be sure to check out our sponsors store EKWB here