CPU & SSD Performance:
CrystalDiskMark tests the raw speed of a storage device. It uses a test file to write data to or read data from the drive. We test using the default 1GB file size.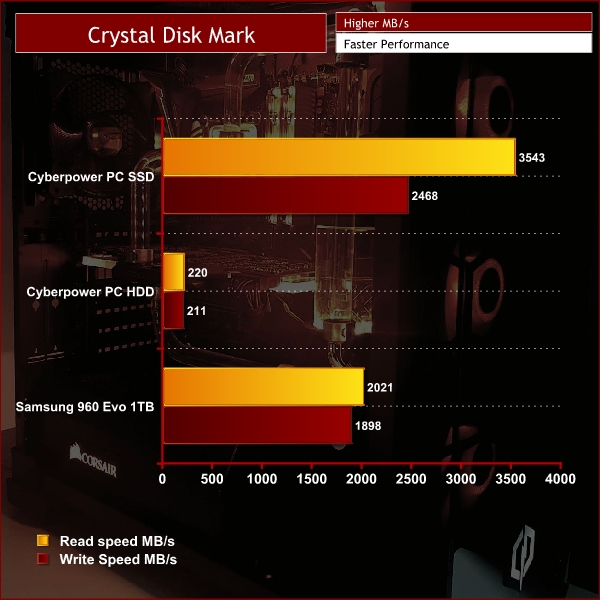 The Cyberpower Hyper Liquid GTX is kitted out with the recently released Samsung 970 EVO M.2 NVMe SSD which unsurprisingly kicks out some super fast speeds.  It's certainly a plus that Cyberpower has opted to use such a fast drive in this build rather than a more generic M.2 SSD as it will provide even faster boot times and mean that the systems can keep up with having multiple heavy use programs open at once.
Cinebench R15:
Cinebench R15 is a cross-platform testing suite that measures CPU performance. We compare the Cyberpower Hyper Liquid GTX with some other pre-built PCs we have tested that feature similar processors for a quick comparison to demonstrate its performance.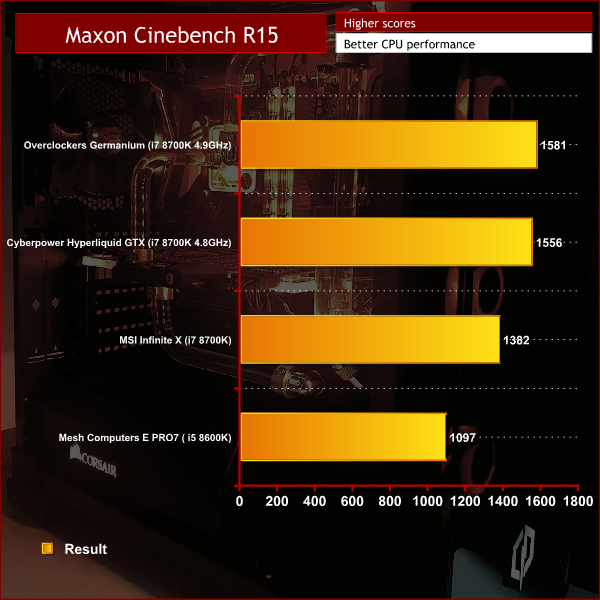 The Cinebench score from this PC is impressive as expected. The 4.8GHz overclock on the i7-8700k provides a noticeable improvement over the stock turbo boost clock of 4.3GHz.  Single-core performance is also excellent with a score of 207.
This result means that this PC should have no problem with heavy-duty multi-tasking or intensive video editing.