3D Mark testing:
For this test, we ran the Cyberpower Hyper Liquid GTX through Time Spy Extreme, Time Spy, Fire Strike, Fire Strike Extreme and Fire Strike Ultra. We first look at the overall scores given at the end of each test.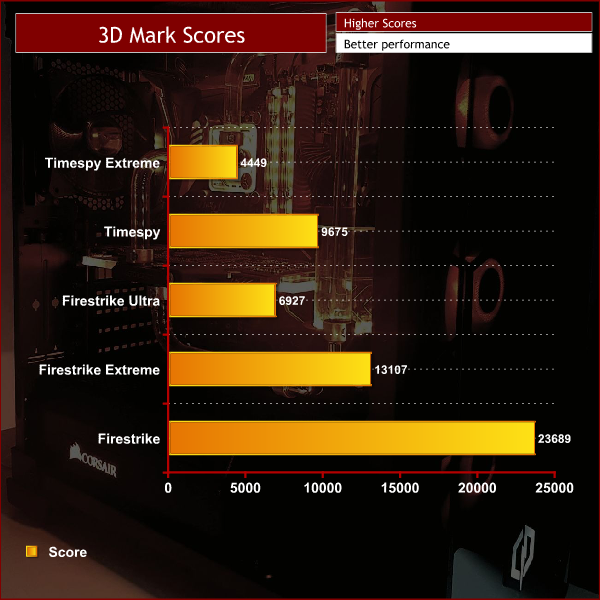 As expected the Cyberpower Hyper Liquid GTX  posts some extremely high benchmark scores. It comes in the top 10% of results for the majority of the tests and easily beats the minimum requirements for a 4K gaming PC.
The below graph shows the individual results for the GPU and CPU: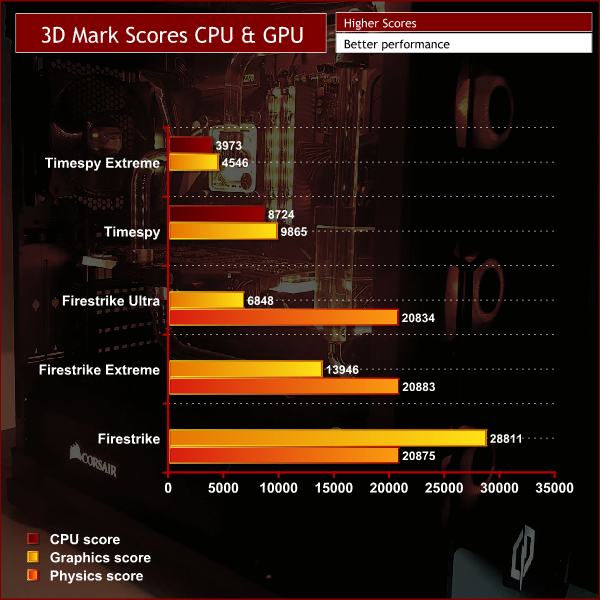 The GTX 1080 Ti is a very capable GPU with a huge 11GB of memory and it performs extremely well throughout the tests. The i7-8700k is a similarly powerful chip and unsurprisingly it performs admirably in both the Physics and Overall CPU tests. Both the CPU & GPU are reasonably matched in performance and should provide plenty of power for 4K gaming.
Gaming performance:
We used the Cyberpower Hyper Liquid GTX to play 3 different popular and graphically demanding games to see just how powerful this PC is when it comes to gaming. We tested the games at 2 different image quality settings. We also tested the games at different resolutions (1080p, 1440p, 2160p) to allow for different monitor specifications.
Rise of the Tomb Raider is an action adventure game with many different environments and immersive landscapes making it a useful way to test this PC's gaming performance. Rise of the Tomb Raider doesn't have an ultra setting so we opted to use the very high setting. We also include screenshots of the results from the in-game benchmark.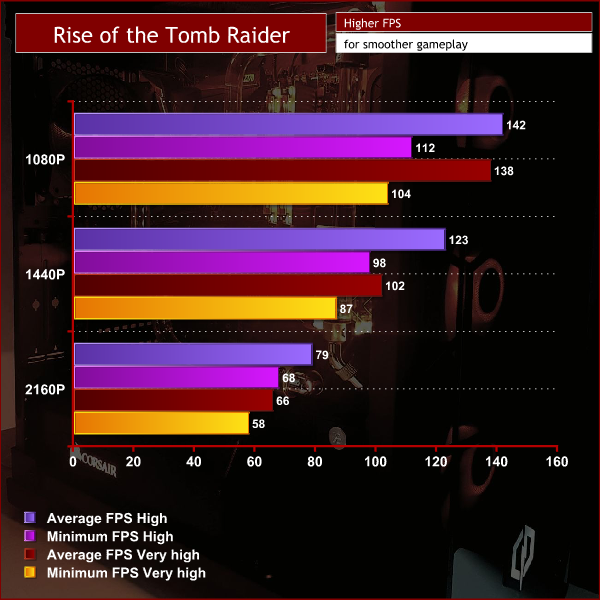 Far Cry 5 is the most recent release we tested with the Hyper Liquid GTX. The gigantic open world of Hope County has plenty of beautiful scenery to test how well this PC performs with a brand new AAA game. We also include screenshots of the benchmark results.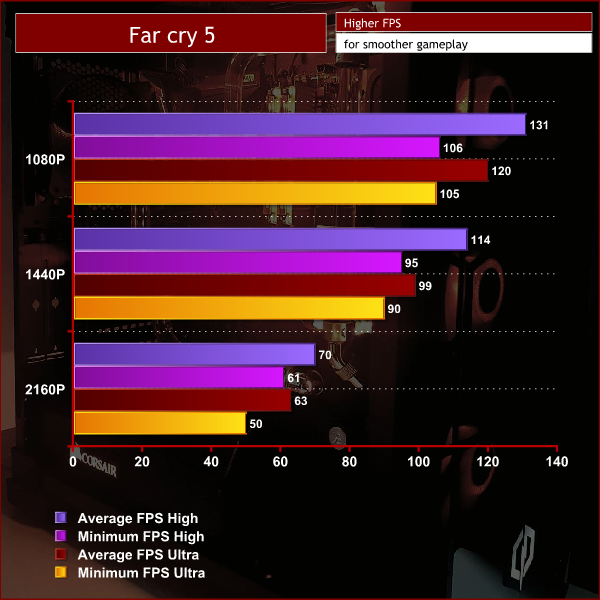 Tom Clancy's Ghost Recon Wildlands is a game with a superb open world environment. The beautiful scenery of mountains, forests and deserts requires a lot of GPU power to render, particularly on Ultra settings. This demanding game is perfect for testing this PC's gaming performance. We have also included screenshots of the very handy in-built benchmark.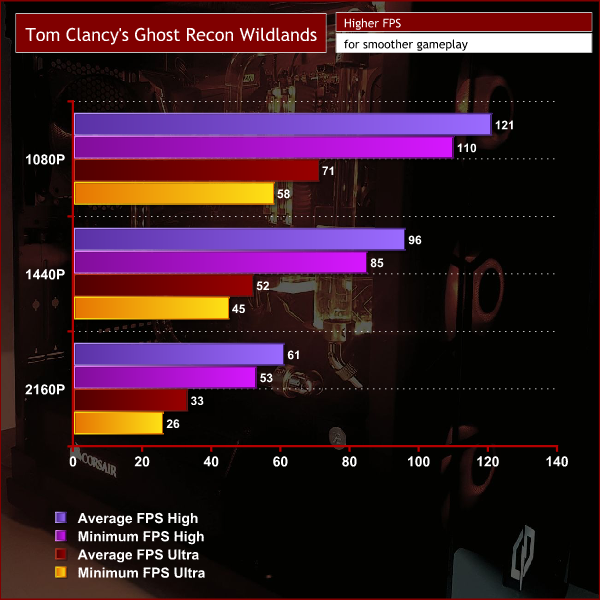 Unsurprisingly this PC did extremely well across all of our test games. 1080p was a breeze even on ultra settings. 1440p seems to be a good sweet spot between high fps and resolution, even on the highest graphics settings. This PC can easily play these games in 4K, however you will have to sacrifice some fps at ultra settings as the games didn't always run above 60fps. However, less demanding or older games will see increased frame rates, even at 4K.
Overall this PC is plenty fast for gaming and would definitely benefit from being paired with a high refresh-rate monitor.