Deepcool sent me a stack of hardware for a sponsored PC build, including a micro-ATX Macube 110 case, an AS500 Plus CPU cooler and a DQ850 Gold power supply, along with a triple pack of CF120 Plus ARGB fans. This one promises to be bright but not TOO bright…
If you have been paying close attention you will recall that James reviewed the Deepcool Macube 110 case a while back while Luke reviewed the AS500 Plus in a group test of CPU coolers.
This was Leo's first time with this Deepcool hardware and the build went smoothly until we reached the final stage with the ST500 graphics card support. There simply wasn't enough room to install this accessory so we took the principled and brave decision to put it to one side and not make life overly difficult.
List of components
CPU: Intel Core i5-11400F (6 cores/12 threads, 4.2GHz all cores)
CPU Cooler: Deepcool AS500 Plus
Motherboard: MSI MAG B560M Mortar WiFi
Memory: 32GB G.Skill Trident Z Neo DDR4-3600MHz
Graphics card: Gigabyte RTX 2080 Super Gaming OC 8G
Power supply: DQ850-M-V2L 850W Gold
Case: Deepcool Macube 110
Case fans: Triple pack of Deepcool CF120 Plus ARGB fans
SSD: 500GB Sabrent Rocket 4.0 M.2 NVMe
OS: Windows 10
Cooling Performance
This is a sponsored build, rather than a review, but we considered it would be interesting to load the PC with a combination of Cinebench R23 and Time Spy Stress test and see how it behaved.
Cooling Performance Overview
The system was pulling 390W at the wall socket with 200W going to the RTX 2080 Super graphics card and 92W to the Core i5 CPU. We were pleased to see both the CPU and GPU maintained temperatures below 70 degrees and are confident these components would do a decent job in a gaming PC.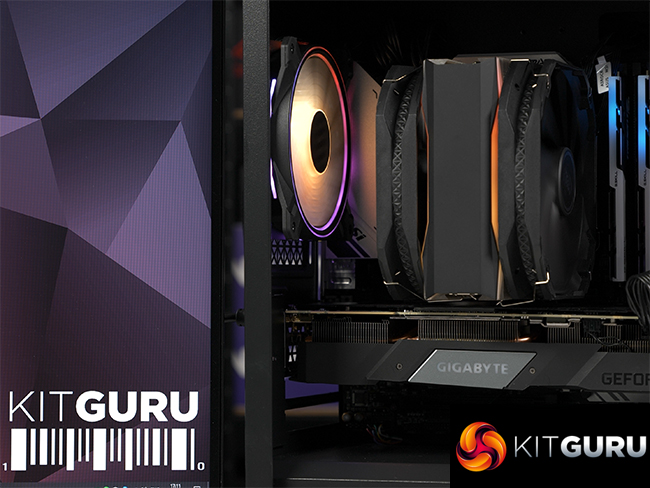 KitGuru says: Our finished Deepcool PC looks smart with a decent amount of RGB lighting and yes, the cooling also works well.