PC Specialist has launched its Fusion Zen PC which is built around the new AMD Ryzen 7 1700X CPU and a GTX 1070 graphics card. KitGuru has been impressed by Ryzen 7 with its eight cores and 16 threads and it is quite mind boggling to consider that Intel charges more than £1000 for Core i7-6900K which has a similar specification and level of performance where the AMD silicon costs less than £400.
This means PC Specialist Fusion Zen is priced in the mid-range yet potentially has the legs to mix it with much more expensive workstation hardware.
When you watch our video you will see we describe Fusion Zen as a hybrid PC that can play games, edit video and handle mundane tasks such as writing documents. The question is, does PC Specialist Fusion Zen perform sufficiently well that you can ditch Intel and move over to AMD?
Watch via our VIMEO Channel (Below) or over on YouTube at 2160p60 HERE
Specification:
Case Cooler Master MasterBox 5t Gaming Case
CPU AMD Ryzen 7 1700X Eight Core CPU (3.4GHz-3.8GHz/20MB Cache/AM4)
CPU Cooler Corsair H60 Hydro 120mm
Motherboard Asus Prime X370-Pro (DDR4, 6Gb/s, CrossFireX/SLI, AURA RGB)
2 x USB 3.0 and 2 x USB 2.0 ports on back panel
2 x USB 3.0 on front panel
Memory 16GB HyperX Savage DDR4-2133MHz (2x 8GB Kit)
Graphics Card Zotac GeForce GTX 1070 8GB
SSD 500GB WD Blue M.2
HDD 2TB Toshiba 3.5-inch Hard Disk SATA-III, 6GB/s, 7200rpm, 64MB Cache
Power Supply Corsair 650W CS Series Modular 80 Plus Gold
LED Lighting 2x 50cm RGB LED Strip
Sound Card On-board 6 Channel (5.1) HD Audio
Networking 10/100/1000 Gigabit LAN Port
Operating System Windows 10 Home 64-bit
Warranty 3 Year Standard Warranty (1 Month Collect & Return, 1 Year Parts, 3 Year Labour)
The list of components used by PC Specialist ticks most of the boxes. Every part is a recognised brand and the signs of cost cutting are subtle, rather than in your face.  For example PC Specialist has used a Cooler Master MasterBox 5t case which looks good with its red and black colour scheme and mirrored front panel yet it is relatively cheap.
You get 16GB of DDR4 memory, which is perfectly sufficient, and the SSD is 500GB which is large enough to hold Windows and a bunch of games. As we say in the video the SSD you see in the sample PC is SanDisk X400 which will be updated very soon to Western Digital Blue. In addition to the Solid State Drive you also get a 2TB hard drive which is heaps of bulk storage.
Things go slightly downhill in two areas where PC Specialist has chosen a Hydro H60 120 liquid cooler and a 650W CS power supply. Both these components are found towards the lower reaches of Corsair's extensive product range. The obvious point here is that stepping up to a more desirable 120mm cooler and higher quality power supply would add around £50 (or more) to the price of the system and these are the decisions made by PC builders every hour of the day. Balanced against that, we have the utmost faith in PC Specialist's reputation and three year warranty.
Indeed we had to make use of the warranty ourselves as the Zotac graphics card apparently took a knock in transit with the result that the cooler wasn't making proper contact with the GPU. Temperatures hit the lower 90s C under load and performance was reduced by about 20 percent.
We received a replacement Palit GTX 1070 the next day, installed the card in less than two minutes and all was well. If you look very closely at our photos you will see the replacement GPU uses a single 8-pin PCIe cable and the second connector from the power supply is hanging free. More importantly the GPU runs at 69 degrees C under load, which is exactly what we would expect.
Testing.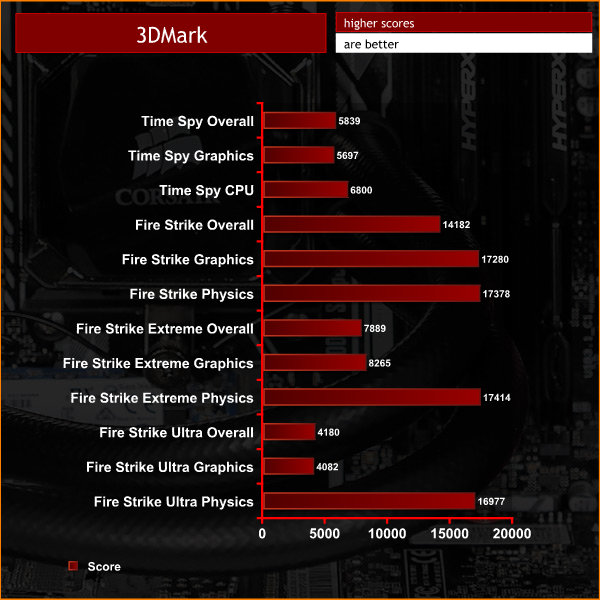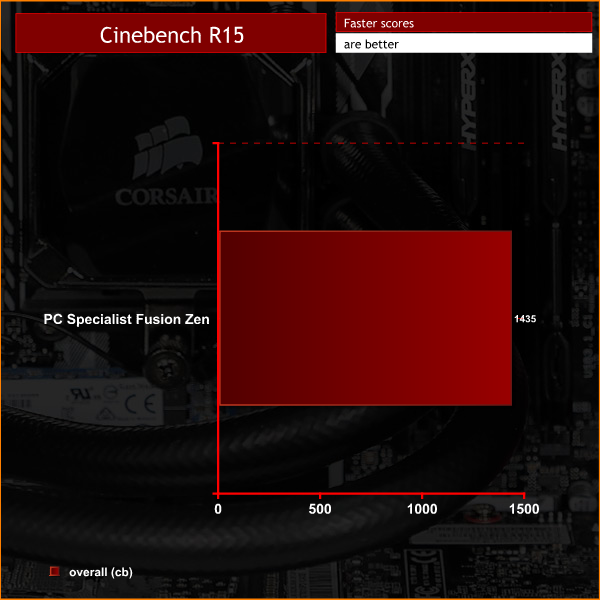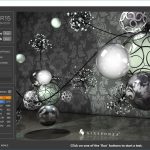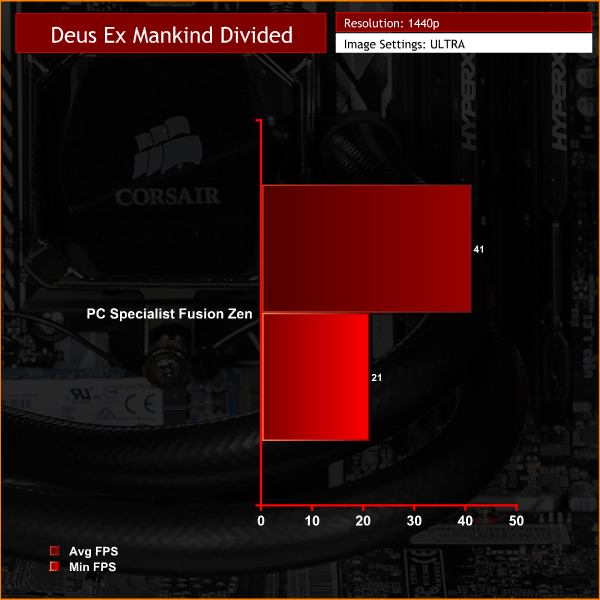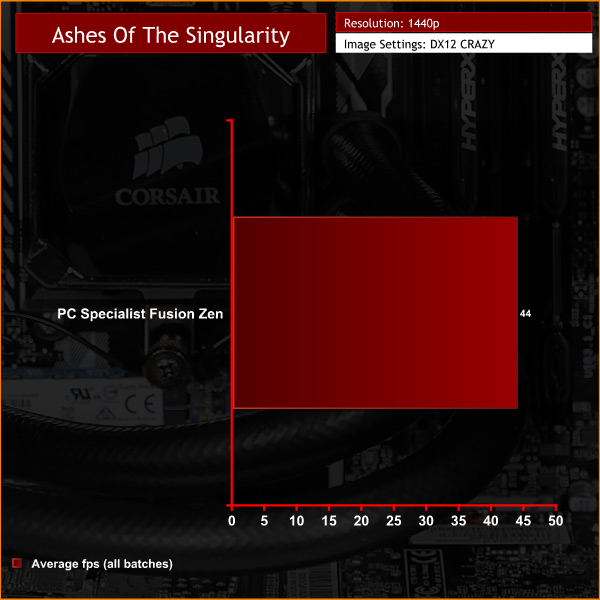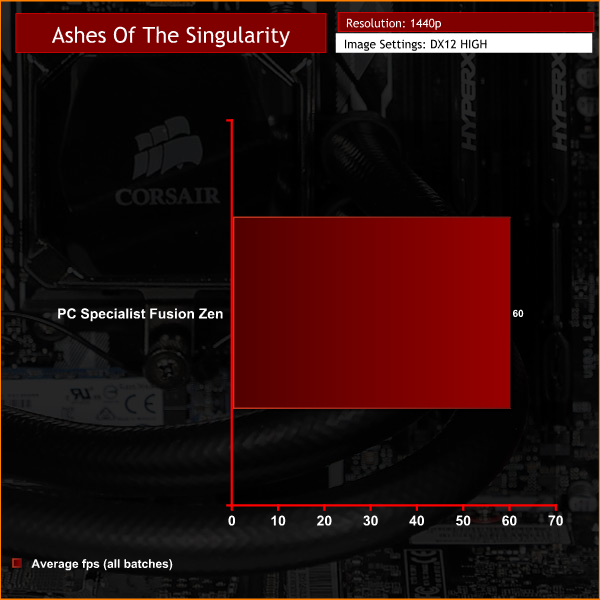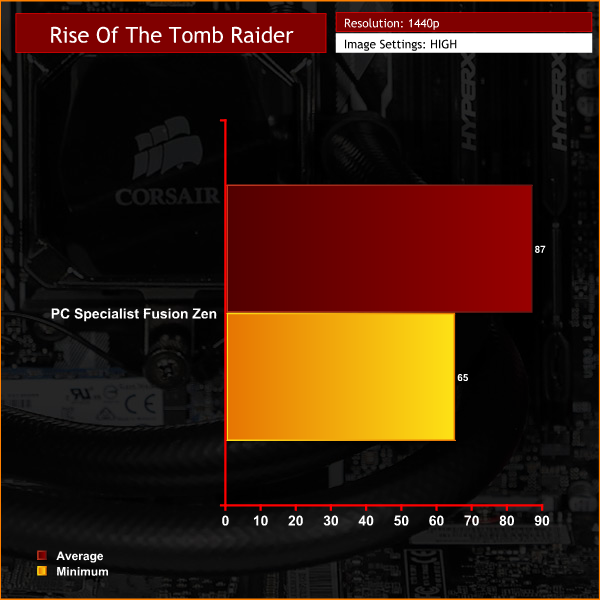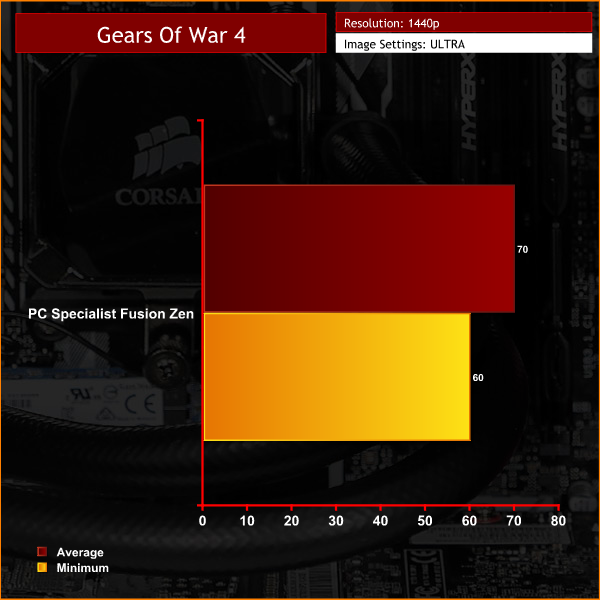 The Palit GTX 1070 runs at stock clock speeds of 1506MHz core and 1683MHz boost yet despite those lowly figures it delivered decent gaming performance at 2,560 x 1,440 resolution. More importantly, for the sake of this review, the Ryzen 7 1700X did the business and backed up the GPU admirably.
In Ashes of the Singularity, the CPU test implies the Ryzen 7 trails behind Core i7-6700K while in the CPU test of 3D Mark Time Spy the Ryzen 7 does very well. Overall we found that PC Specialist Fusion Zen could play games very happily at 1440p resolution.
Cooling Performance.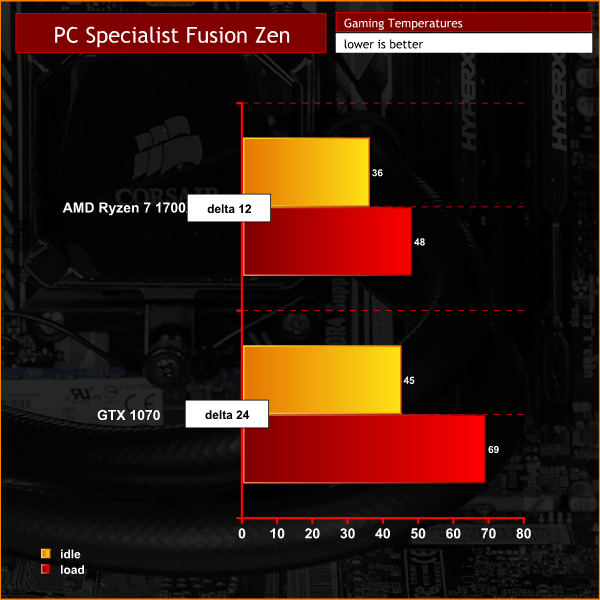 Initially we were caught out by the way that AMD reports temperatures in Ryzen 7 1700X and 1800X. In this PC the CPU apparently idles at 56 degrees and rises to 68 degrees under load, however you have to deduct the 20 degree offset figure. After some simple maths we are told the true figures are an idle temperature of 36 degrees with 48 degrees under load.
The idle temperature is rather high because the Corsair H60 fan has been set to run very slowly at low load and then spins up as the temperature rises with the result that you get a small Delta of 12 degrees in CPU temperature.
The GTX 1070 behaves exactly as we would expect and tops out at 69 degrees.
Acoustics performance.
The Cooler Master MasterBox 5t case has an open design that doesn't use any sound deadening material and the result is that this PC makes an audible noise pretty much the entire time. It is fairly quiet when the CPU is idling however the fan noise is clearly audible when you put the hardware under load.
Closing Thoughts.
Intel Core i7 continues to hold the advantage over AMD for gaming performance however Ryzen 7 has arrived with a bang and we have no doubt it is a significant success. The Fusion Zen from PC Specialist uses this new eight core CPU as the basis of an all-round PC that can be used for gaming as well as more serious work.
As we would expect, PC Specialist has produced a professional PC that is neatly assembled and which works as intended. The single most annoying aspect is the way that temperatures are reported as the CPU appears to be 20 degrees hotter than it is in reality. Put that to one side and it is very easy to use this PC and simply forget the CPU is an AMD product as it simply works correctly.
Buy from PC Specialist HERE.

We can clearly see that PC Specialist has kept the price down to a sensible limit but it hasn't cut costs outrageously. In particular we applaud the use of a 500GB SSD as that provides enough storage for Windows and a bunch of games.
The biggest dividing line for anyone considering this PC is the use of a GTX 1070 graphics card. It would be perfectly possible to step up to a GTX 1080 if you opted for a smaller SSD and did without a liquid cooler. Or, of course, you could pay a higher total price.
We are confident the combination of Ryzen 7 1700X and GTX 1070 will work successfully for a great many mainstream users and consider that PC Specialist has done a solid job with Fusion Zen.
Pros:
Ryzen 1700X packs eight cores and 16 threads.
Solid 1440p gaming performance.
Sensible price.
500GB SSD.
Cooler Master MasterBox 5t case has stylish looks.
Cons:
Hardcore gamers may want GTX 1080 graphics.
AMD reports CPU temperatures with 20 degree offset.
Liquid cooler is only 120mm unit.
KitGuru says:  The PC Specialist Fusion Zen is a great looking high performance system that is capable of a lot more than just gaming.