The chassis design is where Intel separates itself from competitors that can also deploy its Compute Element card with a dedicated graphics card. Intel's 238 x 216 x 96 mm – 5 litre – chassis is, unfortunately, primarily constructed of plastic so does not have the premium feel of a steel or aluminium alternative. To be fair, however, that will help price and the plastic does feel sturdy enough… for plastic.
Front panel connectivity is reasonable, with two USB 3.1 Gen 2 10Gbps Type-A ports, a SDXC UHS-II card reader, and a 3.5mm audio jack. I would have liked to see at least one Type-C port. The power button is surrounded by an LED light that indicates when the system is powered on. There is no explicit reset button.

Side panel mesh features the skull logo that will be very hate-it-or-love-it to users. The skulls are, in my opinion, certainly not ideal for users wanting to deploy this in a somewhat professional environment. Side panel mesh should be good for cooling as the graphics card's fans have direct airflow ingest through the mesh.
Cooling is run from an in-at-the-side and up-through-the-roof approach using the dual 80mm, 15mm-thick roof-mounted exhaust fans. Plenty of fan speed control is available through the UEFI and temperature sensors onboard.
Intel has clearly paid attention with the fan configuration; a cable-less design makes removing the fan housing cover very easy and hassle-free. We spoke to an Intel person at CES and they highlighted how Intel sourced fans and instructed the supplier to not place labels on the rear side so that the ugly stickers would not be visible through the cooling grills. That's a truly impressive quality touch that highlights a promising level of attention to detail.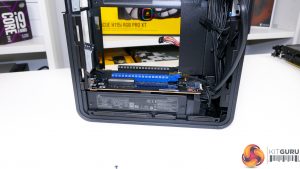 Intel's unit comes with a 500W 80-Plus Platinum Flex-ATX form factor power supply built by FSP. The lack of an external power brick is a strong positive for flexibility when throwing the NUC in a backpack.
For powering a graphics card, there are 8-pin and 6+2-pin PCIe connectors. That's good because you get ample power even for high-end graphics cards up to the RTX 2080 (or perhaps 2080 Ti if you push it to the limits) level when combined with the NUC 9 Extreme's other hardware. Granted, there are currently no 2080-level cards on the market that fit inside the chassis, however.
The Compute Element is basically a computer motherboard on a card that is housed in a dedicated PCIe slot on a daughter board. You have the soldered laptop-type CPU, two DIMM slots, storage connectivity, and the underlying motherboard features that combine to form a full PC when added to a chassis and PSU.
The rear IO connectivity options are:
Two Thunderbolt 3 Type-C ports
HDMI 2.0a
Intel Wi-Fi 6 AX200 and Bluetooth 5
Dual Gigabit Ethernet
Four 10Gbps USB 3.1 Gen 2 ports
SPDIF/Optical audio jack
We would say that the Compute Element card offers excellent connectivity with dual Thunderbolt 3 connectors and HDMI 2.0 which allows for triple display output via the iGPU. Unfortunately, the dual Ethernet ports are 1Gb not 2.5/5Gb. Of course, Wi-Fi 6 AX200 and Bluetooth support is provided and the antennas are built into the chassis.
Cooling the CPU and VRM is a vapour chamber unit alongside an 80mm fan. Unfortunately, this fan backs directly onto a graphics card PCB – it would have been smarter to turn it the other way. Thankfully, there is an air gap sufficient for the fan to at least not be fully choked.
Our model is the Core i9 9th Gen version that is built into the Intel NUC 9 Extreme Compute Element card. Unfortunately, there is no 10th Gen version yet, though that's not that big a deal given the minimal changes.
Our review specification for the Compute Element card is:
Non-socketed Core i9-9980HK – 8C16T, 2.4GHz base, Turbo up to 5GHz, 14nm, 45W TDP default rating

The CPU is increased to 65W sustained power limit mode by default in the UEFI, with 107W short duration power limit for a TAU of 28.00
Technically, the CPU is overclockable, though you certainly have to weigh your tolerance for risk, thermals, and noise, of course

Two DDR4 SODIMM slots. CPU supports up to 2666MHz officially, up to 64GB capacity.
Two cooled M.2 slots for PCIe Gen 3 NVMe or SATA SSDs that run via the CM246 chipset's lanes
Power is fed directly to the board via an 8-pin dedicated connector that Intel says is rated for up to 180W. The graphics card and baseboard are powered separately.
It is important to remember that the Compute Element is a stand-alone card that other OEM system integrators could buy and use as the foundation of their own SFF system.
The next part of the NUC 9 Extreme package is the baseboard.
Intel's NUC 9 baseboard has two full-length x16 PCIe slots but the top one of these is used to house and link the NUC Compute Element itself. That leaves a PCIe 3.0 x16 slot and a PCIe x4 slot useable (albeit blocked by a dual-width graphics card). You also get a PCIe 3.0 x4 M.2 SSD slot that can house up to 110mm long drives. All of these slots are fed directly by the CPU's PCIe lanes, meaning that you can do x16 or x8/x4/x4.
We'd imagine most users will run the single x16 slot with a dedicated GPU and instead put M.2 storage in the pair of chipset-fed slots on the Compute Element card, even if that does cause DMI bandwidth headaches.
A dedicated 10-pin power connector is used to provide juice to the baseboard and its PCIe slots. This baseboard, alongside the chassis and PSU, are the critical pieces that we see other vendors such as Cooler Master and Razer coming out with their own alternatives.
Graphics cards up to eight inches long can be installed in the Intel NUC 9 Extreme chassis. Our unit was supplied with the most powerful graphics card that physically fits – the ASUS Dual RTX 2070 Mini. A single 8-pin PCIe power connector from the PSU provides current to the graphics card.
In theory, you can house and upgrade to any graphics card in this system provided it physically fits, it can be cooled, and it can be powered by the PSU. It simply runs through a PCIe slot like a normal system.
Our test unit had the RTX 2070 graphics card running at x8 bandwidth as an Intel Optane 905p 380GB SSD was installed in the base board's dedicated x4 M.2 slot fed by CPU PCIe lanes.
Working with the Intel NUC 9 Extreme is surprisingly straightforward. I would actually go as far as calling the tear-down and building experience 'enjoyable'. That's especially true in comparison to other SFF builds that are typically a sizeable challenge.
Removing the fan housing is a case of undoing two screws and pulling the assembly out of position. You can then slide off both mesh side panels to leave the exposed internals. The graphics card is held in place with screws near the IO shield. Once the power cable is disconnected and the PCIe slot latch is pushed out of position (which is difficult for people with big hands but a very infrequent issue for people building the system rather than disassembling it), the graphics card slots into position.
Everything is fairly easy to access and deal with until you have to remove the Compute Element card, but even that is not too difficult – just fiddly with the connected cables. You don't need to remove the Compute Element card when building your own system as DDR4 memory and SSDs can be installed by simply unscrewing the cover. Of course, that's not the case if you want to install an M.2 SSD in the heatsink-cooled slot beneath the Compute Element card position on the baseboard.
The only clear challenge that I can see is related to graphics card power connector positioning. Using both PCIe power cables will be a tight fit and you must make sure that your card's connectors are appropriately positioned and orientated.
Make sure you check out the full review video for more visual interpretation of how the system is built inside and torn down.