We must start this conclusion by giving Intel a large slice of credit for offering something truly new and unique. The Intel NUC 9 Extreme and its internal Compute Element card are genuinely different and are hopefully a sign of positivity for the future of this ecosystem. Squeezing the amount of performance that Intel does into a 5-litre chassis, especially in terms of graphics horsepower, is highly impressive.
The use cases are perhaps not obvious but are valid. Home office users who want to switch to living room gaming can quickly and easily move their NUC 9 Extreme. Equally so, the system is small enough to be stuffed into a backpack and carried to a friend or family member's house or one's work office.
While the use cases are reasonable, it must be questioned whether the NUC 9 Extreme is really a valid option in those scenarios. At the core, the hardware being used is fundamentally laptop-grade hardware with a desktop-calibre graphics card, albeit with significant size limitations. The reality of the situation is that a comparably powerful laptop can be made to do a very similar job as the NUC 9 Extreme, and it does so while offering the flexibility of a screen and keyboard and battery backup.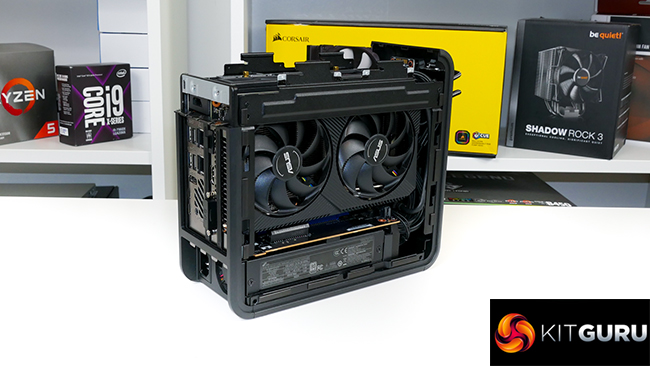 And that takes us onto our next major issue with the NUC 9 Extreme – its price. Cost is far too high at £1640 inc. VAT for the Core i9-9980HK barebones model that ships without RAM, storage, a graphics card, and the OS. Add in 32GB of RAM, 1.5TB of SSD storage, and an RTX 2070 and you're talking around £2400 for the system.
At that price, you can get a similarly powerful laptop such as the Razer Blade 15 and its 10th Gen eight-core processor or the Gigabyte AERO 15 and its 4K OLED screen. Obviously, the NUC 9 Extreme wins in terms of graphics card prospects. However, most modern laptops offer Thunderbolt, so there is, in theory, the option to link a more powerful graphics card in the future.
Add in the prospect of getting a Core i9-10900K system with Thunderbolt 3 and an RTX 2080 Super graphics card inside the Dan Case A4-SFX for the same price as the NUC 9 Extreme, and the sheer cost of going sub-5L is evident.
To summarise, the Intel NUC 9 Extreme is a truly impressive revamp of the SFF NUC ecosystem with impressive performance to boot. Intel's chassis is well-designed, offers good cooling, and can house 8-inch graphics cards. The Compute Element ecosystem could be genius in the near future and looks very positive from that perspective.
However, Intel's current pricing makes the NUC 9 Extreme very difficult to justify unless you absolutely must have the most compact SFF system that can offer high performance graphics card capability and absolutely do not want to invest in a laptop alternative.
The Intel NUC 9 Extreme NUC9i9QNX is priced at £1640 inc. VAT (at the time of writing) at Simply NUC.
Discuss on our Facebook page HERE.
Pros:
Ultra-compact sub-5L chassis.
Strong performance from the Core i9-9980HK and RTX 2070-class GPU.
Excellent M.2 SSD support.
Dual Thunderbolt 3 ports.
Superb build quality and strong ease of installation.
Cable-less fan installation is truly smart.
Good cooling performance and reasonable noise levels.
Ample PSU capability.
Cons:
Too expensive.
Laptop CPU is not as quick as alternative SFF/laptop options – Ryzen 4000 or desktop mITX chips.
Limited to 8-inch graphics cards.
Only Gigabit Ethernet.
Gambling on Intel's future upgradability for the ecosystem.
Fan cycling under low load is annoying.
KitGuru says: About as close to the perfect SFF system as we have seen in a long time. You'll certainly pay the price for such compact performance, however.