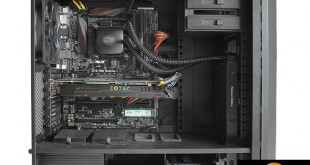 The near-simultaneous launches of Windows 10 and Intel's Skylake processors means a new generation of hardware and software is upon us. The Z170 chipset in particular which has launched with Skylake brings a new set of technologies to desktop computers, particularly faster M.2 PCI-Express storage and DDR4 memory. Chillblast has been quick off the mark in shipping a retail Skylake PC to us and it also runs Windows 10 as standard. With a water-cooled Intel Core i7-6700k chip, a Z170 motherboard, 512GB Samsung SM951 M.2 PCI-Express SSD, 16GB of DDR4 memory and a GeForce GTX 980, this specification sets a new standard for high-end gaming PCs.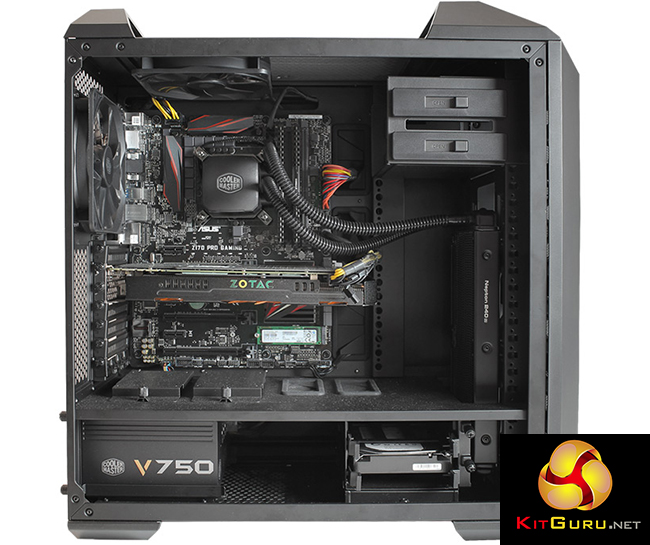 It's only a few short weeks after we published our extensive coverage of Intel's 14nm Skylake Core i7-6700k and Core i5-6600k products but we've now received our first desktop gaming PC built around the new chips.

The Chillblast Fusion Master has Intel's quad-core Core i7-6700k Skylake processor and an Asus Z170 Pro Gamer motherboard based on the new Z170 chipset, which notably adds support for DDR4 memory and increases the bandwidth available to M.2 storage devices, with 4 PCI-Express 3.0 lanes, to offer up to 32Gb/sec.
The system takes full advantage of both of these new features. Firstly, it has a 16GB dual-channel kit of 3000MHz CL15 DDR4 memory. In the M.2 slot on the Z170 Pro Gamer, there's s 512GB Samsung SM951 M.2 SSD, which is (just about) the fastest PCI-Express SSD you can buy for a consumer PC. There's also a 2TB Seagate SSHD as well for additional storage.
Cooler Master's MasterCase 5 is used to house the system, and continuing the link between Chillblast and the aforementioned component company, the power supply is a Cooler Master VS Series V750. And lastly, Windows 10 Home is installed on the Samsung SSD.
In our review of the Skylake chips, we noted a slim performance improvement of around 10 per cent over the Devil's Canyon Core i7-4790K processor. Although some may be disappointed that the overall gains aren't greater from a processor that represents both a node shrink and a new architecture, a gaming PC with an Intel Core i7-6700k undoubtedly offers the fastest gaming performance on the planet, particularly when it's overclocked.
When coupled with a high-end video card, fast storage and enough memory, a Skylake gaming PC like the Chillblast Fusion Master represents next-generation performance. Let's see how fast it really is.
System Configuration:
Cooler Master Master Case V
Intel Core i7 6700k
Cooler Master Nepton 240M CPU Cooler
Corsair Vengeance 16GB 3000MHz DDR4 RAM (2x8GB)
Asus Z170 PRO GAMER
Zotac NVIDIA GeForce GTX 980
512GB Samsung SM951 M.2 SSD
2TB SSHD Secondary Drive
Cooler Master VS Series V 750W
Windows 10 64-bit
Price: £1699 inc VAT