So far we have only focused on gaming focused system builds from leading UK builder PC Specialist. Getting the chance to look at an AMD powered budget system designed for general duties and casual gaming has certainly been interesting.
The AMD A10 7850K APU is an excellent foundation for the system, and it works extremely well when partnered up with the Gigabyte F2A88XM-D3H FM2+motherboard. The A10 7850K is a significant improvement over the previous generation of APU models from AMD.
The A10 7850K can power some of the latest Direct X 11 titles at 1280×720 with detailed image quality settings. This should be more than enough for a gamer working with a very restrictive budget. Let's not forget that the 7850K was able to produce smooth frame rates in GRID 2 at 1920×1080, with the high preset – a remarkable achievement for an 'all in one' APU.

Overall performance from the system is commendable, and while likely to run out of steam when dealing with intensive 3D rendering duties, it will easily handle office tasks, accelerated web browsing and high definition media playback.
Working with a budget of £500 means that certain compromises have to be met. The Infinity 7850K system does not ship with any Solid State Drive. Unfortunately this does drag down the responsiveness of the system, although we are sure that PC Specialist would add a small SSD at minimal cost, if requested.
For the audience who have never used a Solid State drive, then the 2TB mechanical drive is likely to feel fast enough, and we appreciate that PC Specialist have opted for a quality 7,200 rpm unit, rather than saving a few pounds by incorporating a sluggish 5,400 rpm unit.
PC Specialist are using their custom ALPHA TRION 7622B case which is clearly designed to fit a specific budget price point. It is not the ugliest case we have seen, but it certainly won't be winning any beauty awards. The thin panels flex under pressure and are a little tricky to refit. Thumbscrews are not supplied, so a screwdriver is always needed to get inside the chassis. The screws don't lock in place – once a certain tension is met, they spin indefinitely. The insides are painted black however there is really no support for advanced cable routing.
While the ALPHA TRION 7622B case is a little 'rough around the edges' it is very quiet and more than up to the task of cooling the modest hardware components inside. Thanks to the inclusion of the quality Corsair 450W power supply and a modest power drain of 110W under load, there will no problem adding in a discrete graphics card at a later date, to improve gaming performance.
You can buy from PC Specialist, over HERE.
Discuss on our Facebook page, over HERE.
Pros:
Competitively priced.
Corsair and Kingston components.
good gaming performance at 720p.
extremely quiet under load.
low power drain at socket.
Cons:
7622B case is not attractive and feels cheap, poor cable routing capabilities.
If you want to game at 1080p then we recommend a discrete graphics card.
no SSD.
2,133mhz memory would have helped improve performance.
Kitguru says: A great little system for general duties, high definition media playback and casual gaming.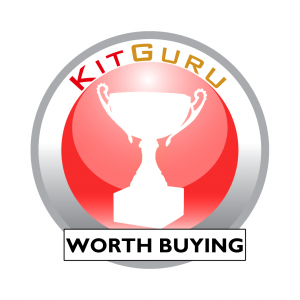 Kitguru says: Well priced and capable