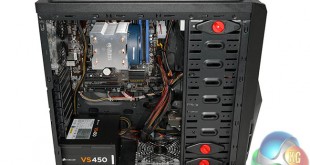 We review many high end gaming systems on KitGuru but what if you only have a budget of £500 and need an 'all round workhorse' capable of dealing with office duties and casual gaming at 720p? AMD's Kaveri is the sensible choice when budget is a primary concern, so today we look at PCSPECIALIST's £500 Infinity 7850K System.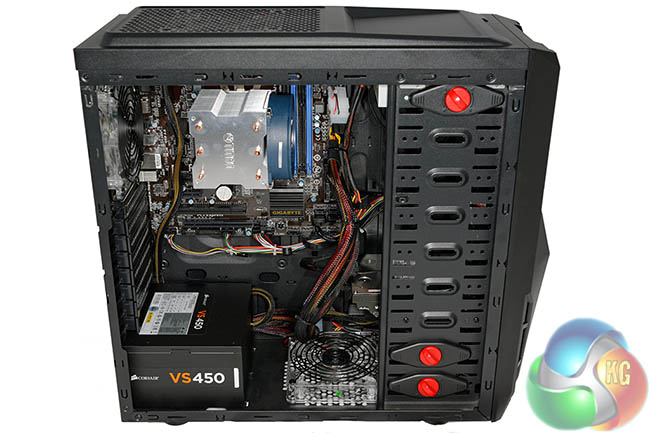 At the heart of the system is the AMD A10-7850K APU, designed to deliver modest gaming capabilities without a need for an expensive discrete graphics card. The A10 7850K is currently priced around the £130 inc vat mark in the UK today.
If you need more graphics power, then the PCS Infinity is fully expandable … meaning you could add a discrete graphics card at a later date – when funds permit.
PCSpecialist have consistently scored well in our lab reviews in the last year, thanks to a combination of clever hardware component selection, excellent build quality and competitive pricing.
PC Specialist Infinity 7850K
Case PCS ALPHA TRION 7622B BLACK CASE
Processor (CPU) AMD A10-7850K Quad Core APU (4.0GHz) & Radeon™ R7 Series Graphics
Motherboard Gigabyte F2A88XM-D3H FM2+ (M-ATX, DDR3, USB 3.0, 6Gb/s)
Memory (RAM) 8GB KINGSTON HYPER-X GENESIS DUAL-DDR3 1600MHz, X.M.P (2 x 4GB KIT)
Graphics Card Integrated AMD Radeon HD 8000 Series Graphics
Memory – 1st Hard Disk 2TB 3.5″ SATA-III 6GB/s HDD 7200RPM 64MB CACHE
1st DVD/BLU-RAY Drive 24x DUAL LAYER DVD WRITER ±R/±RW/RAM
Power Supply CORSAIR 450W VS SERIES™ VS-450 POWER SUPPLY
Processor Cooling Super Quiet 22dBA Triple Copper Heatpipe AMD CPU Cooler
Sound Card ONBOARD 8 CHANNEL (7.1) HIGH DEF AUDIO (AS STANDARD)
Wireless/Wired Networking 10/100/1000 GIGABIT LAN PORT – AS STANDARD ON ALL PCs
USB Options 6 x USB 2.0 PORTS @ BACK PANEL (MIN 2 FRONT PORTS) AS STANDARD
Power Cable 1 x 2 Metre UK Power Cable (Kettle Lead)
Operating System Genuine Windows 8.1 64 Bit – inc DVD & Licence
DVD Recovery Media Windows 8.1 (64-bit) DVD with paper sleeve
Office Software FREE 30 Day Trial of Microsoft® Office® 365
Anti-Virus BULLGUARD INTERNET SECURITY – FREE 90 DAY TRIAL
Warranty 3 Year Standard Warranty (1 Month Collect & Return, 1 Year Parts, 3 Year Labour)
Delivery STANDARD INSURED DELIVERY TO UK MAINLAND (MON-FRI)
Build Time Standard Build – Approximately 9 to 11 working days
Price £499.00