Steam has just hit an all-new high for concurrent users online on the platform. After breaking the record for concurrent users online this past Saturday, with 19.7 million users, the record was broken once again yesterday, this time with 20.3 million users.
Due to COVID-19, many people are staying at home to safeguard themselves from the virus. Given that people have to stay indoors to prevent contamination, it seems that the Steam platform has been chosen as a way to spend their time. After multiple countries started to act against the spreading of the virus, Steam broke two records in a row for concurrent users, and Counter-Strike: Global Offensive has broken its peak users record too.
According to DigitalTrends, Steam's previous record for concurrent users was 18.8 million users, set on February 2nd 2020. Although the number of peak users was its highest yet, the number of players in-game was 'just' 6.2 million, one million behind from the current record of 7.2 million players, set back on January 1st 2018.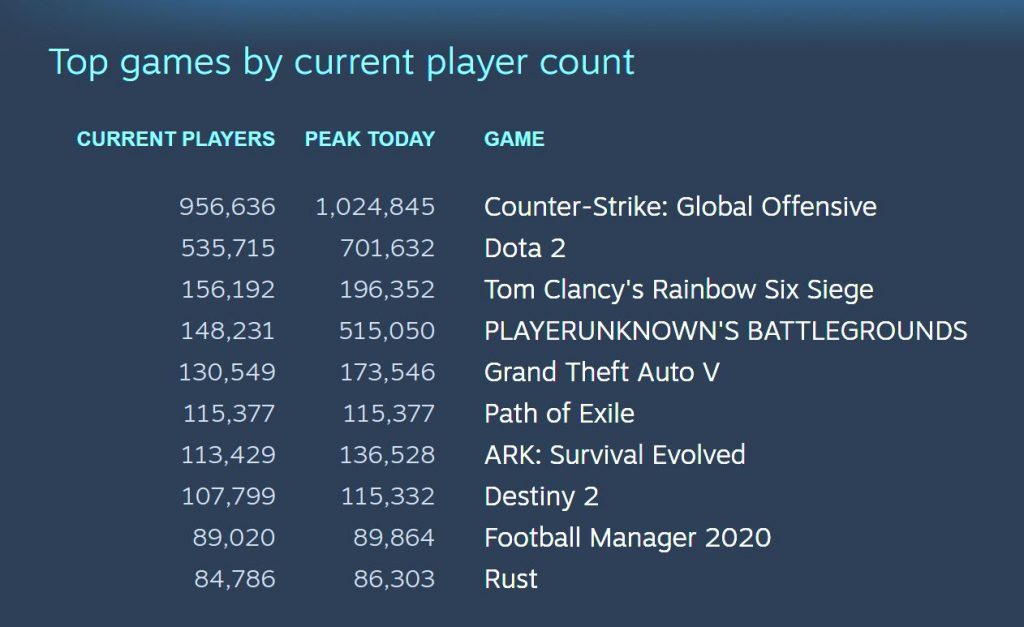 Counter-Strike: Global Offensive was launched back in August 2012, but it has never had so many players online. The number of users in-game at the same time broke the 1 million mark, reaching 1.024 million users yesterday. Other notable games such as DOTA 2 saw over 700,000 players, PUBG hit over 500,000 players, and Ubisoft's Rainbow Six Siege peaked at almost 200,000 players.
Despite the COVID-19 negatively affecting the gaming industry with numerous events cancelled – including E3 2020 – it seems this is how gamers plan on fighting back.
Discuss on our Facebook page HERE.
KitGuru says: Have you been spending your time playing games on Steam? Do you think these numbers will further increase?