Fallout 4 has been out in the wild for one week now and we have been hearing a lot about the PC port. We already took a quick look at it on launch day, using a GTX 980Ti to analyse the port and seek out any issues. Now, we have decided to throw a couple of other popular graphics cards in to the mix, so you can see how the game runs on a wider range of hardware.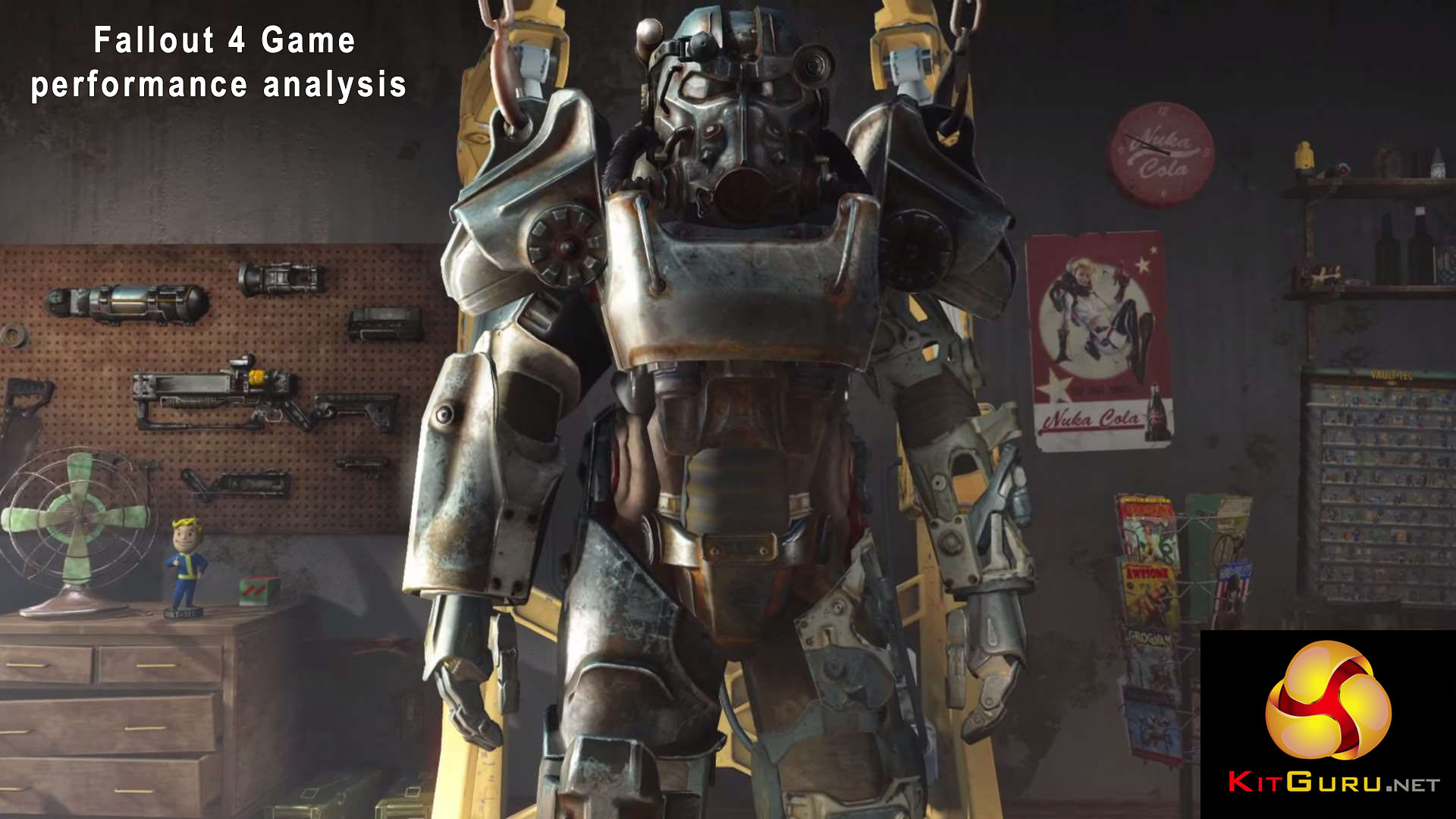 We have received a lot of positive feedback from readers on our past PC game performance reports and while I don't review graphics cards for KitGuru, the hardware team sent me a couple of extra cards last week to add to these tests: The MSI GTX 970 and the Sapphire Vapor X AMD R9 290. These extra cards, along with my GTX 980Ti will be running in a system using an Intel Core i7 5820K, 16GB of Crucial Ballistix 2400MHz RAM, a MSI X99S SLI PLUS Motherboard and a 240GB Kingston V300 SSD.
Fallout 4 is running on an updated version of the Creation Engine, which was also used in Skyrim back in 2011. The game has V-Sync switched on by default but there is no frame rate cap, meaning those with high refresh rate monitors won't be bottlenecked. This does bring to light some issues though- the engine wasn't designed to run at frame rates higher than 60, so the game will be noticeably buggier if you go higher than 60Hz.
In my initial report last week, I pointed out that exiting terminals would often cause in my character to get stuck in place and not being able to move. I also encountered a bug with the power armour animation. These can be avoided by capping your refresh rate at 60Hz.
Now with that all out of the way, lets get down to performance. Fallout 4 isn't a graphically ground breaking game, so it should run fairly well in theory.  I tested the game at both 1440p and 1080p using the Ultra preset on the GTX 980Ti, GTX 970 and R9 290 in order to see how the game runs while looking its absolute best. On the AMD side, the latest Catalyst 15.11.1 beta driver was used. For Nvidia, we used the Game Ready driver 358.91.
Click images to enlarge.
In the GPU Z screenshots above you can see the specifications and clock speeds of the hardware. None of them were overclocked for this test.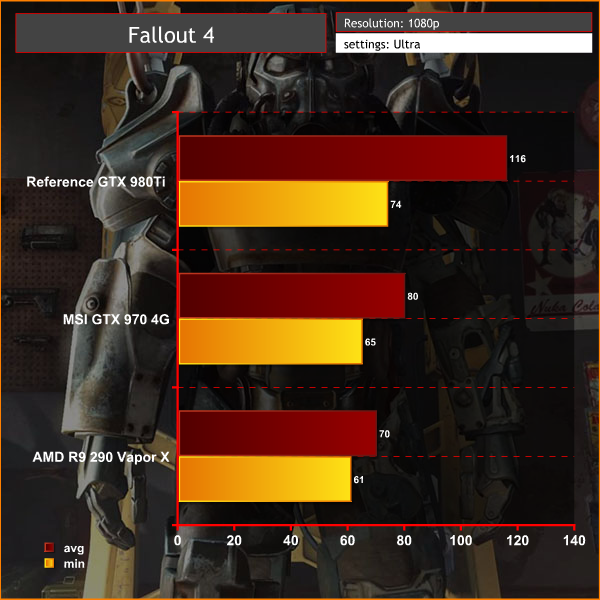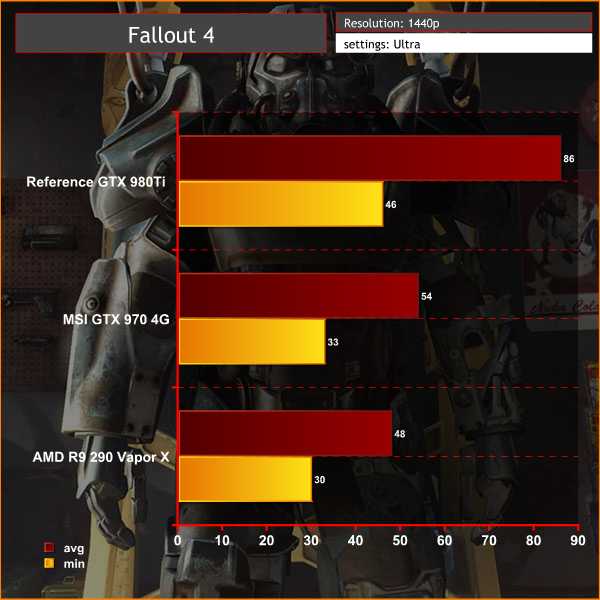 The graphs above show average and minimum frame rates for each of our three GPUs. No matter what card we were using, we found that frame rates can vary dramatically, seemingly at random. We would often get huge spikes in frame rate too, resulting in a pretty disappointing experience overall, gameplay doesn't stay smooth for very long.
On the GTX 970 and R9 290, frame rates would often dip in to the low 30's but would also occasionally rise as high as 80 to 90 frames per second at points in the Wasteland while running at 1440p. At 1080p, both cards are able to keep things above 60 frames per second more often than not but there are still plenty of huge spikes and dips.
Given that the engine isn't designed to run above 60 frames per second without issues, I also ran the game at 60Hz and still found that the frame rate would cut itself in half at points.
We aren't alone with these frame rate issues on the PC. There have been plenty of reports showing the console version of Fallout 4 also struggling, so it seems Bethesda may have dropped the ball a bit there. There is a beta patch available on Steam right now but it doesn't seem to make much of a difference and you will still find that performance dips as much as 50% in some cases.
There are reports that lowering the Shadow Distance setting to medium can help, but I did not find this to be the case here. Still, it is worth trying as you may have different results.
As for the actual game, it plays very similarly to Fallout 3 with an engaging story and huge world, the shooting mechanics are also much better, so much so that VATS doesn't need to be relied on nearly as much. Plenty of you are already playing Fallout 4 and many will likely look past the issues and push on with the story. However, if you are particularly sensitive to frame rate instability, then you may want to wait for a performance patch.
Discuss on our Facebook page, HERE.
KitGuru Says: Bethesda has a long history of supporting its games post-launch, so we will likely see the first patch within a few weeks. Hopefully when it does arrive, we will see performance across all platforms stabilize a bit. Have you been playing Fallout 4 this week? Are you satisfied with the performance?