Nvidia's Shield tablet is going to receive some massive updates over the next couple of months. We've known for a while that Android Lollipop will be coming to the device but Nvidia has a lot more than that up its sleeve. Game streaming has become very popular over the past year thanks to efforts from Valve and Nvidia. However, it's now looking to take things to the next level with the Grid, a truly capable cloud gaming service.
Grid is Nvidia's vision for the future, a Netflix for gaming where users are able to play a constantly evolving library of triple A titles at high detail and frame rates without the expense of a high end gaming PC. Grid has been in the making for around ten years and we will finally see the result of all of that work.
The obvious comparison to be made here is to Sony's Playstation Now, which utilizes the same chips Nvidia made for the Playstation 3. On paper, Grid should end up being a much more capable service, the servers are powered by a new chip, which manages to output 2448 GFlops of compute power, making it around 12 times more powerful than Playstation Now which only manages 192 GFlops. Additionally, load times have been halved, averaging out at 23 seconds and every title will run at 60 frames per second.
Of course though, this is all based on Nvidia's own numbers, so we'll have to wait and see how it performs in the wild.
So, Grid has plenty of horsepower behind it but does it have the content library to back it up? The launch library will feature over 20 full titles, including Batman Arkham City, The Witcher 2, Borderlands 2, Saints Row the Third and Street Fighter Ultra. Nvidia says that it is currently working with every major publisher and will be getting in touch with indie developers to add new games to the library every month for the foreseeable future.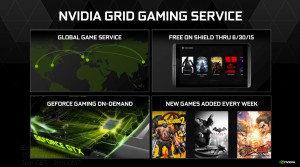 Price will play an important role in the future of cloud gaming. However, Nvidia isn't worried about costs at all right now. Grid will launch completely free with unlimited access to the available titles during the open testing period. There will be a cost associated eventually, but that won't be coming in to play until the service is performing up to scratch across the board.
There is a caveat though, the service will be exclusive to Shield tablet and handheld owners for the foreseeable future.
Those in the US will gain access later this month, while UK Shield owners will be granted access in December. The rest of Europe will be following shortly in Q1. Those in Asia will have to wait until Q2.
KitGuru was fortunate enough to have been invited to a small press gathering earlier this week, where we got to see Grid in action for the first time. We were shown Batman Arkham City, Grid 2 and Street Fighter all running at 1080p and 60 frames per second. There was a very brief pause in gameplay during the opening sequence to Batman but aside from that, I witnessed no further hiccups for the remainder of my time there and I came away with some pretty positive impressions.
Obviously, seeing something and getting hands on time in a demo environment is a bit different to taking it home and trying it for yourself. We are currently working on our own Nvidia Shield testing and review so keep and eye out for that at some point in the future.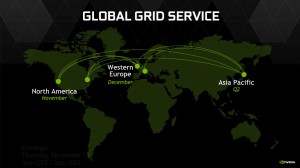 European servers are based in Dublin and Germany while in the US, servers are based in California and Wisconsin. Asian servers will be based in China and Japan. All gameplay settings will be controlled by the GeForce experience, which will lower your bit-rate depending on connection. 1080p is the maximum supported resolution for now and multiplayer services will be arriving eventually, bringing support for both local and over the web multiplayer.
Those of you that own a Shield device and want to test out the Grid for yourself will need a 10Mbps internet connection, as cloud game streaming will be using up at least 6.5Mbps constantly. Due to the large amount of data being pushed through, those of you with monthly data caps will have to keep streaming to a minimum.
If you have yet to buy a Shield tablet then the holiday season is going to be the best time as not only will you be gaining access to the Grid cloud gaming servers but those who pick up the 32GB LTE model will be able to redeem 'The Green Box', Nvidia's exclusive Android version of Valve's Orange box games including Portal, Half Life 2 and the sequel, Half-Life 2 Episode 1.
Redeeming the Greenbox will work similarly to redeeming codes found inside Graphics card boxes. All of the same rules apply, so if you bought a Shield tablet already, then you unfortunately won't be receiving a code. However, you will be receiving the Android 5.0 Lollipop update on the 18th of November.
Discuss on our Facebook page, HERE.
KitGuru Says: I was fairly impressed by the limited experience I had with the Grid. However, first impressions can change so be on the lookout for a full review in the future. The server specifications sound powerful enough on paper but things could change once the flood gates open and all Shield owners start hammering the servers.
What do you guys think of Nvidia's new cloud gaming initiative? Are you skeptical? Do you trust Nvidia to get it right?