Sony Online Entertainment launched its long awaited survival game, H1Z1 on Steam Early Access last night, unfortunately, the game people ended up buying didn't turn out to be the one that was initially promised in the months leading up to launch.
There has been plenty of evidence going around, showing SOE developers promising to only sell cosmetic items and ensure that the game won't be pay to win via micro transactions. Unfortunately when the game launched, it was soon discovered that you could purchase air drops, which would contain vital tools for survival, including weapons and ammo, things that were hard to find just by exploring the world.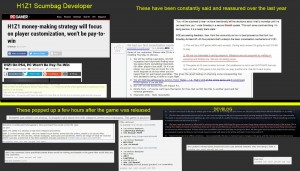 Click image to enlarge. Image Source: Imgur
As a result of this change in business strategy, a lot of early buyers were a little annoyed that they just paid for a game that would eventually be free to play and offer players the chance to pay to get ahead.
SOE recognizes that it messed up the messaging a bit post launch and will be offering no questions asked refunds for those who bought the game before 10:30 Pacific time today (16/1/15). This offer only applies until Monday so you may want to get your request in quick if you bought the game.
All you have to do is email [email protected] and request a refund. This is all operating outside of Steam so it may take a bit longer to get everything sorted.
Discuss on our Facebook page, HERE.
KitGuru Says: I'm not the biggest fan of Early Access but I can at least understand wanting to buy a game early that you know you will end up paying for eventually. However, SOE has planned to make H1Z1 a free to play title following its run on Early Access, so I'm finding it rather difficult to understand why anybody would want to pay for it. It's not like you get a ton of incentives to buy-in now either, aside from the satisfaction of playing a broken game, a few air drops and a crate or two. Did any of you guys buy H1Z1? Will you be looking for a refund following the economy changes?