While Sony might not want anyone talking about the leaks, I don't know if many people will complain about everyone knowing what the MPAA has planned over the next few years. It's future anti-piracy strategy has been revealed as part of the hack and it shows that it plans to target file-lockers, video streaming sites and apps over the next few years and focus less on BitTorrent and link sites.
This information comes from an email sent out to Sony executives earlier this year, detailing the copyright lobby group's priorities for its anti-piracy efforts in the future.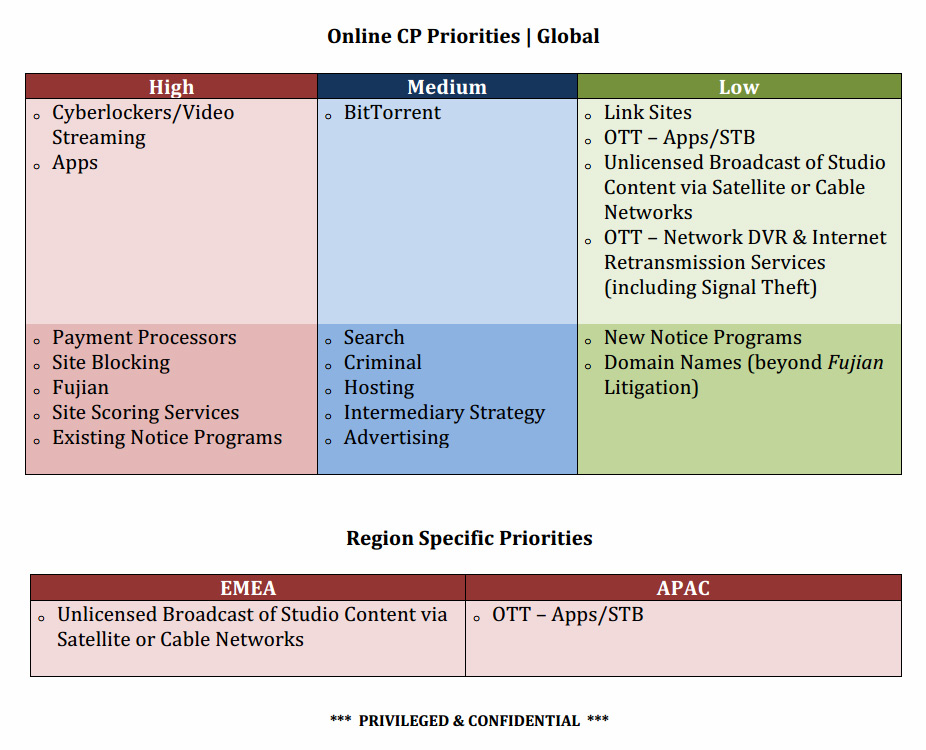 What's particularly interesting about this document, is the different tactics designed to be used against the different entities. When it comes to torrent sites, the MPAA wants to focus on using the police to shut them down, targeting hosting facilities and looking to have criminal charges brought to bear on the owners. However with cyberlockers and illicit applications, it instead wants to focus on site blocks and a petitioning of payment processors not to deal with the site.
This may be thanks to the long running legal battle with MegaUpload founder Kim Dotcom, which has proved costly and to-date, mostly futile for the copyright lobby, as while MegaUpload was indeed shut down, he simply launched another one while awaiting trial.
Across the board however the MPAA will use blocking and search engine petitioning/DMCA requests to try and limit access to sites it considers infringing. This list of methods is transient however, with the MPAA stating, in the email that this table was included with:
"…the attached represents priorities and activities presuming online CP is adequately resourced. Your teams understand that, depending upon how the budget process plays out, we may need to lower priorities and activities for many sources of piracy and/or antipiracy initiatives."
Discuss on our Facebook page, HERE.
KitGuru Says: The real question is: what's Fujian? It's a region in China, but other than that I can find no reference to it. Any thoughts?
[Thanks TorrentFreak]