Allwinner Technology, the company primarily known for its ultra-cheap application processors for entry-level smartphones and tablets, may become a major chip design house in China, if it acquires Rockchip Electronics using money provided by the Chinese government.
Last year the government of China announced intention to invest about a trillion of yuan ($161.1 billion, £103.86 billion, €147 billion) on development of the country's self-sufficient semiconductor industry over the next five to 10 years. The money will be spent on various research, development and education projects, construction of leading-edge semiconductor fabrication plants as well as on acquisitions of companies and consolidation of existing semiconductor assets.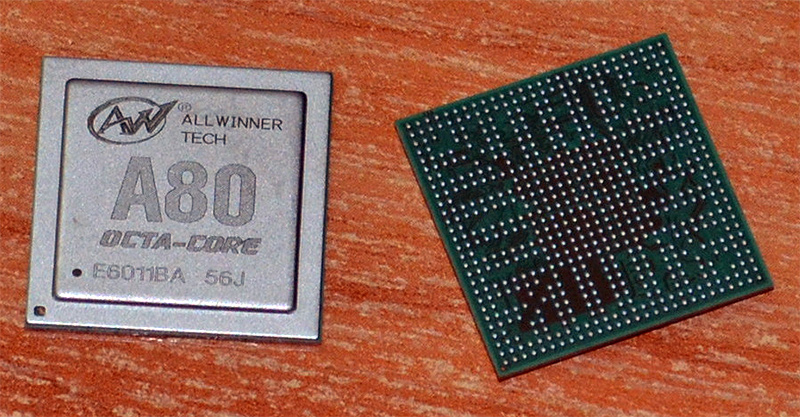 As a part of the effort to strengthen its local semiconductor industry, China plans to financially support select semiconductor companies. One of the companies to receive aid from the government is Allwinner Technology, reports DigiTimes.
Allwinner yet has to officially announce the investment from the government as well as its future plans. However, the report states that the company intends to "to make itself more competitive" and to "make strategic acquisitions locally and internationally". It is rumoured that Allwinner intends to merge with Rockchip Electronics to form a new, state-owned entity.
The two companies are comparable in terms of headcount: each employed around 500 people in 2012 – 2013, according to Wikipedia. Therefore, the new chip designer promises to be significantly better than the sum of all parts.  Still, it will take quite some time before the combined entity will actually grow and become truly competitive on the global scale: approximately 1000 people is not not lot, even if 800 of them are engineers. For example, Apple employed around three thousand of semiconductor engineers to make system-on-chips for its products. Apple's developers create two SoCs per year and work with Apple's partners over various IP [intellectual property], process technologies and so on.
The new company will, among other products, develop application processors for wearable electronics and Internet-of-Things. It is unclear whether the company will compete against other Chinese designers of semiconductors, or will specialize only on SoCs for ultra-low-power applications.
It is unclear how the possible merge between Allwinner and Rockchip could affect Rockchip's collaboration with Intel Corp.
Last year the government of China invested in Spreadtrum Communications, which then merged with RDA Microelectronics, creating a major China-based developer of system-on-chips for tablets, smartphones and TVs.
Creating big chip design companies with significant market potential is a good way to ensure that they are competitive both locally and globally. Moreover, successful chip designers will become significant customers for local contract makers of semiconductors, such as Semiconductor Manufacturing International Corp. (SMIC) or Wuhan Xinxin Semiconductor Manufacturing Corp. (XMC). The approach is generally very smart, but it remains to be seen whether companies like Allwinner, Spreadtrum, SMIC and other can actually become as competitive as Qualcomm, TSMC or Samsung.
Allwinner and Rockchip did not comment on the news-story.
Discuss on our Facebook page, HERE.
KitGuru Says: While the Chinese roadmap to create a strong self-sufficient local semiconductor industry spans to ten years, it looks like the country wants to implement everything considerably quicker. Recent reports about Tsinghua's intentions to acquire Micron Technology indicated that the government of the world's most populated country is very aggressive about creating the vertically-integrated local chip industry. In fact, it is pretty obvious that a more or less competitive semiconductor industry in China will be created. The question is whether such industry can actually generate products that will be competitive on the global scale.