A Chinese web-site has published what it claims to be the first benchmarks of Nvidia Tegra K1 system-on-chips based on 32-bit and 64-bit cores as well as Kepler-class graphics engine. In case the results are correct, then the Tegra K1 is considerably faster than all the other mobile application processors available today.
Journalists from MyDrivers web-site claim that they had found Antutu benchmark results of two systems based on two versions of Tegra K1 system-on-chip in the benchmark's database. It is believed that the test software was run by Nvidia itself and then accidentally published. The prototypes were based on Google Android 4.2.2 operating system and equipped with full-HD (1920*1080 resolution) displays, 2GB of LPDDR3 RAM and 32GB of NAND flash storage. One of the test platforms featured Tegra K1 version with four ARM Cortex-A15 cores (32-bit, ARMv7), another sported a more advanced Tegra K1 SoC with two Nvidia Denver cores (64-bit, ARMv8).
Based on detailed results of Antutu 4.0 benchmark, both versions of Nvidia Tegra K1 are either faster or substantially faster than the last year's Tegra 4. It is noteworthy, however, that when it comes to graphics, then the difference between the new and old SoCs is not really significant.
Based on the final score in Antutu 4.0 benchmark, the Tegra K1 application processors are better than all the existing solutions for mobile gadgets, including Qualcomm Snapdragon 805, which is impressive.
Given the fact that the Android 4.2.2 does not take advantage of 64-bit capabilities of Nvidia Denver cores, actual performance of commercial products based on the advanced version of the Tegra K1 should be different.
Earlier this year Nvidia said that devices featuring the Tegra K1 with four ARM Cortex-A15 cores would be available in the first half of the year, whereas products powered by the Tegra K1 with two Denver cores would hit the market in the second half of 2014.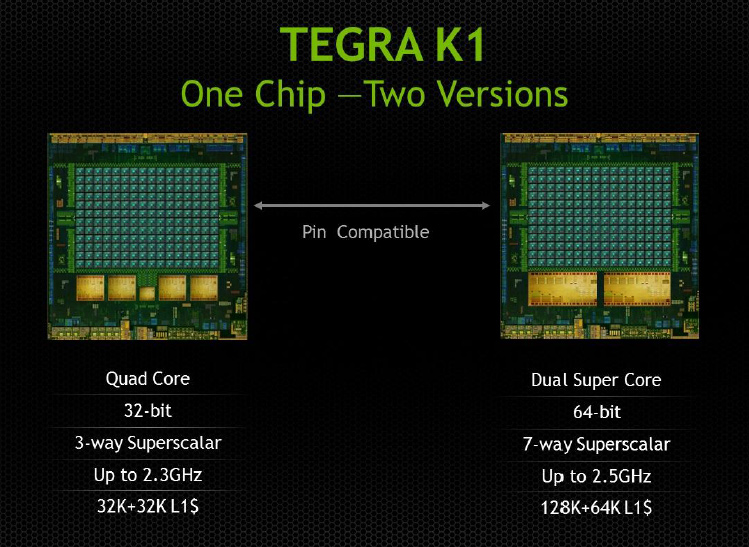 Please note that the authenticity of the benchmarks could not be verified. Nvidia did not comment on the news-story.
KitGuru Says: Benchmark results of next-generation application processors versus existing solutions always reveal the same: the new chips are better than the current ones. Meanwhile, the issue is that the Tegra K1 will compete against completely different SoCs in a completely different environment.