Itus Corp., a company that buys patents with the purpose of monetization, on Thursday sued Apple for patent infringement. The plaintiff accuses that the defendant's FaceTime software infringes its patents. Back in early 2013 the same company, which then was called CopyTele, sued Microsoft Corp. for the same infringement by Skype and Lync.
Itus accuses Apple of infringing its patent covering key-based web conferencing encryption technology by its FaceTime software that is installed on Macs, iPhones, iPads and iPod touch media players. Itus did not reveal exact patents that Apple allegedly infringes, but implied that the consumer electronics giant is accused of the same violations as Microsoft. If this is true, then the patents in question are 6,856,686 B2 and 6,856,687 B2. The patents cover "method and apparatus for securing e-mail attachments" and "portable telecommunication security device", which basically means that they could cover almost any secure type of communication.
Originally secure communication technologies were developed for specific customers. Itus owns patents in question since it owns developer of appropriate technologies, Secure Web Conference Corp. (SWCC).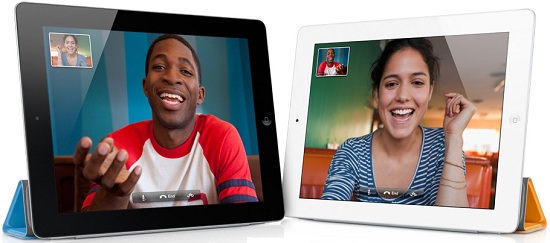 Apple FaceTime software in action
"Our company was a pioneer in developing and patenting encryption technologies that were originally used in devices sold to the U.S. military," said Robert Berman, president and CEO of Itus. "We recognized the monetization potential of these patents when we joined the company, and this lawsuit is the next step in realizing that potential."
The patent infringement lawsuit against Apple was filed in the U.S. District Court for the Eastern District of New York.
SWCC has already licensed the encryption patents to Logitech in connection with its LifeSize web conferencing service.
Apple did not comment on the news-story.
Discuss on our Facebook page, HERE.
KitGuru Says: Secure communications is a hot topic today and since there are numerous companies providing appropriate software and services, quite naturally patent holders like Itus will try to monetize their investments in patents covering secure comms.