Micro-transactions have become the norm these days, particularly in mobile games, so much so that it can be difficult to track down games that don't feature them. However, Apple is looking to make things a little bit easier for you with its new 'Pay Once and Play' category on the App Store.
This new section of the store will feature games you can buy and not have to worry about in-app purchases at all. The category is currently available on the UK App Store and may have already begun showing up in other regions as well.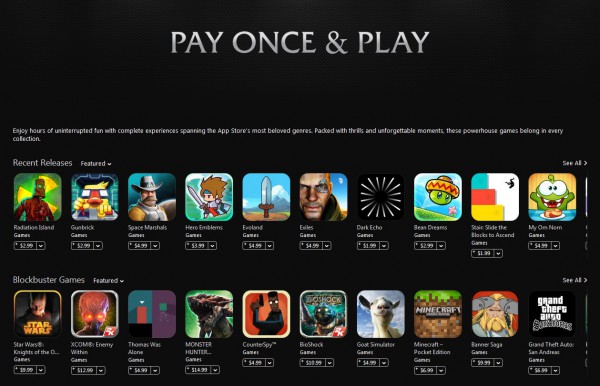 Under the new 'Pay Once and Play' section, you will find new releases, Blockbuster games and App Store originals. Prices will obviously vary from game to game but at least they will all be micro-transaction free.
Games included in the section include Minecraft, Grand Theft Auto: San Andreas, Threes! and Bioshock. This move comes shortly after Apple changed the 'free' label in the App Store to 'Get+', in order to better illustrate the fact that these apps may heavily push micro-transactions.
Discuss on our Facebook page, HERE.
KitGuru Says: There have been times in the past where I have struggled to find a micro-transaction free game on the App Store so I appreciate the addition of this new category, as I'm sure others will as well. I am a little surprised that it took so long to implement this category though.