Apple is clamping down on its own app refund policy, which it put in to effect a couple of weeks back. The returns policy enabled iTunes users to get their money back on digitally purchased apps within 14 days, although Apple reserved the right to refuse refunds if an app had been used for a significant amount of time.
For example, if you bought a book, read it for an hour and then tried to return it, you likely wouldn't have got a refund. Apparently, Apple is now working on a way to put a cap on the amount of refunds you can apply for, as many App Store users were attempting to use the policy as a way of demoing paid for content.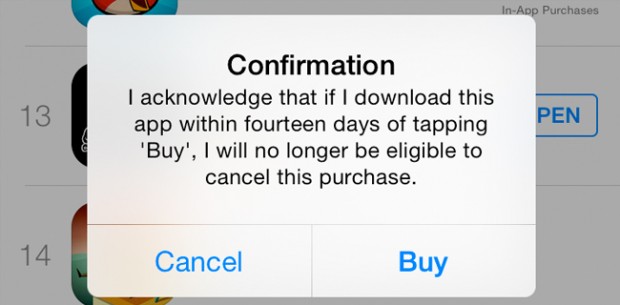 Frequent refund seekers will now get a pop up message when purchasing new content, saying "I acknowledge that if I download this app within 14 days of tapping 'Buy,' I will no longer be able to cancel this purchase."
This message will appear for those who have a lot of refund requests tied to their account so it won't necessarily penalize those with genuine app troubles.
Discuss on our Facebook page, HERE.
KitGuru Says: If people were abusing the refund system then it makes sense for Apple to clamp down on that. 
Source: 9to5Mac