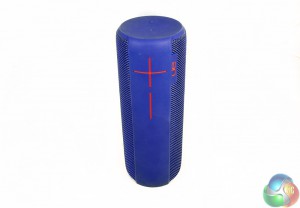 The actual speaker itself is a vertical design and is a little more than eight and a half inches tall. The particular model I have is the Electric Blue version, with contrasting red plus and minus buttons for volume control. It is also available in Charcoal Grey and Lava Red colour schemes, which have contrasting blue and grey buttons respectively. There is also a plum colour model in the works.

The front strip, and each end is coated with silicon, while the rest of the UE MEGABOOM's circumference is coated with a stitched fabric.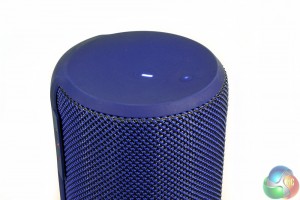 The only controls beyond the large volume control switches are two miniature buttons on the top which are rather difficult to notice. The illuminated button in the center in the above picture is the power button, which is activated by pressing and holding for a few seconds. The smaller button on the outer rim at the top is the Bluetooth indicator, which lets you know when the MEGABOOM is looking for a pairing or has successfully paired with another device.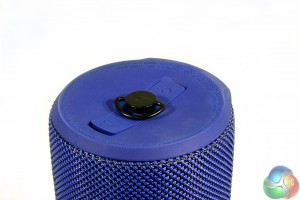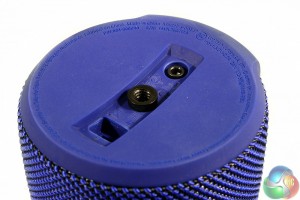 This being a waterproof speaker, there are no obvious ports or connectors. Those are found on the bottom, hidden behind a little tab that has to be unscrewed to remove. There you will find the micro-USB connectors and a 3.5mm connector should you wish to hardwire a device that does not have a Bluetooth connection.