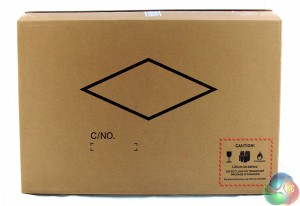 The DinoPC Pegasus 17.3" GTX 765M arrived in a large DinoPC box with a load of bubble packaging. Inside the shipping case there is an outer box and an inner carry case that carries the slightly bizarre slogan 'Enjoy with me'. The packaging looks rather plain however it is very effective and the laptop arrived in perfect condition.

The 120W power brick is fairly flat in shape and measures 145mm x 73mm and 25mm thick. The power supply uses a clover leaf mains cord.
You don't get much in the way of accessories. The product guide covers three variants of this chassis (this 17.3-inch and two 15.6-inch versions). There are separate driver discs for Windows 8 and 8.1 and you get two plastic shims that you use to pack out the dual drive bays in the event you switch to a super slim hard drive.