MSI GT62VR 6RE Dominator Pro 4K has an absurdly long model name that gives us a fair amount of information about this impressive gaming laptop. The GT part tells us this is a chunky chassis that can dissipate a fair amount of heat, VR shows support for your Oculus Rift or HTC Vive and 4K is, obviously, the number of pixels in the screen.
That VR support comes courtesy of an Nvidia GTX 1070 graphics chip and that's big news because the mobile versions of Nvidia 10-series graphics chips are almost identical to the desktop graphics cards. In other words MSI is making the bold claim that you can use the GT62VR as a direct replacement for your gaming PC. Unfortunately they use the slogan 'Shatter Desktop Performance Cliche' which means, 'You don't need a desktop PC to play games'.
MSI GT62VR 6RE (Dominator Pro 4K) Specifications:
Screen 15.6″ UHD, Anti-Glare (3840*2160) 4K eDP IPS-Level
Graphics nVidia Geforce GTX 1070, 8GB GDDR5
Processor Skylake i7-6820HK
Memory 32GB DDR4 (8GB*4)
SSD 512GB PCIE GEN3 NVMe SSD
HDD 1TB (SATA) 7200rpm
Battery 8-Cell, 75.24 Whr Li-Ion (230W AC Adapter)
OS Windows 10
Dimensions 390 x 266 x 39.8
Weight 2.94 kg
MSI GT62VR 6RE (Dominator Pro 4K) Features:
Webcam FHD type (30fps@1080p)
Keyboard Backlight Keyboard (Full-Color)
LAN Killer Gb LAN
Wireless LAN & Bluetooth Killer N1535 Combo (2*2 a/c)+BT4.1 M.2 type
Speaker 2x 3W
Warranty 24 months
Price for laptop, as reviewed: £2,299 available at Overclockers UK.
And the fact of the matter, as you can see in our video, is that MSI is quite correct. The GT62VR does indeed haul along at high speed in games such as Last Light Redux, GTA V and Deus X.
The downside is that you may well have to lower the resolution from 4K as the GTX 1070 simply doesn't have the power to run any game at any resolution. For that matter GTX 1080 will struggle at 4K in certain games when you have image quality cranked to the max.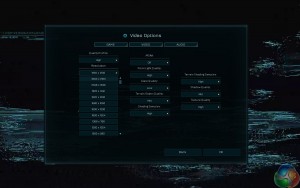 Lowering the resolution threw up a quirk of the screen and/or Nvidia drivers as the next step down from 3,840×2,160 is 2,048×1,536 followed by 1,920×1,440 and 1,920×1,200 and then 1,680×1,050. This means you cannot set the display to 1,920×1,080 so if you take a look at our test results you will see they were run at 1,920×1,200 and also at 4K.
The main point here is that MSI has shown you can indeed game at proper frame rates and image quality on this laptop. When KitGuru attended a recent Nvidia event, we used HTC Vive on GTX 1060, GTX 1070 and GTX 1080 so the VR part of the equation is also a done deal.
The rest of the laptop is perfectly OK but as you may detect in our video it wasn't overwhelming. Make no mistake, the specification is impressive and MSI has called upon its usual partners such as SteelSeries, Nahimic and Rivet Networks to provide services that enhance the GT62VR 6RE.
And yet there are some quirks. In particular we found the layout of the ports and connectors was quite peculiar with three USB 3.0 jammed together on one side and one USB 2.0 on the other. The single USB 3.1 type C is located on the rear which makes sense if you want to power a display but is terribly inconvenient if you want to connect a mobile phone or external storage device.
The only problem we came across is that the mouse buttons are very clicky and feel out of place on a laptop that costs £2,300. We may have got unlucky with our Press sample and can only hope the laptops on retail sale are improved.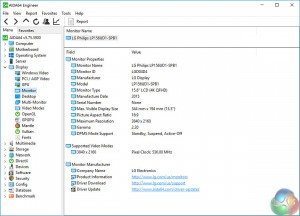 On that score, it is worth reiterating that MSI describes the display as 'IPS-level'. The LG panel in our sample uses IPS technology but for all we know, future batches will use some other screen technology. MSI has committed that the screen will deliver the same image quality as IPS.
Testing – CPU and Productivity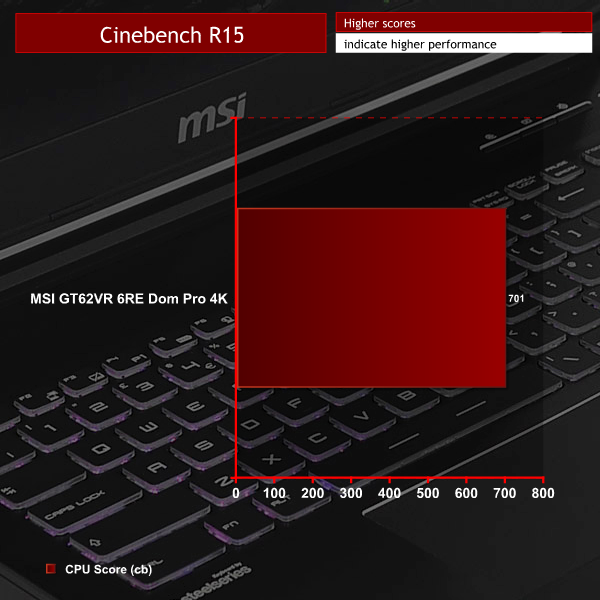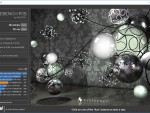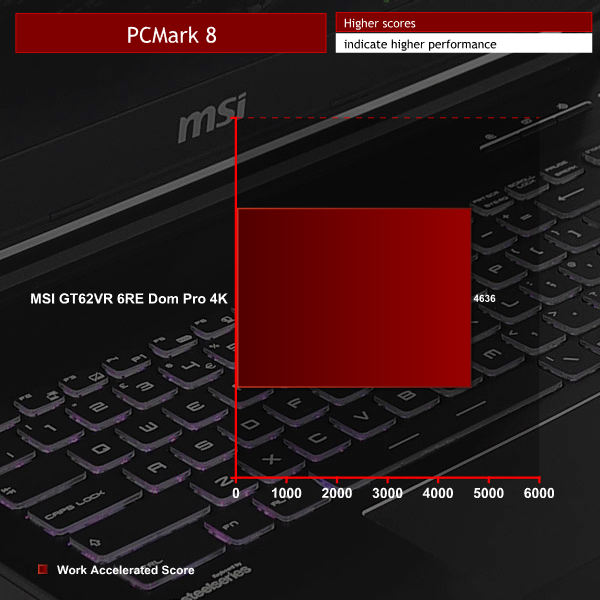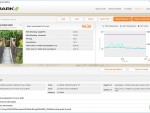 A good score is delivered in Cinebench, showing that this laptop's Core i7-6820HK quad-core Skylake CPU can handle itself in demanding scenarios.
Testing – 3DMark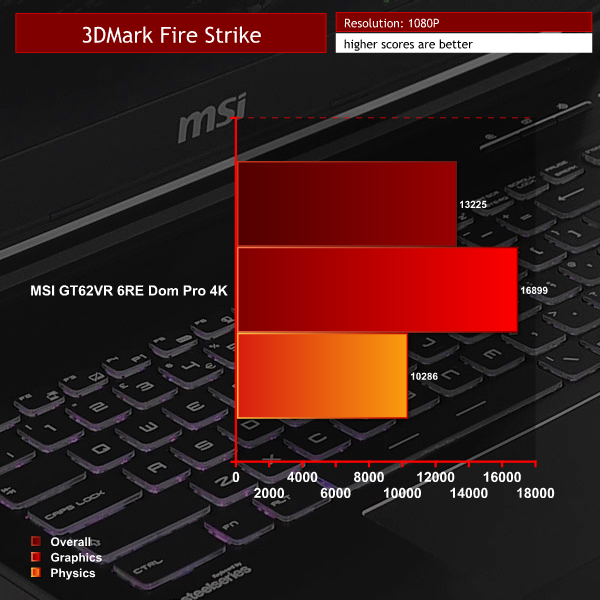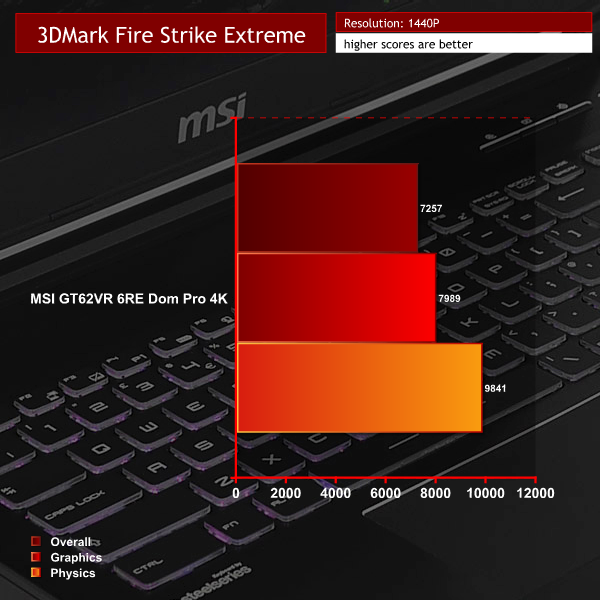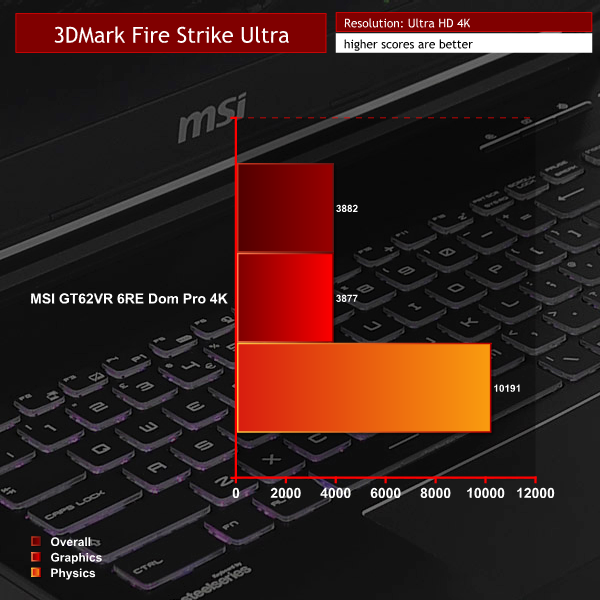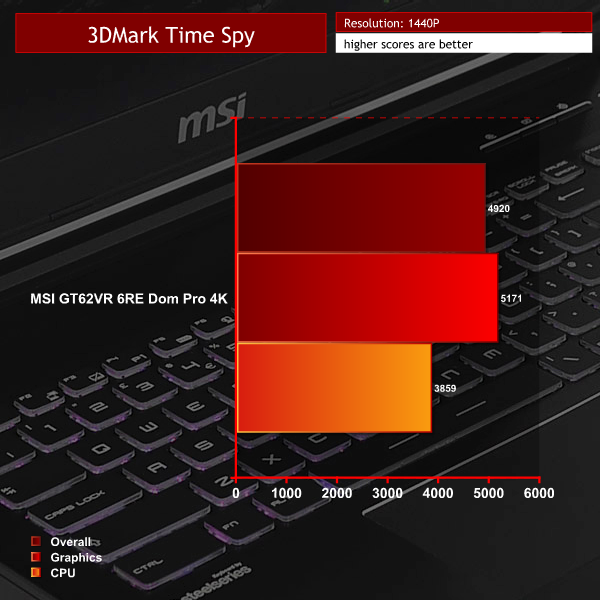 Testing – Games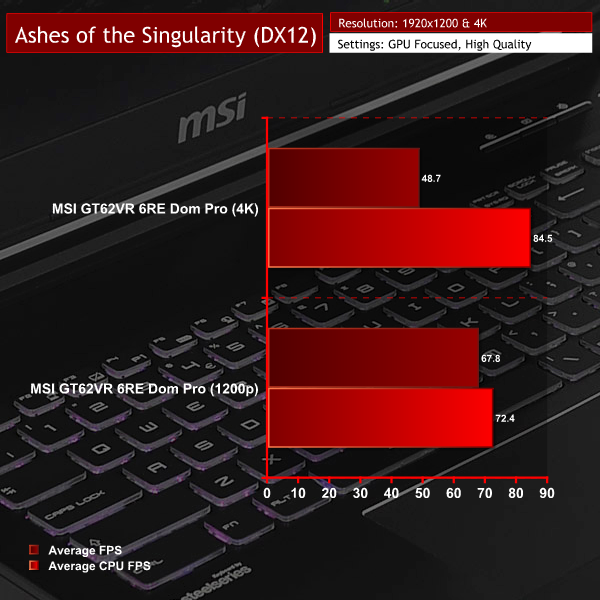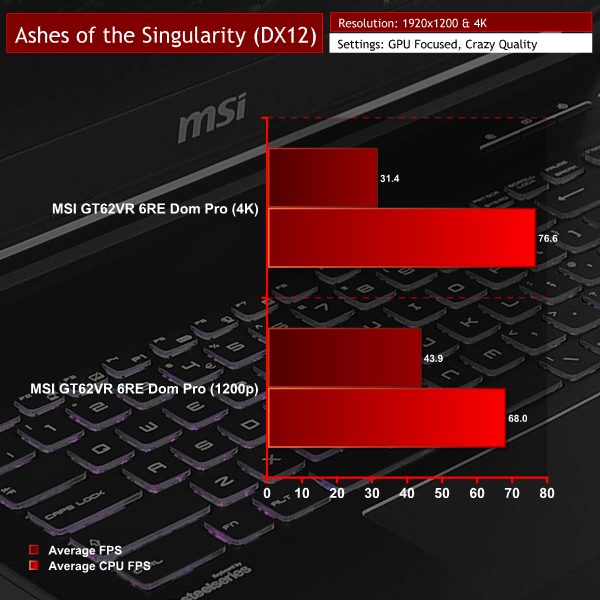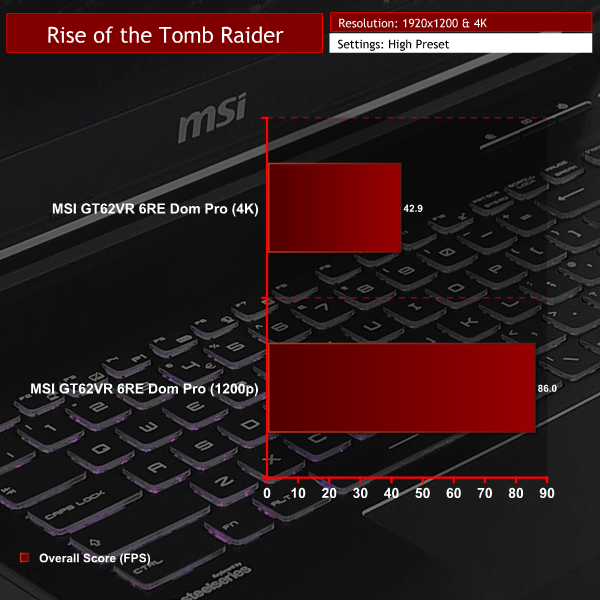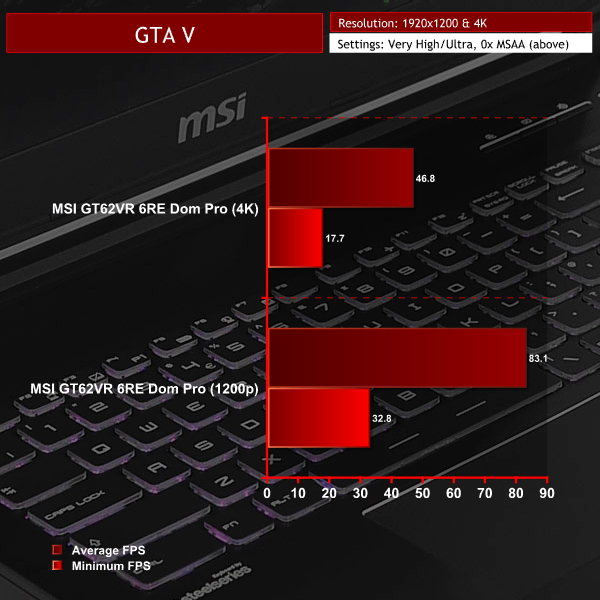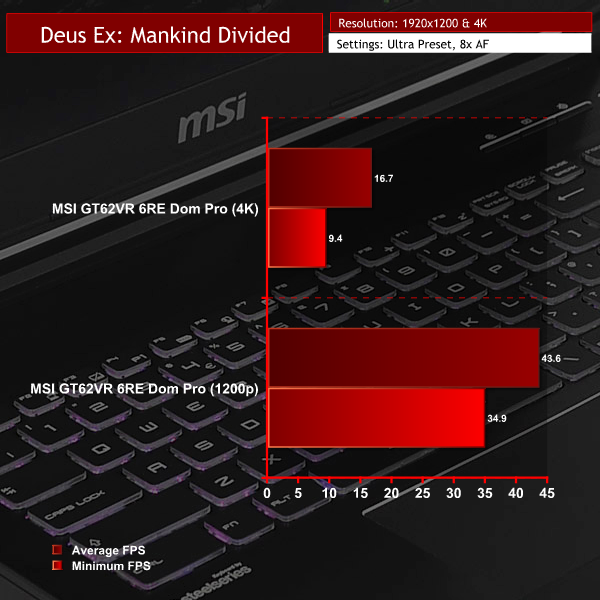 The MSI GT62VR 6RE storms along at Full HD (1,920×1,200 rather than 1080p) with image quality set at high and ultra. The appearance of the screen, the quality of the audio and the solid frame rate all combine to deliver an excellent gaming experience.
If you feel the urge to crank the resolution up to 4K you will almost certainly have to reduce image quality settings. We doubt you will see any improvement from the extra pixels on the screen, although it might be a different story if you output to a larger 4K monitor or TV.
Take a look at our graphs and we are sure you will agree this is an impressive laptop.
Battery Life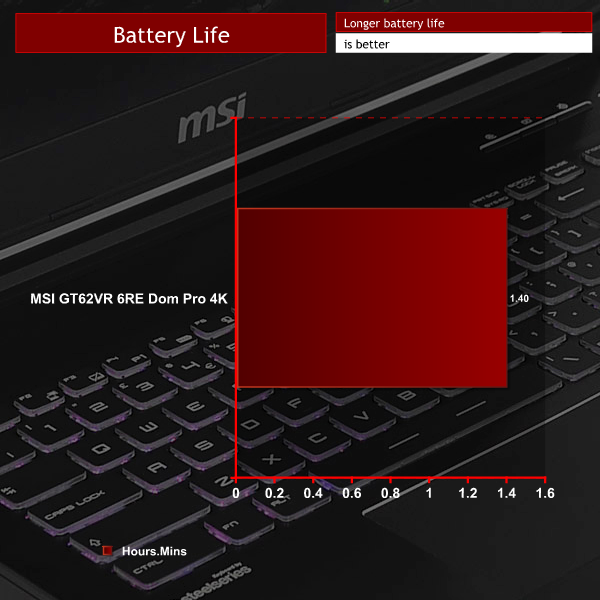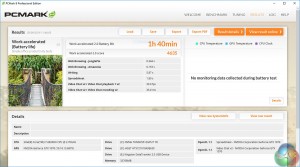 Battery life is mediocre at 1 hour and 40 minutes for the PCMark 8 test. That translates into about three to three-and-a-half hours of real world usage for basic tasks such as web browsing and checking emails.
Cooling Performance.
Ambient = 22°C.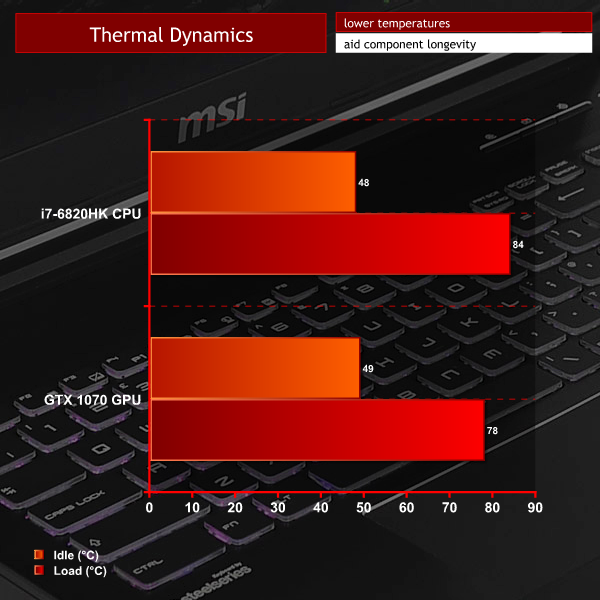 Both CPU and GPU run around 80 degrees Celsius under high load, which is exactly what we expect. The extensive cooling system and chunky GT chassis have clearly been engineered to deliver these figure and the hardware works perfectly.
Acoustics performance.
The two blowers at the rear of the laptop work hard for a living and you can feel steady streams of heated air leaving the rear of the chassis if you put your hands in the general vicinity.
The impressive thing is that these blowers are clearly audible yet are not intrusively loud. During our video, your reviewer was positioned next to the exhausts however the cooling noise was not picked up by the microphone.
Closing Thoughts
MSI GT62VR 6RE (Dominator Pro 4K) is an impressive laptop that suffers a minor annoyance as the mouse buttons are clicky and sound dreadful. In every other respect it is impressive. The combination of Core i7, GTX 1070, 32GB of DDR4 RAM, a fast 512GB SSD and a lovely IPS panel work together to deliver a superb gaming experience.
Clearly the 4K resolution is a headline feature and yet we found it questionable as 4K gaming is rarely a practical option for a laptop.
The chassis is fairly chunky and reasonably heavy however it manages to cool the hardware without drama which means the size and weight are worthy compromises.
MSI crams in plenty of bits and pieces from the likes of SteelSeries, XSplit and Nahimic along with Killer networking and tops it off with an array of MSI software including Dragon Centre utility. This has a number of functions including control of the RGB keyboard.
One minor drawback is that the understated styling of the GT62VR 6RE makes it fairly forgettable. Every part of the specification (with the possible except of the 4K resolution) makes sense, is well considered and is of high quality.
The curious thing is that when you walk away from the GT62VR 6RE, you may struggle to remember what the heck it looks like. That GTX 1070 graphics chip is epic with the rest of the laptop working as a support act and in that respect it does a very fine job.
The MSI GT62VR 6RE Dominator Pro 4K laptop is available from Overclockers UK for £2,299 (inc. VAT).
Discuss on our Facebook page, over HERE.
Pros:
GTX 1070 graphics power.
IPS screen looks superb.
Fast Core i7-6820HK CPU.
512GB NVMe SSD is blazingly fast.
RGB keyboard with Dragon Centre software looks great.
Cons:
Mouse buttons are very clicky.
USB port locations are a bit peculiar.
4K display can be a pain to scale in Windows.
Battery life is unimpressive.
KitGuru says: A superb gaming laptop powered by GTX 1070 with a lovely IPS display.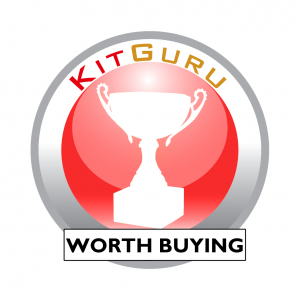 Be sure to check out our sponsors store EKWB here