The first wireless mouse to come from the Corsair labs, the Dark Core RGB SE is a proficient mouse that I enjoyed using.
Its larger, ergonomic design makes it very comfortable, and having two interchangeable side grips is a good feature to have. It is quite heavy at 128g, though, so don't expect to be winning CS:GO tournaments with this one, but for some wireless sofa gaming it's more than up to the task.
That's primarily thanks to the excellent 2.4GHz connection, which I found to be absolutely flawless. I experienced zero issues using the mouse wirelessly and I honestly could not tell the difference between using the mouse wirelessly or wired.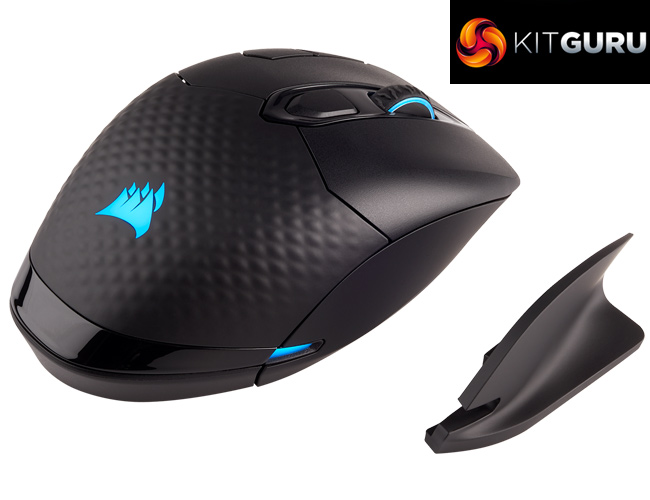 I don't think the mouse is quite perfect, though – the scroll wheel could do with a bit more tension, and my sample exhibited a little bit of flex at the very bottom of the mouse which was slightly off-putting.
There is also the fact that the Dark Core RGB SE (special edition) costs £10 more than the standard version, and the only added feature is Qi charging. Considering the Qi-enabled MM1000 is another £75 on-top, I do think the standard Dark Core is the more attractive proposition.
Still, if you want a comfortable, and top-performing wireless mouse, the Corsair Dark Core RGB will serve you well – special edition or not. There's room for improvement, but it's a very solid offering from Corsair.

You can buy the special edition for £94.99 from Overclockers UK HERE. The standard model is £84.95 HERE. The MM1000 mouse mat is £74.99 HERE.
Discuss on our Facebook page HERE.
Pros
Excellent wireless performance.
PMW 3367 is a brilliant sensor.
Capable software.
Good-looking RGB lighting.
Interchangeable side grip.
Comfortable shape for palm grip.
Cons
Special edition essentially necessitates the additional purchase of a £75 mouse mat.
My sample exhibited a bit of flex at the bottom of the mouse.
Scroll wheel could be tighter, while its rubber grip is a bit slippery.
KitGuru says: Corsair's first wireless mouse is undoubtedly a good product. I think there is room for improvement, but if you are looking for a solid gaming mouse without the need for a cable, the Dark Core RGB – special edition or not – definitely fits the bill.