To test the Harpoon RGB Wireless, I used it as my daily driver for just over a week. We break down testing into four main sections: software, lighting, build quality and comfort, and performance.
Software
Note: if the above images are not displaying properly, you may need to disable your ad block software as they are known to interfere with our display code.

Corsair's latest peripherals and other products now all use the company's iCUE software. It'll be familiar to anyone who has used previous versions of CUE (Corsair Utility Engine) but it is now a unified platform for the whole Corsair suite of devices.
In terms of what control you have over the Harpoon RGB Wireless, it's pretty standard. There's the 'Actions' tab for creating macros and remapping buttons, while 'Lighting Effects' gives you a number of presets to choose from to control the RGB illuminated zone on the mouse.
Then there's the 'DPI' tab which lets you set up to 5 DPI stages and assign a different colour to each one, while the final tab is 'Performance' which boils down to toggling angle snapping and pointer precision on or off.
All in all, we aren't really seeing anything we've not seen before, but Corsair has given users control over all the key areas and considering it's a relatively simple mouse anyway, iCUE does the job for me.
Lighting
As mentioned, there is just one RGB zone on the Harpoon Wireless – it's the Corsair logo at the bottom of the mouse. I have to say the lighting certainly looks good – it is quite bright and the colours are nice and vibrant. If I were being picky, the lighting coverage across the logo isn't perfectly even – the corners are a little dimmer than the middle of the sails – but you're only likely to notice that if you are giving the mouse a close-up inspection.
Of course, it is easy to argue the lighting as a whole is a bit redundant considering the logo is covered up when the mouse is in use. But I personally quite like it anyway as the RGB is nice to look at when the mouse is sat on your desk and not in use – though I am sure there will be many who disagree with me!
Build quality and comfort
In terms of the mouse itself, we will start with build quality and comfort. On the whole, the Harpoon RGB Wireless is a pretty solid mouse – despite using the same foundation as the original Harpoon, which is very much a budget offering, it doesn't feel cheap or flimsy.
Weighing 99g, too, it's relatively light for a wireless gaming mouse. If we compare it to some other models, the Razer Mamba Wireless is 106g, and while the Logitech G Pro Wireless is a mere 80g, it is also twice the price of the Harpoon RGB Wireless so they're not really aimed at the same market segment. Broadly speaking, though, 99g is impressive for a wireless mouse in this class.
Back to the build quality, though, like I said the Harpoon Wireless feels very solid. There's no creaking or flex to the side or top panels, and I only noticed a very small about of scroll wheel rattle when I picked up the mouse and shook it hard – during every day use, the rattle isn't at all noticeable.
The biggest issue I have with the mouse in terms of build quality, is the primary buttons. Simply put, there is quite a bit of post-travel once each click has been actuated, and this gives an overall mushy feeling if you click hard or rapidly. I didn't notice it as much during everyday office use, but when you start to click rapidly – when firing a semi-automatic rifle in-game, for instance – both buttons have a wobbly and mushy feel which isn't great.
Comfort-wise, though, I got on quite well with the Harpoon. It's a smaller, ergonomic mouse so probably not the best option for those with larger hands, but I would class my hands as 'medium size' (they measure 19cm long) and it was a good size for me.
It has a slight hump towards the back of its body which filled in my palm quite well, and I was able to use a full palm grip as well as a claw grip with no problems. The contoured right hand side is also quite comfortable to grip, though I did notice my thumbs occasionally resting a little too close to the side buttons which might be problematic for some.
The side grips do feel good in use, though, and I would always rather have a rubber grip over plain plastic. The top shell of the mouse is also textured slightly – similar to the Rival 310 – and again I prefer this over smooth plastic, though of course a lot of this is personal preference.
Performance
We've already touched on the post-travel issues with the mouse's primary buttons, so I won't repeat myself with that here. I would say that the Omron switches themselves feel quite crisp and fast, the problem seems to stem from the design of the mouse's shell as there is too much leeway when clicking down.
The scroll wheel is decent, though. Its textured rubber surface is easy to grip and I had no problems spinning it at top speed. The steps aren't quite as distinct as I would like – when scrolling slowly they do have a slight tendency to merge into each other – but generally speaking, this is not a bad wheel at all.
Now in terms of the sensor and wireless performance, Corsair has introduced its new 2.4GHz wireless technology with the Harpoon RGB Wireless, dubbed SLIPSTREAM. According to Corsair this connection is up to 50% faster than its previous wireless technology, with a 'sub-1ms' connection time. Corsair is able to do this thanks to Intelligent Frequency Shift (IFS) which ensures the signal is always operating at peak speed as the connection has 'the ability to detect and hop to the fastest available channel on the fly.'
I'm not sure how much of that is marketing speak, but in a nutshell the wireless response time seems to be flawless as I couldn't tell the difference when using the mouse wired or wirelessly. I had no signal drop outs, no lag or latency or anything like that – so it all seems to be doing the job perfectly.
In terms of the actual sensor, the Harpoon RGB Wireless uses the PMW 3325, an upgrade from the PMW 3320 used with the original Harpoon RGB. This isn't on the same level as the top-end PMW 3360, but it performed just as well during my every day testing, with no noticeable acceleration or jitter, and I was able to track pixel by pixel when editing photos or sniping in PUBG. I know some implementations of the 3325 are prone to some smoothing, but again that was not a problem with my sample.
The one area where I really noticed I wasn't using a PMW 3360 was lift off distance (LOD). It turns out the mouse would stop tracking somewhere between having 2 and 3 DVDs wedged under each end, when most 3360-based mice stop tracking between 1 and 2 DVDs, some even under 1 DVD. It doesn't sound like much, but when I would pick up the mouse and reposition it, I definitely noticed the cursor moving further than usual as I picked it up.
I'm not a competitive gamer so it didn't really bother me in game, but it did take some getting used to and caused a couple of annoyances in Photoshop. There's no LOD control in iCUE so it's very much what you see is what you get, so how sensitive you are to LOD may have a bearing on how appealing this mouse is for you.
Lastly, we have battery life to touch on. Corsair reckons the Harpoon RGB Wireless will last up to 30 hours with standard lighting and 45 hours without backlighting, and that's using the 2.4GHz SLIPSTREAM connection. In my experience, that's probably about right when using it with the LED brightness set at 100%.
That's because, over the week I used the mouse, I only had to charge it after 4 days of continuous use – so I'd estimate a total of 32 hours or so, bearing in mind I am sat at my desk writing reviews for most of a working day. So it's certainly impressive and you won't be reaching for the cable every few hours.
MM350 mousemat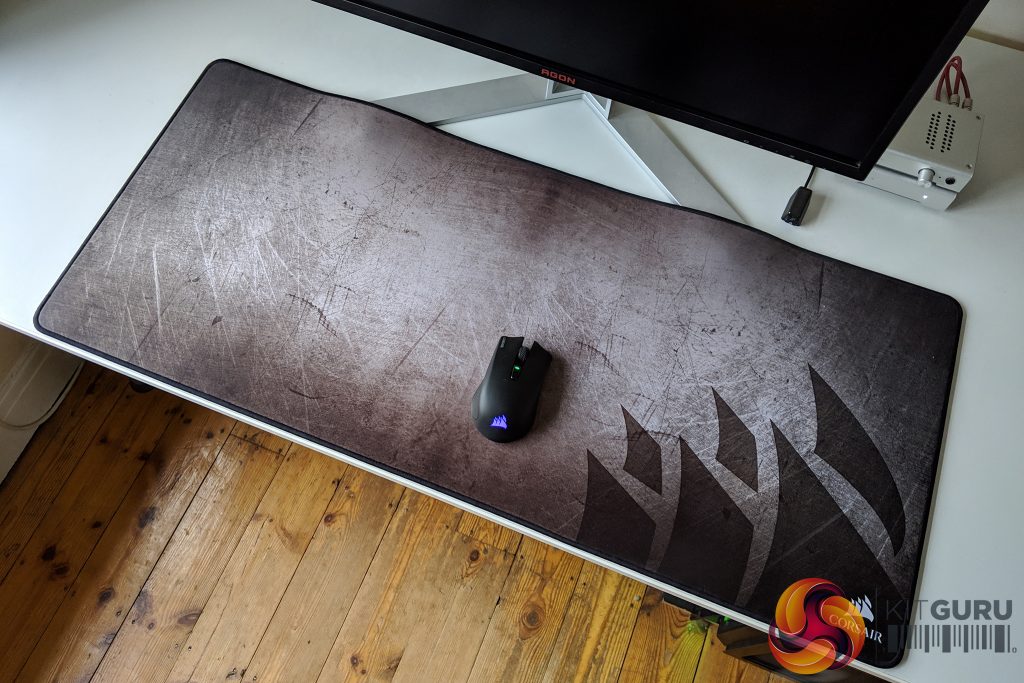 One last thing to mention is the new MM350 mousemat I have been testing alongside the Harpoon Wireless. This is the successor to the MM300 mat that has been around for a while now, and although I've not used that model, at its heart the MM350 is quite similar to its predecessor in that it is a massive cloth pad with stitched edges. Both have the same distressed design, too, with the Corsair sails positioned in the bottom right corner.
The MM350 is bigger than the MM300, though – it measures 930mm x 400mm x 5mm, making it 100mm wider and 2mm thicker than its predecessor.
Again, I've not used the MM300, but the MM350 has proved to be lovely to use over the past few weeks. At 5mm it is very thick for a cloth pad and it really gives your wrist and arm some cushioning against a hard desk. The cloth surface also proved to be great to use when gaming – my movements felt natural and not hindered by the surface, while it is obviously more than big enough for some sweeping movements. I'd describe it as more of a control pad than something for speed, but either way I had no issues tracking with it.
All in all, I have to say this is an excellent super-large mousemat if you are in the market for something similar. It's hard to get too excited about a mousemat, but I really don't have anything bad to say about the MM350.