Despite the fact that gaming mice – more or less – all do the same thing, it never ceases to amaze me how mice come in just about every shape and size. As part of that, gaming mice also vary in weight quite dramatically. From the 67g Finalmouse UltraLight Pro, to the 175g ThunderX3 TM50 – with innumerous mice in between – it seems there is just no consensus when it comes to how heavy a gaming mouse should be. But is that true, and could we even pin-point a certain figure as being the 'perfect' mouse weight? We went looking for answers…
Our approach was two-pronged. First, we ran a poll on our site where well over a thousand gaming enthusiasts gave us their views. Secondly, we got in touch with some leading mice manufacturers – including Razer, HyperX, Cooler Master, Roccat and ASUS – to find out what they had to say. But, starting with our loyal readers, here are the results of the poll that we ran:
I was very interested to see that a significant chunk of respondents – over one third, in fact – simply do not care about the weight of their gaming mice. Perhaps I was so surprised since I do care, quite a lot in fact, but this is still a very large number of people who simply aren't fussed.
With the rest of our respondents voting for a particular weight bracket, the largest of these was the 'light-middle' grouping, which we classed as between 91-110g. I thought that segment would be most popular – and it's the category I myself fit into – but I didn't expect the middle-heavy group (111-130g) to be quite so close behind.
Bringing up the rear, 13% of those we polled prefer mice weighing less than 90g, while a fairly significant chunk (11% of polled readers) actually like mike to weight over 130g, another surprise for me.
Now, we're not saying this poll is perfect – it was only available to visitors of the main KitGuru site (which is a certain demographic in the first place), we didn't run the poll for too long and I think the mouse weight groupings could've been more specific to give us more accurate data.
However, it is a revealing insight to the weight preferences of our readers – and as you will see below, most mouse manufacturers seem to agree with our general findings.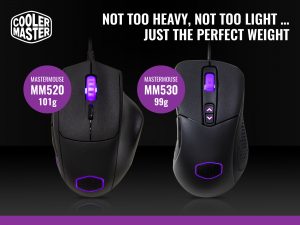 We first spoke to Bram Rongen – senior product marketing for peripherals at Cooler Master. He essentially confirmed the results of our poll, saying 'this is… exactly in line with some recent surveys we've done ourselves showing that around 85/90g for a FPS mouse, and 100g "general" are quite good target weights for a mouse nowadays..' Bram also told us that Cooler Master's mice are different weights to cater to the different grip styles that end-users may deploy.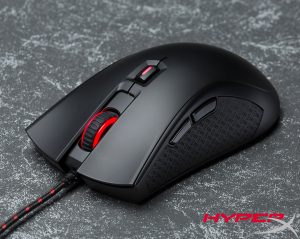 Julien Millet, EMEA business manager for HyperX, felt that the 'chart makes a lot of sense if you look at the two best selling mice globally [being the] Logi G502 (121g) which is middle heavy and the Razer Deathadder (105g) which is light-middle'. Both of HyperX's mice – with the Pulsefire Surge coming very soon – fit into the light-middle category, and those at HyperX 'believe that it is this weight range that allows the best hand grip to the product but also the best manoeuvrability, in both palm and claw grip.'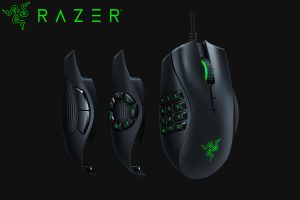 We also reached out to Razer, and spoke with Hilmar Hahn, associate director of product marketing, who took a similar view. Hilmar said 'gamers have different preferences and we've found that the most popular weight range is between 90g and 120g' which is more or less what our poll found as well. However, Hilmar did offer some insight elsewhere, suggesting gamers 'will accept the trade-off of heavier weights if they get more buttons or specialized features' like interchangeable side panels.' This is something our poll couldn't measure so we couldn't say how many users would take a heavier mouse over a lighter model if it had more features.
Tom Loske, Roccat's head of PR, also weighed in on the matter saying that 'medium weight seems to be the win for Roccat mice', hence the popularity of mice such as the Kone Aimo and the Leadr – both of which have won awards from KitGuru. Tom did also say that 'the next biggest group is 88g – like the Kone Pure Owl-Eye. These people also like a slightly smaller mouse, physically' which also makes sense – the smaller the mouse, the lighter it is likely to be.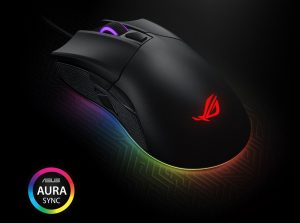 Lastly, we spoke to Sean Cheng, territory product manager for ASUS. Sean's point of view was that a preferred mouse weight is just highly subjective – saying 'it depends on what kind of gamer you are, what you play and method you play with.' He also pointed out that while 'the poll suggests is that 34% of the voters think that "weight is not important"… it also suggests that 66% of gamers are all different and have different preferences,' which is why ASUS tries to offer a variety of mice – plenty of which we have reviewed ourselves.
All in all, it seems the mouse manufacturers are in agreement for once! The general consensus is that there is no general consensus as to how heavy a mouse should be since every user is different. Our poll may show a slight overall preference for 'light-middle' mice, but that still leaves 43% of our readers with a different preferred weight.
I think we expected that going into this investigation, but it is still fascinating nonetheless to see the different breakdown of preferences across our readers – that 34% who don't mind how heavy their mouse weight is still makes my head hurt a little.
If you have any feedback for us, please leave us a comment over on Facebook. We'd love to hear what mouse you use, how heavy it is and why you like it.
KitGuru says: Having heard from our readers as well as four leading manufacturers, the only conclusion to draw is that everyone has a different preference when it comes to the weight of their mouse. If you're one of the 34% who don't care, I want to know – how?!