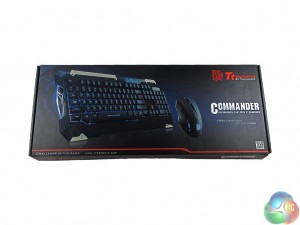 The TT eSports COMMANDER combo ships in a fairly standard black box, with a couple of product photos as well as product branding.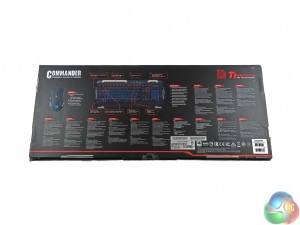 On the back, several key features of both peripherals are briefly outlined.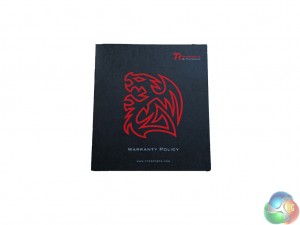 Just like the Challenger Prime, the COMMANDER combo does not come with much in the way of packaging. The mouse and keyboard come in their own protective sleeves, and there is a small warranty booklet but that is it.
However, as there is no customisation software, the COMMANDER peripherals are simply 'plug-and-play' so there is no real need for a quick-start guide or any other booklets.
On first impressions, I felt the COMMANDER keyboard is a big improvement over the Challenger Prime in terms of design. It does away with the sharp, aggressive edges for a more traditional rectangle shape, though the corners are still angular.
There is also some gold paneling at the top and bottom of the keyboard, though it is purely for show. Since peripherals are so subjective I will let each reader formulate their own opinions of the COMMANDER keyboard, but in my view it is a simple yet attractive piece of kit.
The COMMANDER mouse is a fairly standard-looking affair, but since it is ambidextrous it is symmetrical. There are two side-buttons for navigation purposes, as well as a DPI-adjustment button below the mouse wheel. The TT eSports dragon logo occupies the empty space at the bottom of the mouse, and there are LED light panels on either side which constantly illuminate the mouse.
While both peripherals certainly look good, criticism can be made in terms of build quality. Everything is made entirely from plastic, which is certainly not unreasonable at this price – it just means you do not get the best user experience. For instance, I found the mouse to be very light and almost insubstantial – as it weighs in at 127 grams.
The gold plastic paneling on the keyboard, too, looks a little tacky in my opinion. It is not necessarily a deal-breaker for the for the COMMANDER combo, rather it is a reminder of the old adage that 'you get what you pay for.'