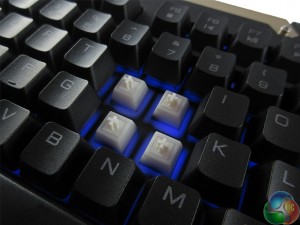 While I would usually begin a keyboard review by looking at the included customisation software, this is unfortunately lacking with the COMMANDER combo. Since there are no macro keys, and the backlight is blue-only (though you can purchase a red light variant), there is nothing to customise. This means the backlight is either on or off as there is no brightness level to adjust.

On the topic of the backlight, I must say I was very disappointed with the blue backlighting. While the blue lights illuminate the base of the keyboard fairly evenly, the LEDs are so weak they do not actually illuminate the keys themselves. This means using the keyboard in the dark is not helped by the backlighting, making it pretty much pointless.
While there are no macro keys for users to assign as they see fit, there is the standard set of multimedia keys at the top of the keyboard. To save space they have been allocated to the function keys, meaning you have to press the 'fn' button simultaneously with your desired multimedia key. I would prefer separate multimedia keys but this approach saves space and is better than having no multimedia keys at all, so it is not the end of the world.
So on to the actual performance of the keyboard. TT eSports advertise that the COMMANDER keyboard makes use of plunger switches which are meant to have a 'tactile-feel', though the actual switches themselves are not mechanical. Essentially, it is a rubber dome keyboard as, unfortunately, I must say I did not notice any 'tactile-feel' while typing.
That disappointment aside, for a rubber dome keyboard it feels good. There is a reasonable amount of key travel – certainly more than with the Challenger Prime – and the keycaps are slightly curved which makes for a comfortable typing experience. The lack of macro keys, too, mean the keyboard is not quite as wide as other gaming keyboards – something which I personally prefer. Because of this, I did not experience much of an adjustment period and I was able to carry on typing as usual.
The COMMANDER keyboard is also an adept gaming keyboard, with nothing of note (aside from being rubber dome) to stop me from saying you will be able to game well with this keyboard. My main criticism comes back to build quality – while the keyboard worked well during my week of use, I cannot see it lasting very long under sustained use. To repeat myself, you get what you pay for, and the COMMANDER keyboard is simply a cheap piece of kit.