The TT eSports COMMANDER gaming gear combo is another attempt by the ThermalTake subsidiary to bring gaming peripherals to the masses in an inexpensive way.
The combo ships with just the included keyboard and mouse, with little in the way of packaging and no customisation software. This tells us the COMMANDER combo is very much 'back-to-basics', with no macro keys on the keyboard or re-mappable mouse buttons.
Both pieces of kit certainly look good, with the keyboard adopting a fairly minimalistic design – compared to the Challenger Prime, anyway. The mouse, too, is essentially symmetrical as it is ambidextrous, and features an appealing, illuminated TT eSports logo.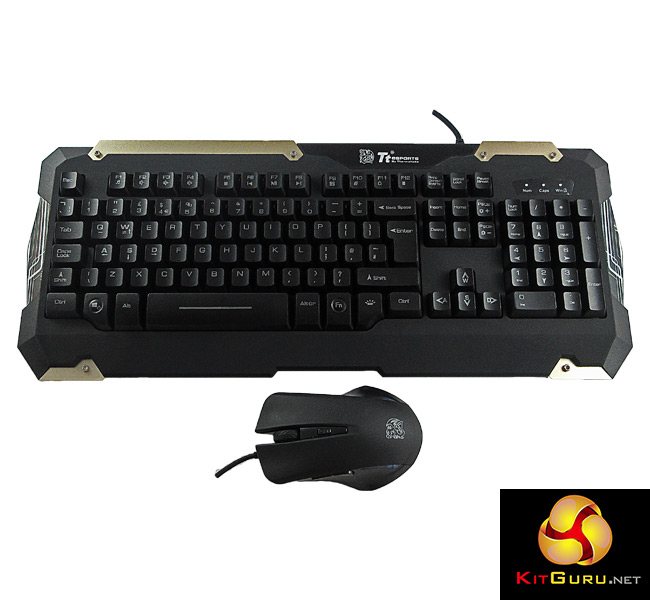 On first impressions, both peripherals perform well, too. The keyboard is supposedly a 'tactile-feel' keyboard utilising plunger switches, but I unfortunately could not discern any noticeable different between itself and other rubber dome keyboards. Still, it has a good amount of key travel and will serve you well in games, too.
The mouse supports DPI of up to 2400, and you can cycle between 800/1200/1600/2400 to find your preferred sensitivity. For me this is enough, but I know many users like a very high DPI sensitivity, so it may be best to spend a bit more to get a higher-quality sensor. Still, the mouse is comfortable to use and performs well at 2400 DPI.
Both peripherals, however, fall down due to their build quality. The COMMANDER combo sells for £24.49, which is not a lot of money for both a keyboard and a mouse. Unfortunately, it shows as neither peripheral feels particularly durable or sturdy. The mouse is particularly light, which means it is not hugely satisfying to use for daily duties.
For the average joe sitting at home, however, the COMMANDER combo may well be a good and inexpensive upgrade from a generic, office-use keyboard/mouse set. For more discerning, enthusiast gamers, however, I have no doubt in my mind you will want to spend a bit more to get peripherals of a higher quality.
You can pick up the TT eSports combo from Amazon for £24.49 here.
Discuss on our Facebook page, over HERE
Pros
Inexpensive.
Both peripherals look good.
Both will offer greater performance than standard office-use keyboard/mice.
Symmetrical mouse is versatile.
Cons
Lack of build quality is a major letdown.
Terrible keyboard LED backlighting.
Mouse DPI may not be high enough for everyone.
Plunger switches feel no different to other rubber dome keyboards.
KitGuru says: The COMMANDER gaming gear combo is an inexpensive piece of kit and delivers a decent experience for the price.